Panasonic is now taking orders in for its innovative Nubo home-security camera. U.S. customers, however, won't be able to take delivery until early 2016. Now that Nest has announced the successor to its lauded Dropcam, the all-new Nestcam, Panasonic's camera is looking better than ever.
First announced back at Mobile World Congress, the Nubo is unique among cloud-connected home security cameras in that it doesn't rely solely on Wi-Fi to reach the Internet. It also has a celluar radio (2G/3G/4G-LTE). And since it can operate on battery as well as AC power, you can take the camera on the road with you to secure temporary living quarters, such as a hotel room or RV.
At IFA, Panasonic also announced that it is developing a variety of sensors that can communicate with the camera's onboard ZigBee radio. Sensors, such as those that might indicate a door or window opening, can trigger the camera to record a video clip and upload it to the cloud just as easily as the camera's onboard motion detector. And for those times when neither 4G nor Wi-Fi are available, you can plug in a MicroSD card and record video to that medium.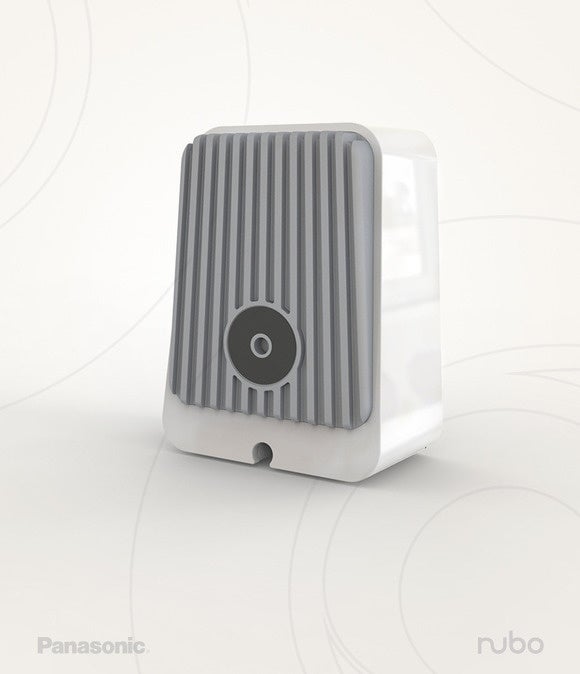 The Nubo boasts an IP-66 enclosure, meaning it's dust tight and can withstand powerful jets of water. The camera can rest on any flat surface, or you can use a mounting kit to hang it on the wall. A powerful magnet holds the camera to the mount, which makes it easy to move from one place to another (there's no need to unscrew anything to dismount the camera).
Why this matters: Home security cameras are rapidly becoming commodity items. We've seen some innovation around the edges of the market—with new features such as facial recognition among the most notable—but most cameras deliver all the same features. The Canary security camera I reviewed back in June was a notable exception, but it ultimately disappointed because it insisted on doing jobs it wasn't cut out for. Nubo's builders seem to know better, but we'll have to wait for a review unit to see just how well they've executed on this product.