Comcast executives drafted San Francisco 49ers legend Dwight Clark to demonstrate new enhancements to its Xfinity Sports App on the cable-TV company's X1 video platform. The demo took place at the 49ers' new home at Levi's Stadium in Santa Clara, CA on Wednesday.
Comcast is bulking up its on-screen sports app, tossing in colorful stats, more scores, and easier access to find other games to watch. These new features are already live for Major League Baseball and the most prominent soccer leagues, while more is coming as the NFL and college football season ramps up.
The sports app taps into real-time data to deliver eye-friendly charts, graphs, and other statistical measures of player and team performance. For example, you can get a statistical probability about who will win the game, which changes based on how the teams are performing in real time. In baseball, you can see where a batter is more likely to connect for a hit, for instance, and during a football game, you can call up a quarterback's completion percentage. There's also a big emphasis on fantasy sports, with real-time stats on individual players.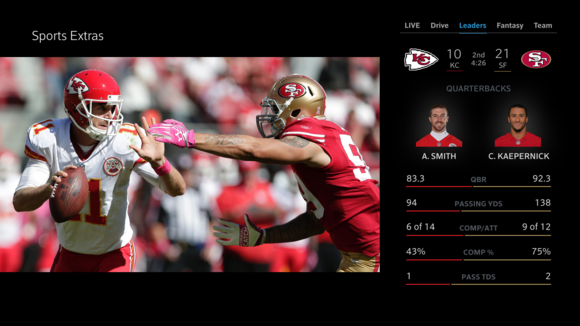 Comcast partnered with the Philadelphia startup OneTwoSee to accomplish its goals. OneTwoSee aggregates sports data for various platforms, transforming it into an eye-catching format that should appeal to hardcore stat geeks and casual fans alike.
Clark, a two-time Super Bowl champion, said the stats he sees while using his own Xfinity service at home is the type of information he wished he had while playing. He recounted during his NFL days needing to wait until the plane trip back in order to analyze a just-concluded game this way.
"I'm now seeing stats while watching [the Xfinity sports app] that you didn't really know you needed until you experience it this way," he said.
The Fantasy section has the most potential for a deeper tie into other services. For example, the current fantasy point calculations are based on standard point values from a popular league like Yahoo. If I was playing fantasy baseball, I'd want to see how my own team is performing.
OneTwoSee CEO and cofounder Chris Reynolds said such partnerships could make sense down the road. The goal with the platform is to "humanize stats" by making them visual and straightforward to decipher, he said.
There's definitely other room for improvement, as many of the stats, such as drive summaries, would tell the narrative of the game even better if you could expand on them and get more specific information.
Comcast's Silicon Valley Innovation Center's Executive Director of Product Management Preston Smalley said the plan is to collect usage data in order to determine which portions of the interface viewers use most. These will then be targeted for future updates.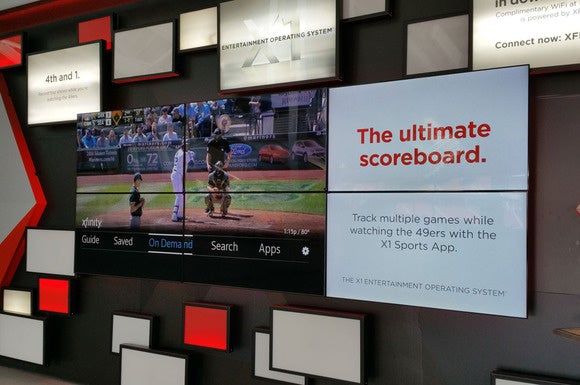 Press a dedicated button on the remote to launch the app, then you can cycle through different leagues and games. If you have the MLB Extra Innings package, which serves up every game, you can switch over to watch another game from this interface.
The new sports app is live for those who subscribe to one of Comcast's X1 packages. More features are rolling out as the NFL and NCAA Football seasons start up this fall, Smalley said. Also, live scores are coming for the top soccer leagues in Spain and Mexico. The interactive scores are already here for the English Premier League and Major League Soccer.