Some of the best ideas are the ones that only seem glaringly obvious after they've been invented. That may be the case with Sideclick, a $30 device that adds more TV controls to the remotes that come with Roku, Apple TV, Amazon Fire TV, and Google's Nexus Player.
The best thing about Sideclick is how simple—and obvious—it appears to be. Essentially, it's a small IR blaster with eight programmable buttons and a clip-on cradle for your streaming remote of choice . By adding TV functions such as power, volume, and input, Sideclick solves the problem of needing two remotes just to watch Netflix on a separate streaming video player.
Sideclick recently sent me a prototype of their product, which achieved funding on Kickstarter last month and is now taking pre-orders for estimated January shipping. After attaching it an Amazon Fire TV remote, I showed it to my wife, who was immediately skeptical that the idea hadn't been done before. As far as I can tell, it hasn't, and my initial impressions are that Sideclick came up with not just a good idea, but a solid execution.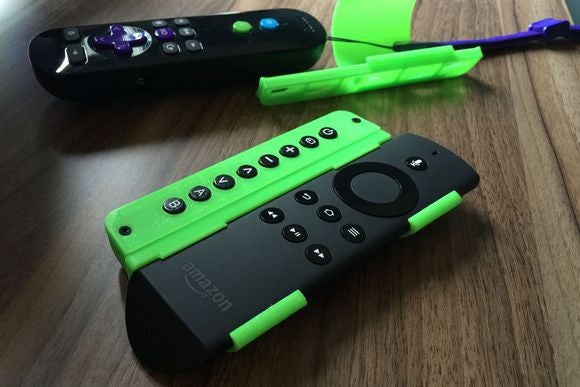 Smart as Sideclick may seem, Florida-based True Bloom struggled to nail down a winning design at first. As I covered in a previous Cord Cutter Confidential column, the original concept was far too expensive to manufacture, and offered no way to upgrade or switch between different streaming device remotes. A Kickstarter campaign that launched last April fell short of its $150,000 fundraising goal.
Rather than giving up, True Bloom made some tweaks. The company abandoned the idea of entirely separate Sideclick models for Apple TV, Fire TV, Fire TV Stick, and Roku, and instead created a single Sideclick with interchangeable clips for each remote. At the expense of perfect form-fitting, Sideclick is now much cheaper to produce, and will let users upgrade and switch media streamers as they please. (Each Sideclick will come with one clip-on adapter; additional ones will cost about $7.) The new design also works with Google's Nexus Player, and it has eight buttons, up from seven on the original design.
While Sideclick's second Kickstarter campaign raised slightly less than the original, it still cleared its $80,000 fundraising goal. More importantly, it's better-positioned to produce new adapters as companies like Apple, Amazon, and Roku update their hardware.
Hands-on with Sideclick (so far)
The prototype Sideclick sent me is as crude as it gets, coming straight from a 3D printer in unflattering fluorescent green. The finished product will come in either black for most remotes or gray for the Apple TV, and a note in the box points out that the overall feel will improve dramatically. All I can judge right now is how well the idea works, and so far it's hard to pick anything but a few nits.
Setup is quite simple. After placing Sideclick and a TV remote about an inch apart, just hold the power and "B" button, and a red light blinks rapidly to indicate you're in programming mode. You then hold the Sideclick button you want to program until the light goes solid, then hold the corresponding TV remote button until the light blinks again. Repeat this for each button, and you're done.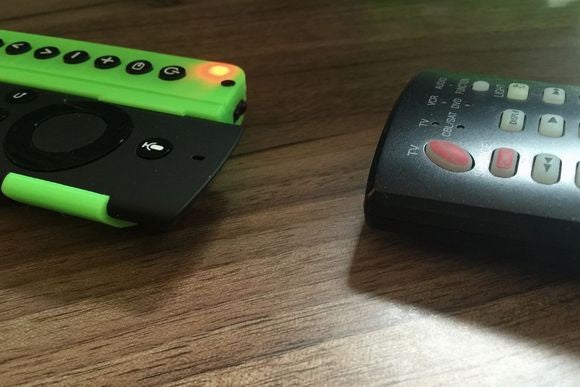 As I mentioned above, Sideclick has eight programmable buttons, which is one greater than the original Kickstarter campaign. To me, it's the perfect number, allowing for power, input, volume up, volume down, channel up, channel down, previous, and mute. Accommodating anything else (like menu functions or channel numbers) would make Sideclick dramatically more complex and cumbersome, and that's not the point.
The biggest issue I ran into was that the Sideclick blocks the Roku 3 remote's headphone jack. I don't see any way around this without completely reworking the Sideclick's design—even reversing the clip would block the headphones' volume controls—and I don't think that'd be worthwhile. It is possible to slide the Roku remote to the very edge of its cradle to expose the audio output if need be.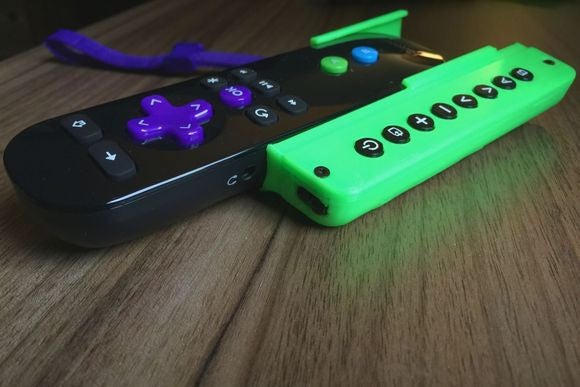 Also, the Apple TV clip is a bit more complicated to detach from the IR blaster compared to the other remotes. Most clips detach by simply pulling on a small plastic tab and sliding downward, but detaching the Apple TV clip involves sticking a pen into a small slot and pressing down on a lever while also pulling out the clip. It's a minor nuisance for people who expect to switch remotes often.
Sideclick won't be for everyone. Apple TV users don't really need it, as they can just program an existing IR remote to handle set-top box commands. The Nvidia Shield Android TV—if Sideclick were to support it—has built-in volume controls, along with HDMI-CEC support for automatically turning on a TV and switching to the correct input. And if you want a more complex button layout, you might just go with a full-blown universal remote such as Logitech's Harmony.
Sideclick is a much simpler solution. It doesn't make you give up your existing media streamer remote or deal with the complicated setup that universal remotes require. Instead, it merely aims to reduce living-room clutter and make streaming video less of a hassle. With no major issues in my early hands-on time, I'm looking forward to seeing the finished product in action.