At a Glance
Expert's Rating
Pros
Outstanding fidelity
Class A-B amp delivers more power than you'd expect
Bluetooth support, including AptX
Cons
No USB audio support
No headphone jack
Our Verdict
Bluetooth speakers are a dime a dozen, and most of them sound like it. Pick up an MR1 system and you'll be in for a treat, whether you use it wired or wireless and with your computer, your TV, or your phone. These are phenomenal speakers.
Ruark is the latest high-end speaker manufacturer to apply its advanced design prowess to the mass market. The company is targeting the high end of the market to be sure, but $500 is a reasonable price to pay for speakers of this quality. They managed to outshine the similarly priced MM-1 speakers that Bowers & Wilkins introduced five years ago, even though they lack USB audio support, and they offer one feature those speakers don't: Bluetooth.
USB audio support gives you the opportunity to bypass your computer's noisy circuitry and keep the audio signal in the digital domain, by sending it over a USB cable to a DAC inside the speaker. The Ruark has only a 3.5mm analog audio input and relies on your computer to perform the conversion. You can overcome that shortcoming by using an outboard DAC, or you can use Bluetooth to send audio from your source to the speaker. Both alternatives impinge on the MR1's price/performance ratio—on the price side of that equation if you don't already have an outboard DAC, and on the performance side if you resort to the convenience of Bluetooth.
Let's take a look at the rest of the MR1's feature set before discussing its audio performance in detail. Given the rounded corners on the cabinets, you might think they were fabricated from ABS plastic. They're actually made from 1/4-inch MDF, a wood product valued for its density, uniformity, and audio neutrality. The corners are made from solid walnut and the cabinets are internally braced to render them more rigid. You can choose between a black or white soft-touch lacquer finish or a dark walnut veneer. One-inch bass reflex ports in the bottom of each cabinet make significant contributions to the system's bass response (rubber feet create about a 5/8-of-an-inch gap between the cabinet and the desktop).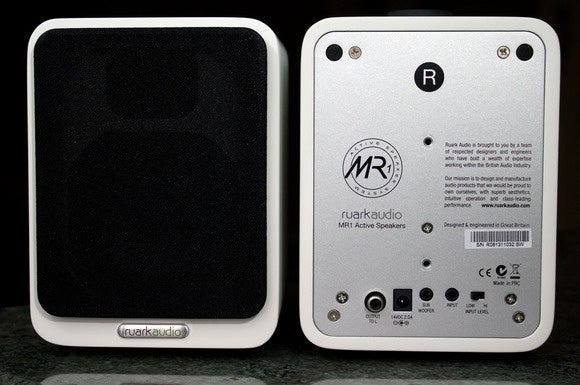 Remove the cloth grills and you'll find 75mm polypropylene/paper woofers and 20mm silk dome tweeters. Both drivers feature neodymium magnets, a superior alternative to ferrite, and the cabinets are fully shielded (just in case you're planning to place them next to a CRT). A Ruark spokesperson told me these are not off-the-shelf components, that they were designed and manufactured specifically for this system. The speakers are driven by a 20-watt linear Class A-B amplifier.
Ruark doesn't specify if its amp produces 20 watts in total or 20 watts per channel, but it really doesn't matter. The amp delivers plenty of volume—more than enough to fill my 247-square-foot home theater with sound that would stand up to a noisy party. On this score, Ruark's speakers blew the B&Ws right out of the water (B&W puts four 18-watt Class D amps inside the MM-1). The MR1 also has a line-level subwoofer output if you want more thump, but I didn't find that to be necessary.
The amp is housed in the right-hand speaker cabinet, which has a large volume control knob on top. The amp is powered by an external brick, eliminating a source of noise creeping into the signal path. Ruark also offers an optional battery—the BackPack—should you want to take the speakers onto the patio or even on the road.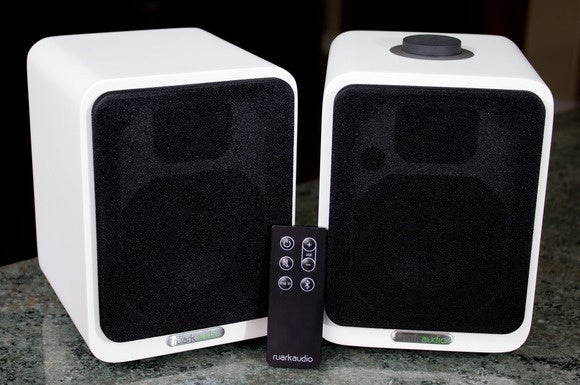 One of the MR1's many terrific features is that it will automatically switch to a low-power sleep mode if no audio signal is detected after 10 minutes. The speakers resume to full power when an audio signal is once again present, which is handy if you're using the speakers with a TV. A thin plastic remote control can power the speakers on and off, mute and control the volume, and switch between line-in and Bluetooth. You can also tap the volume control to switch modes.
Listening tests
I auditioned the MR1 with a desktop PC running the Roon music server, first using the PC's analog audio output (based on the old familiar Realtek chipset), and then with Creative's Sound Blaster X7 external DAC in the signal path. I used tracks from some of my favorite CDs that I ripped and encoded in 16-bit/44.1kHz FLAC. I also listened to a live 2007 recording of the London Symphony Orchestra performing Mozart's Requiem. That one came from Bowers & Wilkins' Society of Sound service, and it was encoded in 24-bit/48kHz FLAC.
Tower of Power sounded fantastic through these speakers and the PC's native audio, presenting every detail of Bruce Conte's nimble guitar work on "Squib Cakes" without burying David Garibaldi's intricate drum work or Rocco Prestia's phenomenal bass fingering. You could hear every cymbal strike, every bass-drum kick, every pluck of the string. And when the horn section layers in, and then Chester Thompson's keyboards as the song hits its climatic finish, you can still hear every facet of each instrument's contribution.
Moving up a few years to Steely Dan's "Jack of Speed," from their 2000 album Two Against Nature, the MR1 knocked me out with its bass response. As I mentioned earlier, you can add a powered subwoofer to the pair if you really feel the need, but I think only the most bass-hungry listeners will consider it. These speakers deliver more low-end at any volume level than many 2.1-channel systems I've heard.
The MR1 sounded even better when connected to the Sound Blaster X7, since that component was handling the digital-to-analog conversion completely outside the noisy environment of my PC's case. But now you're almost doubling the price of your listening station (the X7 itself fetches $400). It's a great piece of gear in its own right, and it adds one thing the MR1 lacks—a headphone jack—but it also has a redundant amp and Bluetooth circuitry. You'd probably want to consider a simpler DAC to pair with the MR1, if you decide you need one at all.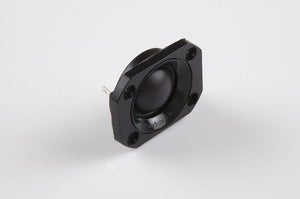 I'll wrap this up with a discussion of the MR1's Bluetooth capabilities. It supports the Bluetooth A2DP profile; more importantly, it also supports the high-quality AptX audio codec. You can pair up to eight Bluetooth devices with the MR1, but only one device can stream music to the speaker at once. It paired quickly and easily with my HTC One smartphone as well as an iPod touch. I streamed Bruce Cockburn's contemplative "Isn't That What Friends Are For?" from his 1999 album Breakfast in New Orleans Dinner in Timbuktu, among other tracks stored on my mobile devices, over a Bluetooth connection. That technology will never deliver the fidelity of a hardwired connection, but I didn't find the quality loss to be especially onerous. Cockburn's voice and guitar work—and Lucinda Williams' achingly beautiful backup vocals—sounded terrific on the MR1.
These are phenomenal speakers
Yes, $500 is a lot of cash to spend on speakers. And yes, the MR1 Bluetooth speaker system earns its $500 price tag. They're a step up in audio quality—and especially in amplifier power—from Bowers & Wilkin's excellent MM-1, even though Ruark's speakers lack USB audio support. They're also attractively designed, if a little large for using on your desk on either side of your monitor (especially if you rock a multi-monitor setup). The MR-1 is a sweet speaker system whether you're using it for near-field monitoring or looking to fill a moderately sized room with sound. I dig it.