Microsoft didn't do cord cutters any favors with Windows 10.
As revealed a few months ago, the free upgrade for Windows 7 and higher wipes out Windows Media Center, a decade-old program that provides a TV-friendly interface for multimedia files. While most people won't notice WMC's absence—Microsoft says the software is barely used for anything other than DVD playback these days—for some users it's the backbone of their entire living room setup, thanks to its ability to play and record live TV.
Excited as I am about Windows 10 in general, I've been torn about whether to upgrade my own desktop PC, as I like the ability to record shows from free over-the-air channels like ABC, CBS, Fox, and NBC. So before upgrading, I searched for a Windows Media Center alternative that was easy to set up and use.
So far, I haven't found anything as simple as Windows Media Center, especially when it comes to setting up TV guide data. Still, broadcast DVR is doable in Windows 10, so if you're itching to upgrade, here's how to setup the best Windows Media Center alternative I've found:
NextPVR: The most painless of the lot
After examining a bunch of options, I settled on NextPVR as a replacement for Windows Media Center's DVR features. It's not the slickest program around, but I found the setup process easier to follow than other programs like Kodi and MediaPortal (which isn't saying much, by the way).
All you need to get started is a TV tuner for the PC—such as a SiliconDust HDHomeRun or Hauppauge WinTV USB tuner—and an over-the-air antenna. Just follow these steps, and you'll be fine:
1. Before installing NextPVR, download MC2XML for Windows. You'll need this program to retrieve TV guide data.
2. In File Explorer, create a new folder at "C:EPG" and place mc2xml.exe inside. You can choose a different folder, but will need to modify step 7 below.
3. Run mc2xml.exe, and a screen will appear where you can enter a zip code to get local channel listings. Leave the other options as-is, and press OK. (More discussion on this at the bottom of the guide.)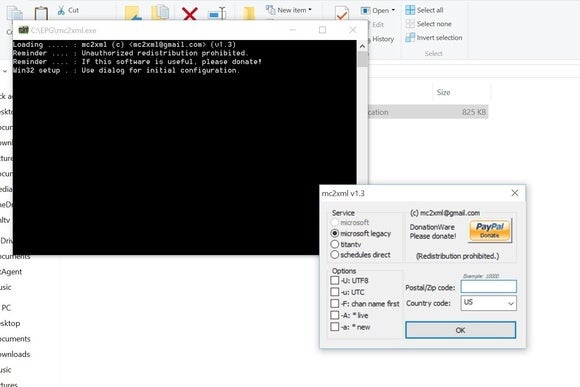 4. In the lineup selection prompt, look for the "Digital Terrestrial Lineup" option and press OK.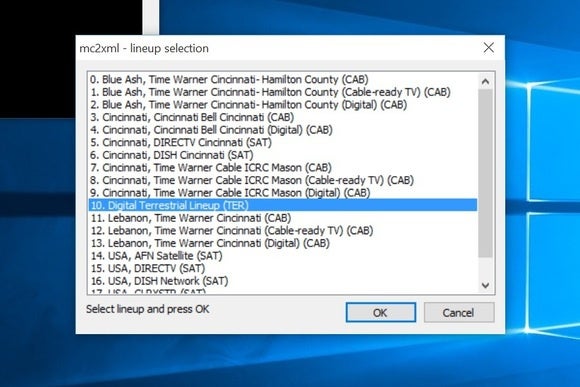 5. Download and install the latest version of NextPVR. Don't launch it just yet.
6. Before launching NextPVR, navigate to "C:UsersPublicNPVRScripts" in File Explorer. Create a new text file, and rename it to "UpdateEPG.bat."(Make sure you can see the full file name extension, and that there's no ".txt" on the end of it.)
7. Open UpdateEPG.bat with NotePad or another text editor, and type the following (changing the second line if you used a different folder in step 2):
C:

cd "C:EPG"

mc2xml
8. Open NextPVR. It should run Settings on first launch, but you can always get to Settings by right-clicking anywhere on the screen.
9. Head to the "Devices" section, select your TV tuner, click Device Setup, then click Scan. Wait a few minutes while the tuner looks for broadcast channels.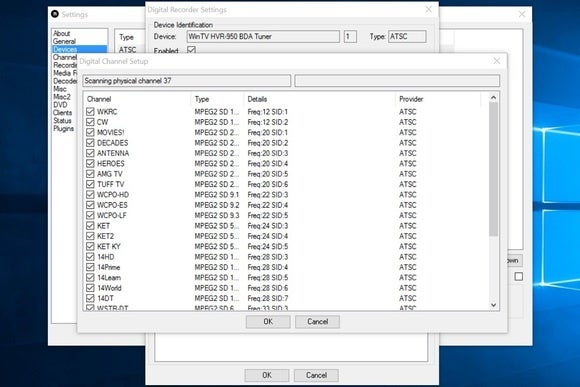 10. Go to the "Channels" section, and click "Update EPG." You should see a pop-up box telling you that UpdateEPG.bat is running, thereby grabbing the TV guide data you got through MC2XML. This will take several more minutes.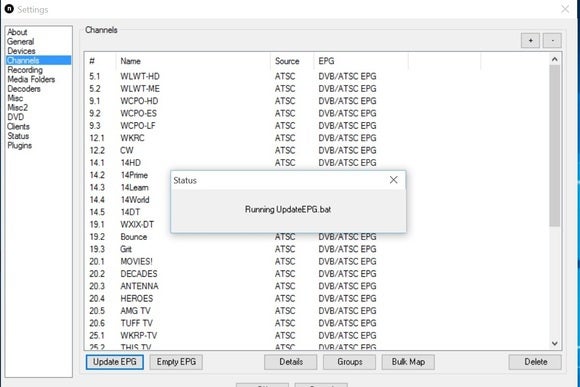 11. In the "Misc" folder, you may need to change the Buffer Directory to a folder of your choosing. Alternatively, you can create a "C:Temp" folder if one doesn't already exist on your machine.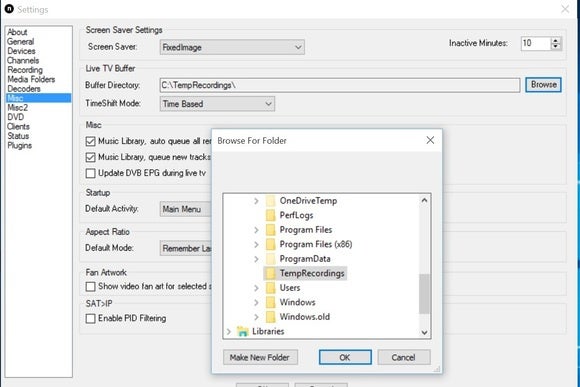 12. Go to the Recording folder, and choose where you want DVR shows to be stored.
13. You may need to experiment with the Decoders menu if you're not getting any audio or video playback. (I've had luck using the LAV decoder for both audio and video.)
14. Close the Settings menu, and head to the Live TV section of NextPVR to start watching and recording broadcast TV.
TV guide headaches, lots of possibilities
As if setting everything up wasn't enough of a hassle already, Microsoft recently made matters more complicated by switching TV guide providers in Windows Media Center. Because MC2XML relies on grabbing that data, you may have trouble getting up-to-date TV listings this way. (I haven't had any problems so far.)
If this happens, have a couple options:
For $25 per year, you can subscribe to Schedules Direct. After setting up an account, return to step 3 above (you'll have to delete mc2xml.exe and start with a new copy of the file), select Schedules Direct from the Services menu, and plug in your login details. Repeat step 9 to update the channel guide.
For a $20 "donation," mc2xml says it'll let you pull down newer listings from Microsoft. Return to step 3 above, and select Microsoft from the Services menu. I have not tested this myself.
Once you have everything set up, NextPVR can be a pretty powerful program. It offers a several plugins, skins, and utilities, including a way to auto-detect and remove commercials. It supports various media extender devices for watching TV on additional televisions, and you can even use NextPVR as a back-end service for other media center software, such as Kodi.
I haven't even started experimenting with most of these customizations. My main usage for TV recordings is to stream them on other devices using Plex. For that, the basic NextPVR setup is enough to upgrade my desktop to Windows 10 with confidence.