At a Glance
Expert's Rating
Pros
Exceptional voice-recognition capabilities
Very fast and extremely responsive
Extremely versatile, offering music playback, connected-home control, weather and traffic reports, and much more
Very good app support, plus an IFTTT channel
Cons
Inferior audio features compared to the least-expensive Sonos speaker
Flash feature would benefit from additional news sources
Can't control Philips Hue lighting scenes
Our Verdict
Amazon's Echo is versatile and powerful; it's a terrific value all around.
Amazon's Echo is the best voice-controlled product that I've seen at the consumer level. It's versatile, powerful, and amazingly quick to recognize your speech and then do something, whether that's answering a trivia question, playing music, giving you the weather forecast, or controlling your home's lighting.
And those are just a few of the things the Echo can do; it's capable of many other functions: Alarm clock, kitchen timer, shopping-list manager, news and sports-scores reporter, and more. But what will really blow your mind is just how fast the Echo will recognize your speech and then act.
As with much of Amazon's hardware, you'll get the most benefit from the Echo if you subscribe to Amazon services, especially Amazon Prime. Once it's linked to your account, you can have it play audiobooks using Audible, play music from your Amazon Prime music library, and even order products based on voice commands.
The device can be programmed to respond to one of two "wake-up" names, "Alexa" (the default) or "Amazon." Each request must be preceded by the wake-up name (or a touch of a button on top of the cylinder), but your commands can be either simple or surprisingly complex. If you just want to listen to music, for example, say "Alexa, play music." Within seconds (six or fewer in my tests, including the time during which the Echo verbally acknowledges your command), the Echo will be playing music from your Amazon Prime subscription or your Amazon Music library. But the Echo can respond to more complex requests, too. The fact that Alexa is a cloud-based voice-recognition service makes the Echo's responsiveness all the more remarkable.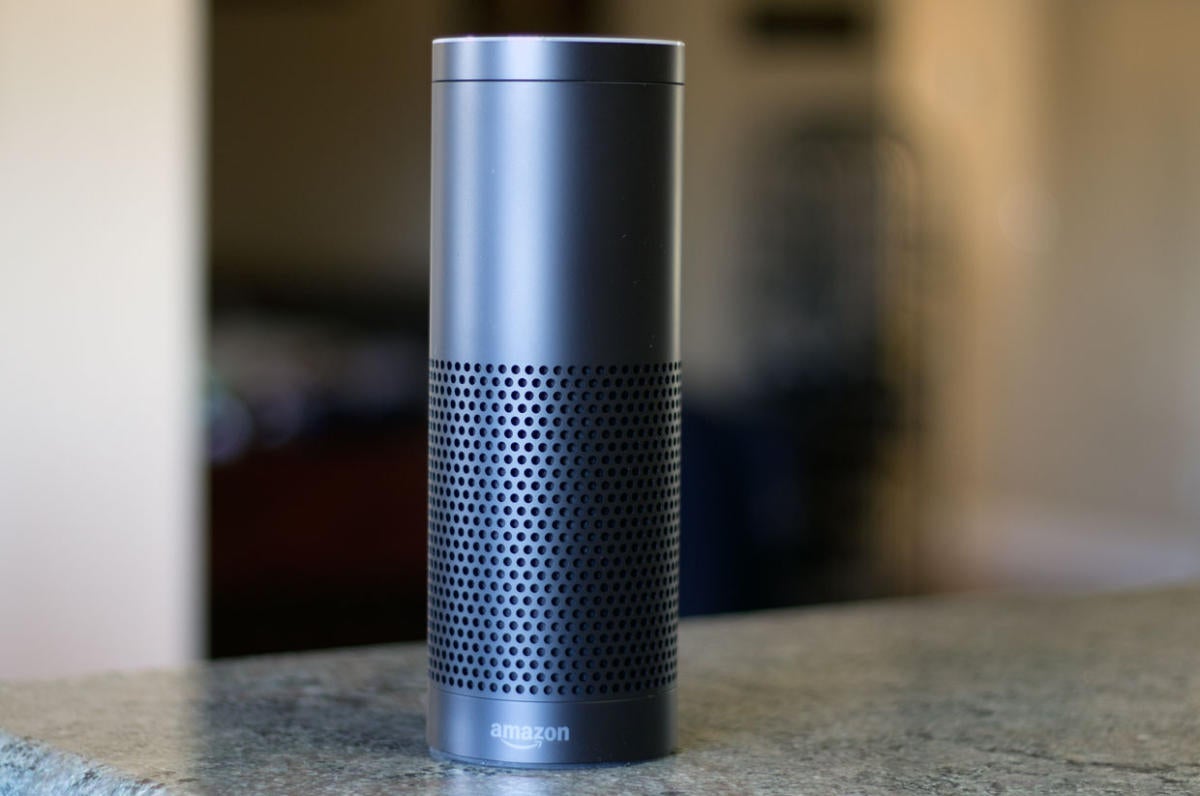 I got the best results when I used keywords, such as "play" (for music) or "turn on" (to control connected devices), but commands such as "Alexa, I wanna hear Pink Floyd" and "Alexa, I want the kitchen light on" worked, too. I never found it necessary to speak in overly simplistic phrases or even to speak slowly. In fact, I was stunned by how fast I could speak and still have the Echo recognize my sentences—even when I uttered them while it was playing music or responding to an earlier question or instruction.
Ask for a genre of music, such as "Alexa, play folk music," and the Echo will respond—in a female voice that you can hardly tell is synthesized—"Folk music" and immediately begin playing a song in that genre. Not familiar with the song that's playing, ask the Echo "Alexa, what song is this?" ("Alexa, what's the name of this song" also works, as does "Alexa, name that tune.") The Echo will respond with the name of the song, the artist, and the name of the album it's from. Want to hear a specific artist? Say "Alexa, play Dire Straits," and the Echo will respond "Shuffling Dire Straits, from Prime Music."
You can even ask for a specific song by a specific artist, "Alexa, play Money for Nothing by Dire Straits." If the song is in your library—or Amazon's—the song will start playing. If the song isn't in those libraries, it might at least play a 30-second sample. (Including the artist's name is the best practice when asking for standards, such as "My Funny Valentine," because you might get an instrumental version if you don't.) Surprisingly, the Echo would not fulfill requests to play specific artist's albums.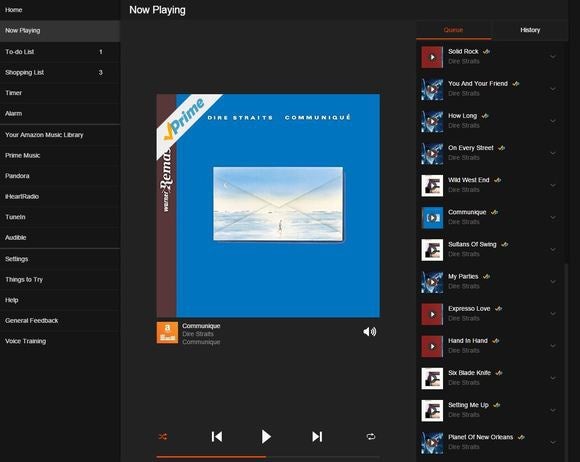 Amazon wisely doesn't limit you to using its own Amazon Music and Amazon Prime Music services, but it currently doesn't give you a lot of other choices, either: You can use voice commands with your Pandora, iHeartRadio, and TuneIn accounts, or you can pair your smartphone or tablet using Bluetooth and stream music from any source available to that device. The Echo supports the Advanced Audio Distribution Profile, aka A2DP. I'll go into more depth about the Echo's Bluetooth capabilities later.
The Echo app
You can control the Echo from a PC using a browser-based interface, or you can install the Echo app on smartphone or tablet (there are versions for Android, Fire OS, and iOS). You can use either to control the timer, the alarm clock, and your to-do and shopping lists (you can add items to these lists with your voice, but you must use a browser or the app to remove them). I checked out the Android and iOS versions of the Echo app in addition to using the browser-based UI on a Windows PC.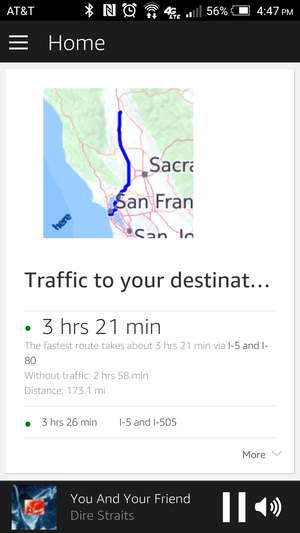 As I mentioned earlier, you can also control the Echo's music-player functions over a Bluetooth connection, or you can stream music from your computer or device (including the services running on it, such as Apple Music, Spotify, Tidal, or what have you) to the Echo.
You can control music playback using the Echo app or whichever other app you're using to play music. Voice commands issued to the Echo (play, pause, resume, etc.) are relayed back to the device over the same Bluetooth connection, using the Bluetooth Audio/Video Remote Control Profile (AVRCP). Bluetooth connections from a Mac running OS X, however, are not supported.
In addition to controlling the Echo, the browser and device apps maintain an audit trail of every voice command and the results. This history includes all the songs you've played (not including tracks streamed via Bluetooth), links to news headlines, sources of answers to trivia questions, and in some cases, links to search engines. Poking through this series of events will tell you a lot about what the Echo can and cannot do.
Audio quality
The Echo is a good, but not great audio system. Amazon's objective was to provide non-directional 360-degree sound, so its engineers stacked two down-firing speakers in its 9.25-inch-tall cylindrical enclosure: a 2.5-inch woofer on top of a 2.0-inch tweeter. Despite the size of that woofer—and the reflex port sitting above it—the Echo's bass response lacks the oomph that I crave. It's not a wimpy speaker by any means, it came close to filling my small (247 square feet) home theater with sound, but it distorts when cranked, and there is no audio output or headphone jack that would allow you to plug it into another speaker system. The Echo definitely suffers in comparison to the smaller but very slightly more expensive Sonos Play:1 speaker, which itself is no audiophile-class device.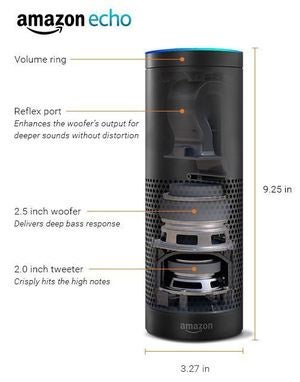 And unlike the Sonos, the Echo is not designed to operate as a multi-room audio system. You can set up multiple Echos in the same home and stream music to each of them, but the device lacks the powerful networking chops that keep multiple Sonos devices playing so tightly in sync with each other.
Sonos components, of course, can't do any of the many other sophisticated tasks that the Echo is capable of.
An Echo feature called "Flash Briefing" lets you set up various audio news sources, including NPR News, BBC News, ESPN Radio SportsCenter, and more. Say "Alex, Flash" or "Alexa, headlines," and the Echo will play pre-recorded updates from the services you've enabled.
As I've already mentioned, the Echo's speech synthesis is excellent most of the time, but it sounds much more robotic when it's not speaking short responses to your commands. It sounds particularly awkward and artificial when using its text-to-speech converter to read short synopses of the news based on topics you choose: Top News, U.S. News, Politics, Business, Science, and so on) These blurbs are listenable, but I expect most Echo users will prefer the pre-recorded segments.
Connected-home control
Amazon positions the Echo as a connected-home device rather than a digital assistant. It connects to your home Wi-Fi network using an integrated dual-band, dual-antenna 802.11n adapter with MIMO. There is no Ethernet port.
The Echo is outfitted with seven microphones arrayed around and on top of its enclosure, so it can detect your voice no matter where you are in relation to it. A ring of LEDs provides visual feedback, including which microphone received the strongest signal. I found that I could be as far as 10 feet from the Echo and it would respond to my voice even while it was playing music.
It performs less well with high-pitched voices, as my grandchildren discovered while asking it to play a different song while it was playing another. Amazon also offers a dedicated remote control, with an integrated microphone so that you can use voice commands from another room, but Amazon didn't send one that I could test.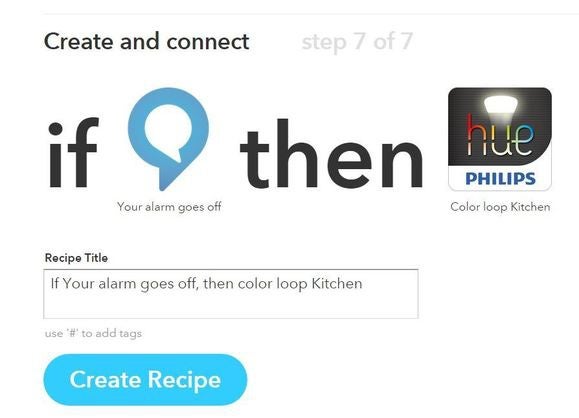 I tested the Echo with a Philips Hue lighting system (connecting the Hue bridge takes just a few moments), but it can also communicate with a Wink hub and the broad variety of lighting controls that that device can control, including Lutron Caseta devices, GE Link and Cree Connected LED bulbs, and Leviton Decora Z-Wave components. The Echo is also compatible with numerous Belkin WeMo lighting controls, but that list doesn't seem to include We-Mo compatible appliances, such as the Mr. Coffee Smart Coffeemaker or the Crock-Pot Smart Wifi-Enabled Slow Cooker.
In addition to controlling individual lights—"Kitchen Pendant," "Kitchen Ceiling," and "Kitchen Counter," for instance—you can group lights into zones. Create a "Kitchen" zone, assign all three of those lights to that zone, and you can turn all the lights on or off at once. Say "Alexa, dim the Kitchen lights," and the lights will dim to a degree. You can also say "Alexa, set the Kitchen lights to 50 percent" or any other specific value. The Echo will recognize various other ways of speaking the same command, such as "Alexa, dim the Kitchen lights to 20 percent," or even "Alexa, Kitchen lights 80 percent."
What the Echo can't seem to do, unfortunately, is set Hue bulbs to scenes. When you use the Hue app or web interface, you can choose from a seemingly limitless number of colors and brightness levels with descriptive names. Philips calls these settings scenes, and you can create your own and share them with other users.
You can expand the Echo's connected-home capabilities using IFTTT (If This Then That) recipes, but none of the supported actions (the "That" in an IFTTT recipe) include setting scenes. You can set the bulbs to a specific color, which is essentially the same thing but entirely different at the same time. How's that? Let's say you find a scene that you really, really like. You'll never be able to figure out exactly which of the 16 million color values a Hue bulb can produce was used to create that scene.
Should you put an Echo in your home?
Few people need an Echo in their home (although it could be a real boon for the disabled), but it is nonetheless an incredibly fun and useful gadget—especially if you have a connected lighting system. And with support for Philips Hue, Belkin WeMo, and Wink, that covers almost every protocol on the market (Philips uses ZigBee; Belkin uses Wi-Fi, but the company announced a ZigBee bridge at CES; and the Wink supports all three).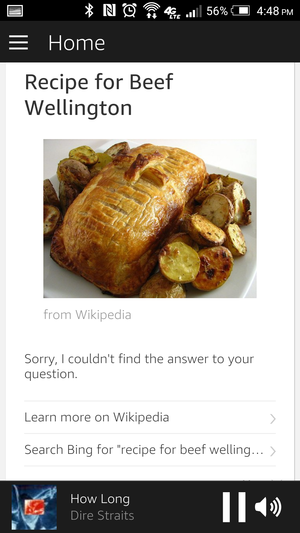 Beyond the capabilities I've already covered, the Echo can inform you of traffic conditions on your commute, report your upcoming schedule (provided you use Google Calendar), maintain to-do lists, recite word definitions, and even answer basic questions using sources such as Wikipedia. I'd like to set one up in my home theater, so I could ask questions about the movies and TV shows I'm watching.
Having one in my home office would be terrific for doing basic research. And putting one in the kitchen would be great because it's a central location where the entire family could use it. Hmm. I wonder if recipes are on Amazon's roadmap?
If you want to buy just one Echo and move it from room to room, you'll be happy to know that the device is ready to use within 35 seconds of plugging it into a power source.
As an audio system, the Echo pales in comparison to the Sonos ecosystem, but it doesn't sound terrible; it's a fine speaker for background music. Still, Amazon would do well to develop relationships with more audio services (it'll probably be a cold day when the Echo supports Apple Music, but there are plenty of other candidates, including Spotify, Google Play Music, Tidal, Rdio, Deezer, and so on).
If I buy an Echo, I won't take full advantage of its capabilities for a couple of reasons. First, my lighting system is already tied to my home-security system (Z-Wave systems can have only one master). Second, I've invested heavily in a Sonos audio system, so I wouldn't use the Echo to listen to music. Despite all that, the Echo has enough other capabilities that it would be worth the price of admission for me. The Echo is a powerful and very well designed product with a bright future. Good job, Amazon.