Finding the right streaming media player used to be simple, but in recent years the number of hardware options have proliferated, features have grown more sophisticated, and price ranges have expanded in both directions.
At the same time, the number of streaming video apps has exploded, with most set-top boxes opening up their own app stores. That means you're not just considering hardware and software, but ecosystems as well.
Our buying guide will arm you with everything you need to make an informed decision. First, we'll explain all the potential factors for your purchase, then we'll jump into reviews for the media streamers we think are most worthy of your attention: Amazon Fire TV, Apple TV, Google Chromecast, Nvidia Shield Android TV, and Roku 3.
Content is king
Without question, apps and services should be the biggest factor in any set-top box purchase, because nothing else matters if you're not getting the content you want.
The good news is that every set-top box covers the basics, like Netflix, Hulu, HBO Go, and YouTube. Still, each platform has its quirks and missing pieces, so you'll want to pay close attention to our app comparison chart at the bottom of this section.
Roku 3, for instance, has the most complete app selection, but like all other non-Apple devices it can't access iTunes purchases. Meanwhile, Apple TV is missing apps for Amazon Instant Video, Sling TV, and Plex. The Nvidia Shield Android TV covers for its ho-hum app selection through Google Cast support, which lets you launch content from a phone or tablet (marked GC on the chart), but it lacks support for Amazon Instant Video.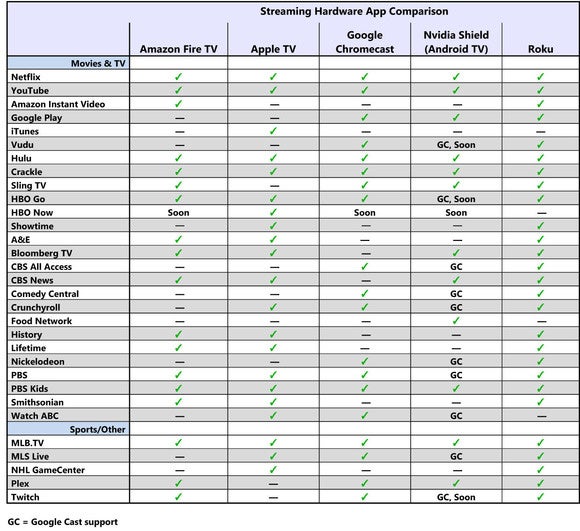 Inputs and outputs
While a simple HDMI output is all you really need to enjoy streaming video and music (provided your display, sound bar, or A/V receiver also has HDMI), most boxes have at least another port or two to address specific needs. You'll find a chart comparing each device's specs at the bottom of the "Phone and tablet controls" section:
Ethernet allows for faster and more reliable streaming if your Wi-Fi router is not nearby

Digital audio out can connect directly to external sound systems, which is useful if passing the audio signal through your TV isn't an option, or if you want to listen with higher-end speakers than what your TV is outfitted with

A USB port and a MicroSD slot are usefulful for playing media from a thumb drive or a digital camera
If you have an older TV without HDMI input, none of the devices on our list will work without a converter. The only other option is the $50 Roku 1, which has composite video output but is slower than newer Roku models.
Remote controls
The remotes that come with most streaming boxes are exercises in minimalism compared to the traditional cable-box clunker, but each of the remotes we're comparing is unique in its own way. The Apple TV remote is the slickest looking, but lacks voice search and dedicated fast forward/rewind buttons.
Both Roku's and Amazon's remotes have voice and playback controls, but the Roku 3 goes further with dedicated buttons for launching Netflix, Amazon, Rdio, and Hulu. It also has a headphone jack for private listening, whereas the Amazon Fire TV requires a set of Bluetooth headphones.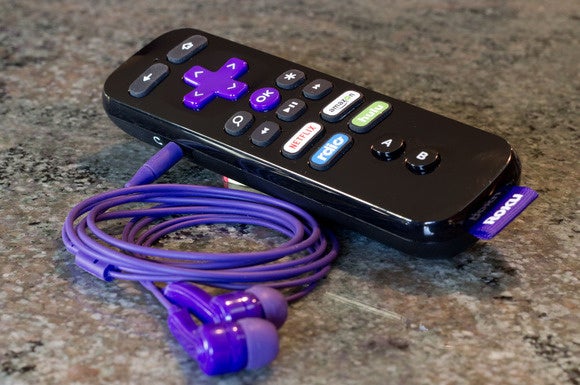 Nvidia's Shield Android TV is a different beast altogether, as it ships with a game controller instead of a standard remote. You can still voice search and plug headphones into it, but a less-intimidating remote for non-gamers costs an extra $50. Alternatively, the Shield supports full HDMI-CEC controls, which means you can control it with your existing TV remote.
The line-of-sight requirements of infrared remotes can be an issue if you're planning to hide your set-top box inside your entertainment center. The Apple TV uses infrared, and therefore must be in plain view, though the use of IR means you can program other remotes to control it. Signals from an RF (radio frequency) remote can penetrate cabinet doors, although their range is not unlimited.
Phone and tablet controls
As couch potatoes become more likely to have a phone or tablet in hand, controlling your TV from that device is becoming more important. However, each media streamer handles this differently, so they're not all compatible with the same devices. Check out the chart below for which streamers offer the following features:
Screen Mirroring: The basic act of duplicating your phone or tablet display on the television. It's a battery hog, but can work for watching certain apps or showing off some photos from your phone.

Casting: The phone or tablet tells the set-top box to start streaming music or video from the Internet. Doesn't affect battery life, and content keeps playing even if the casting device disconnects, but may not work with all apps.

AirPlay: The iPhone or iPad beams music or video to the television, but doesn't mirror its own display. Works with nearly all apps, but can affect battery life and prevents sound from playing on the phone or tablet.

Touch-based remote: Duplicates the buttons of a physical remote control. Works in a pinch when the real remote's gone missing.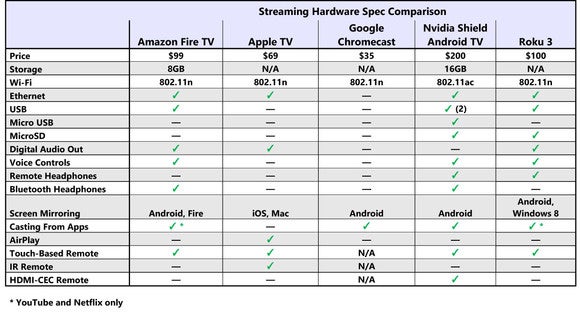 Box vs. stick
You may notice that we've excluded most stick-sized media streamers from this comparison, with the exclusion of Google's Chromecast. The reason is simple: Devices like Amazon's Fire TV Stick and Roku's Streaming Stick aren't as fast or full-featured as their box-shaped counterparts—they both lack voice search and Ethernet connectivity, for instance—and in most cases we'd recommend spending more for a proper set-top box. (One notable exception: You're trying to add basic smarts to a TV you won't use as frequently.)
Why include Chromecast, then? Google's stick is controlled entirely through apps on your phone or tablet. To watch Netflix, for instance, you open the Netflix's existing phone or tablet app, hit the "Cast" button, and pick the video you want. The sluggishness of other sticks is a non-issue with Chromecast, as it's arguably even faster than thumbing around on a remote control.
A word about codecs and containers
Codec and container support doesn't matter much if you're just planning to stream videos and music from online sources, but users with their own libraries of music and video need to make sure the device they buy can play it back. This applies to media stored directly on the device, on external storage connected to the device, and network storage devices (e.g., a NAS box). Here's what each device supports (file formats are listed first, with container formats following in parentheses):
Video:
Amazon Fire TV: H.263 (3GP and MP4), H.264 (3GP, MP4, TS), MPEG-4 (3GP)

Apple TV: H.264 (M4V, MP4, MOV), MPEG-4 (M4V, MP4, MOV), M-JPEG (AVI)
Nvidia Shield Android TV: VP9, H265, H264
Roku 3: H.264 (MKV, MP4, MOV)
Audio:
Amazon Fire TV: AAC-LC, AAC+, enhanced AAC+, AC3, eAC3, FLAC, MIDI, MP3, WAV, Vorbis (OGG, MKV)
Apple TV: HE-AAC, AAC, MP3, Apple Lossless, AIFF, WAV
Nvidia Shield Android TV: AAC, MP3, OGG, FLAC, WAV
Roku 3: AAC, MP3, WMA, FLAC, WAV
Tl;dr
Did you just skip to the bottom of this piece looking for our recommendation? That's okay, we're comfortable choosing Roku 3 as the best all-around option. It has the widest app selection (with Apple content being a noteworthy exception), a simple menu system, powerful voice search, and some pleasant bells and whistles, such as a headphone jack on the remote control. It simply gets the job done, even if its design and interface look a little dated next to the competition.
Having said that, Apple and Amazon have more advantages for users who are thoroughly entrenched in their respective ecosystems, while Nvidia's Shield Android TV is a powerhouse for 4K video and gaming. Chromecast is unique as the best low-cost way to turn your phone or tablet into a remote control. For more on these differences, dive into our individual set-top box reviews. (Click the arrows below to go through them one at a time, or scroll back to the top and click on "More stories in this series.")
Roku 3
Price When Reviewed:
$100
Read our full
Roku 3 review
Apple TV (3rd gen., early 2012)