People have been asking for a la carte television and freedom from expensive bundles for as long as I can remember. And for just as long, Hollywood has said "no."
It's not for lack of trying. Analysts once expected Apple to go the la carte route with an iTunes-based streaming-TV service, but the company is now aiming for a bundled-TV package instead. Intel also tried to break up the bundle a few years ago, but its TV initiative fell apart before it ever got off the ground. And last week, Sony announced a faux a la carte service that doesn't actually include any standard pay-TV channels. Rather than venture outside the perceived security of the bundle, most networks would rather maintain the status quo.
But even as TV networks avoid selling their channels individually, the dream of a la carte is still becoming a reality. It's just happening in a much stealthier way, as streaming channels replace traditional ones.
Redefining 'channel'
Most people wouldn't categorize Netflix, Amazon Instant Video, or Hulu as a la carte channels. They've never been part of any standard pay-TV package, and they don't have linear programming feeds that you can flip through on a set-top box. And with vast catalogs of video on demand—much of which you'll never watch—these streaming services are really, at a certain level, miniature bundles.
But at their core, aren't channels just mini-bundles too? Netflix, much like FX or AMC, is a mix of syndicated content anchored by high-profile original programming. You get hooked on shows like House of Cards, but maybe you stick around for some stand-up comedy or a TV show from a couple years back. Likewise, you're drawn to Hulu for the current shows from major TV networks (including originals from FX and AMC), but you find extra value in having the entire Seinfeld catalog and high-brow films from Criterion.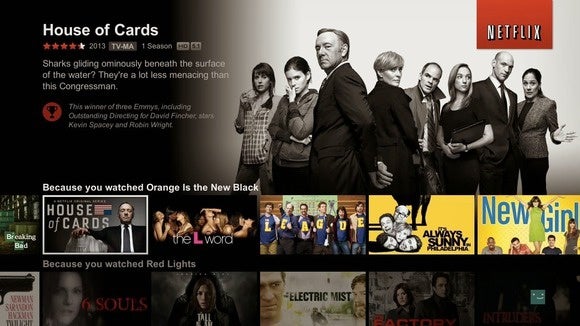 The difference compared to cable, of course, is that you don't have to subscribe to all of these options, which in turn pits them directly against each other and creates fiercer competition. Amazon and Netflix are in an arms race to produce the best original programming, yet each has enacted only one price hike over the years. Meanwhile, lower-profile services like Crackle are completely free and ad-supported, while still producing interesting niche content, such as Jerry Seinfeld's Comedians in Cars Getting Coffee. This is how it should work, with interesting channels competing for your business instead of cramming your cable bill.
Expanding the lineup
Traditional networks are starting to wise up. NBCUniversal is reportedly putting together a streaming video service focused on comedy, including original programming (both scripted and unscripted), full episodes of NBC's late-night shows, and syndicated content from other networks. It could cost as little as $2.50 per month. CBS, meanwhile, has created a free streaming news channel with live anchored coverage and segments from across its various media properties.
Granted, there will be holdouts. Sports networks such as ESPN and Fox Sports Network will hide behind bundles for as long as they can, knowing their particular brand of entertainment isn't as easily replaced. (Even in these cases, league-based services like MLB.tv and NBA League Pass serve as a la carte options for out-of-market teams.) The same will be true of round-the-clock cable news channels, though they'll face newfound competition from streaming alternatives.
Nonetheless, we'll see more networks slice up and repackage their programming in hopes of taking a bite out of Netflix (not to mention non-traditional media sources like YouTube and Twitch). The point is not to shift cable channels to the Internet, but to form entirely new channels to compete in the Internet age.
Over time, we'll even see some aspects of the bundle re-emerge, but only the good parts. Devices like Roku and Apple TV can offer centralized billing for all the services we want, along with new ways to search and browse content across each channel. You can already catch glimpses of this in Roku's universal search and Android TV's Live Channels app, and I'm sure we'll see major investments on these fronts from all the big platforms. Meanwhile, all the things that everyone despises about cable bundles—inflexible pricing, exorbitant hardware-rental costs, and sneaky sales tactics—will fall away as demand for those services ebb.
In the end, people will get exactly what they've been asking for, just not in the way we imagined.