We gravitate toward lighter entertainment in summer, movies that complement the easygoing feeling that overtakes on these warmer and longer days. But don't make the mistake of equating lightness with emptiness.
This week's movie picks include a time-travel story, a ghost story, and a story about a robot. We have chases, escapes, and action; we have smart comedies; and, yes, we have road trips, wherein high temperatures are not the only kind of heat. Jeffrey M. Anderson
Primer (Netflix)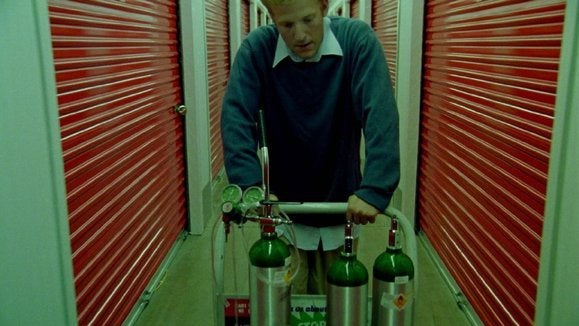 ★★★★☆
Writer/director Shane Carruth made an audacious debut with the brainy, 77-minute time-travel movie Primer (2004), reportedly made for about $7000. While working on a new refrigeration system, two young scientists accidentally discover time travel. They begin spending their days moving back and forth through time, one day at a time, gambling on the stock market and trying not to run into their doppelgangers or cause any ripples in the space-time continuum. But things begin to get more than a little confusing, and some strange side effects begin to occur.
Despite the voluminous amount of theoretical dialogue, and even without any action sequences or visual effects, the movie has a dreamy, fluid feel that's enticing. Several viewings are recommended. Carruth himself plays one of the scientists and composed the music score.
The Others (Netflix)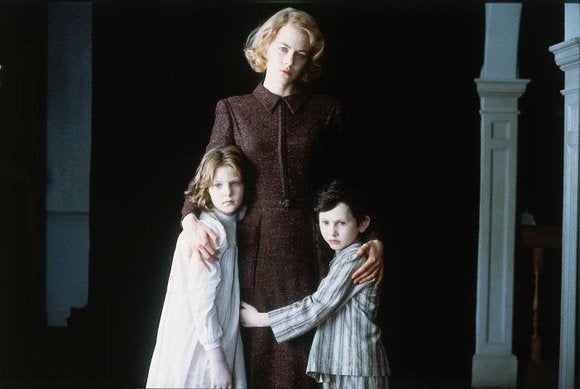 ★★★★☆
Spanish filmmaker Alejandro Amenábar made a splash with his twisty sci-fi thriller Open Your Eyes in 1997; it had such an impact that Cameron Crowe attempted an American remake of it with Vanilla Sky, starring Tom Cruise. That same year, Cruise produced Amenábar's English-language debut, The Others (2001), starring Cruise's soon-to-be-ex-wife, Nicole Kidman.
The Others is a beautifully executed ghost story set in a huge, mysterious mansion in the 1940s. Kidman plays Grace, a woman whose husband is at war and presumed missing. Her children, Nicholas (James Bentley) and Anne (Alakina Mann), have developed a serious photosensitive condition and cannot be exposed to any light stronger than a candle. So when three new servants (including the wonderful Fionnula Flanagan) arrive, Grace establishes the rule that no room shall be entered until the door to the previous room has been shut and locked. This simple rule sets up a very neat device when spooky things start happening.
Incidentally, the talented Amenábar also composed the music. The movie was a huge hit in America as well as in Spain, where it won eight Goya Awards, including Best Picture.
The Great Escape (Netflix)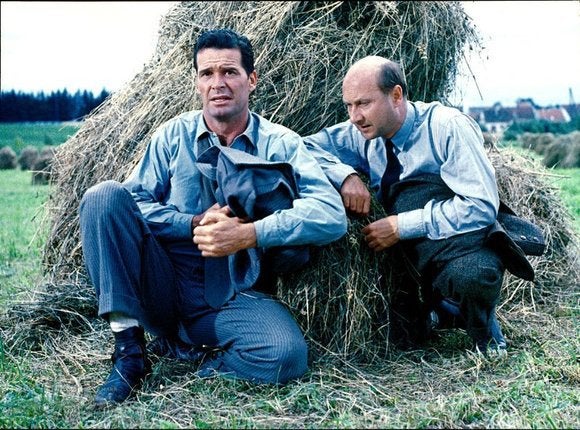 ★★★★☆
Director John Sturges was celebrated for his inventive use of the widescreen frame as well as for his skill at telling manly action stories, and his nearly three-hour-long The Great Escape (1963) is one of his biggest successes. It's loosely based on a true story of WWII, with a handful of British and American soldiers coming up with a massive plan to free 250 men from a German POW camp. Roger Bartlett (Richard Attenborough) designs the plan, which involves digging three tunnels at once. Charles Bronson is the digger (a job he gets despite his lifelong claustrophobia). James Coburn invents a way to get air into the tunnels; James Garner is the "scrounger," who gets ahold of necessary items; and Donald Pleasence forges documents.
The star, of course, is ultra-cool Steve McQueen, who basically spends most of his time in solitary, bouncing a baseball off the wall (he also gets to steal a motorcycle). Elmer Bernstein's score gives the movie its heart-pounding heft. It was a huge hit, but received only one Oscar nomination, for Best Editing.
Y Tu Mamá También (Netflix)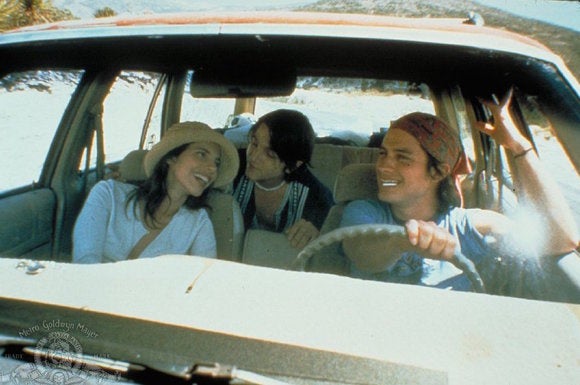 ★★★★☆
Alfonso Cuarón's Y Tu Mamá También (2001) was a huge surprise when it opened in America in 2002; it hadn't even received a nomination for Best Foreign Language Film, and yet it went on to become one of the highest grossing subtitled films of all time. It also went out without an MPAA rating, and deals heavily and frankly with sex, which is normally a subject Americans tend to shy away from.
The film tells the story of two young men (Diego Luna and Gael García Bernal) who take a summer road trip and are spontaneously joined by the sexy, older Luisa (Maribel Verdú). Moving through a specific Mexican landscape full of sun, music, fruit, warmth, laziness, as well as simmering eroticism, the characters definitely have sex on the brain; but what they actually experience changes them profoundly. Years later, Cuarón won an Oscar for Best Director (for Gravity) and his enormous talent for dealing with characters and their physical and emotional responses in a given space had become crystal clear.
Barbershop 2 (Hulu Plus)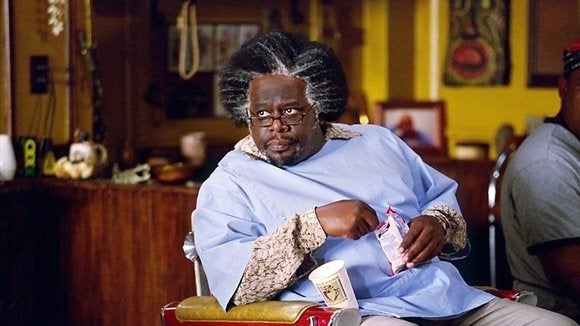 ★★★☆☆
This loose, laid-back sequel to the original Barbershop (2002), which is also streaming on Hulu Plus,uses what could have been some very creaky plot turns, but the movie sidesteps them by focusing on characters and atmosphere; it has an almost improvisatory style. Whereas the first movie took place in winter in the South Side of Chicago, this one has a much warmer feel.
Calvin the barber (Ice Cube) must deal with the arrival of a chain store, "Nappy Cutz," right across the street from his shop. There's a town meeting and some rousing speeches, but mostly it's an excuse to get the old cast back together (Eve, Troy Garity, Michael Ealy, Sean Patrick Thomas, and Cedric the Entertainer) bickering and bantering in a most enjoyable way. Queen Latifah joins in for this one (and later had her own spinoff movie, Beauty Shop).
Seven Psychopaths (Amazon Prime)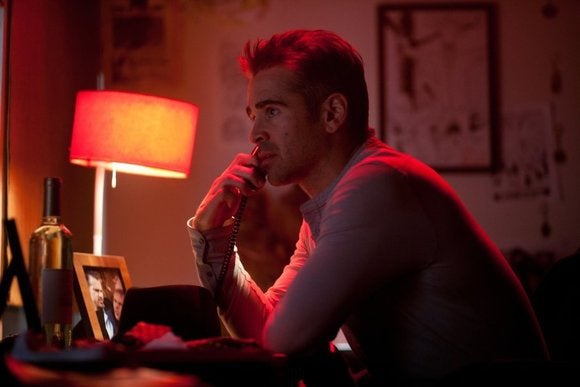 ★★★★☆
Acclaimed Irish playwright Martin McDonagh won an Oscar for his short film Six Shooter (2005) and received a nomination for the screenplay of his feature debut, In Bruges (2008). His incredibly clever, self-reflexive second feature, Seven Psychopaths (2012), amusingly looks at the art of writing and the necessity of conflict (or violence) in storytelling.
A screenwriter, Marty (Colin Farrell), is having trouble with his latest work, titled "Seven Psychopaths." He is tired of violence in movies and wants to think of an alternative. Meanwhile, his pal Billy (Sam Rockwell) and Hans (Christopher Walken) have kidnapped the beloved dog of a sadistic gangster (Woody Harrelson). So the trio retreats to the desert to try to find a peaceful solution to both Marty's script and their real-life gangster problem.
As usual McDonagh's dialogue is a high point, but there's also a genuine affection for the characters. The top-notch cast also includes Abbie Cornish, Tom Waits, Olga Kurylenko, Kevin Corrigan, Gabourey Sidibe, Harry Dean Stanton, Michael Pitt, and Michael Stuhlbarg.
We Own the Night (Crackle)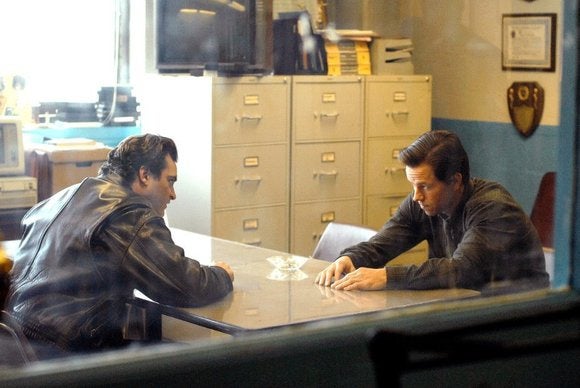 ★★★★☆
The American filmmaker James Gray has a strong nostalgia for gritty dramas from the 1970s, yet he usually has trouble getting American viewers interested in his works (his biggest fans are in Europe). Truthfully, his movies have a certain reverence, like looking through museum glass. Nonetheless, We Own the Night (2007) is an intelligent, mature, and emotionally involving rendition of a traditional story.
It's 1988, and two brothers fall on opposite sides of their family. Cop Joseph (Mark Wahlberg) is the responsible one, working with his father (Robert Duvall), while misfit Bobby (Joaquin Phoenix) works in a nightclub, hobnobbing with thugs and gangsters. When the owner's nephew approaches Bobby with an offer to use the club for drug trafficking, he must decide whether to take the easy money, or honor his family. The movie's design is incredibly vivid, with a few truly breathtaking action/chase sequences to shake things up. Eva Mendes co-stars as Bobby's girlfriend.
Chappie (Vudu)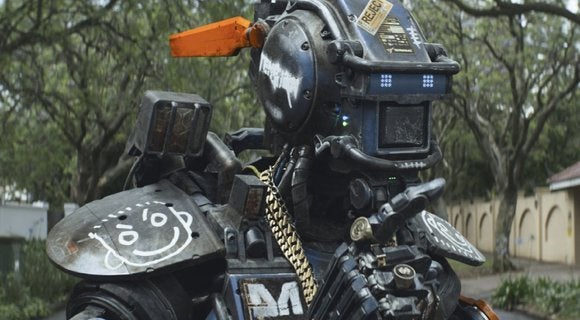 ★★★☆☆
Chappie (2015) is a happy departure from South African director Neill Blomkamp's previous films. His District 9 and Elysium were relentlessly grim, heavy-handed parables, whereas Chappie is funnier, more colorful, and more hopeful, with a stronger sense of empathy. In the film, inventor Deon (Dev Patel) has come up with an artificial intelligence; he steals a broken-down police robot to test it out, but the robot ends up in the hands of a pair of outlaws: Ninja and Yolandi Visser of the South African hip-hop group Die Antwoord, more or less playing themselves.
The pair "raise" Chappie to become a wise-cracking, street-smart goofball (played, in a terrific motion-capture performance, by Sharlto Copley). Sigourney Weaver plays a greedy CEO and Hugh Jackman plays an evil rival inventor who wants his own robots used on the police force. The movie has its share of missteps (notably the Jackman character), and sci-fi nuts far prefer the earlier films, but Chappie's good cheer and wonderfully bizarre touches make it very much worth a look.
You, the Living (Fandor)
★★★★★
Swedish filmmaker Roy Andersson has been around since the 1960s, but it was only on his recent films Songs from the Second Floor (2000) and You, the Living (2007) that he found his true calling. Creating blocky, grayish, chilling, deep-space visuals not unlike Terry Gilliam's, he employs a dry comedic style not unlike Jacques Tati's, or Jerry Lewis's The Bellboy, yet all his own.
You, the Living has no real plot, and there are very few cuts within a scene, and even fewer camera movements. But it conjures up bizarre laughs with its deadpan antics, and portraits of ordinary people trying to live their meaningless lives. A hilariously ill-fitting ragtime score and a thunderstorm underline the existential goofiness. (Andersson's new movie, A Pigeon Sat on a Branch Reflecting on Existence, is opening in art house theaters this summer.)