At a Glance
Expert's Rating
Pros
Terrific price/performance ratio
High-resolution camera
Relatively sophisticated security features
Cons
Limited integration with other connected-home systems
No direct tie-in with other sensors in the home
No cellular or battery backup
Our Verdict
Canary is a strong home-security system with a few significant shortcomings.
Best Prices Today: Canary Home Security System
The Canary I've finally had a chance to review isn't as sophisticated as the Canary I wrote about when its manufacturer was crowdfunding its development. That doesn't mean it's a bad product—it has a strong price/performance ratio for a $249 now $169 home-security system—it just means its developer's ambition exceeded its grasp in a few key areas. And in some other areas, the developer wasn't ambitious enough.
In 2013, Canary CEO Adam Sager criticized the DIY home-security solutions of the time as "pared-down products from the major installers" such as ADT and Vivint. Canary, he told me, would be inexpensive because it wouldn't rely on positioning pricey sensors all over the home. His vision was to place all the necessary sensors—an air-quality sampler, a motion detector, a humidity sensor, a temperature gauge, and a three-axis accelerometer—in a single enclosure that would also house a microphone and a security camera. And that pretty much describes the Canary you can buy today.
The key areas where the Canary fell short of Sager's vision are related to how those components are put to use. Where Sager's vision fell short is the decision to have one device do the entire job. Canary would be a better product if it supported sensors in other places in the home, and if it could be integrated with other connected-home systems.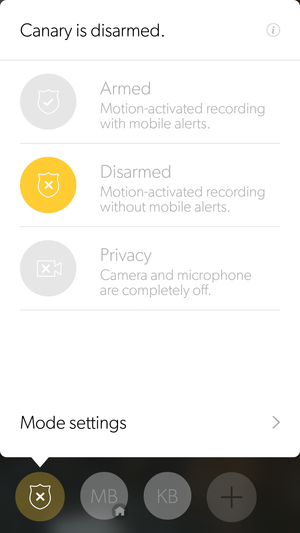 How it works
Canary has three operating modes: Armed, Disarmed, and Privacy. In either of the first two states, the Canary will record video and audio whenever motion is detected. Once you've set the Canary up—and true to the company's advertising, this takes just a few minutes, including installing the app on your Android or iOS phone—it uses your phone's geolocation data to determine whether you're at home or away.
Based on your location during setup, the app will auto-populate the phone numbers for your local emergency responders—ambulance, fire, and police—so that you can reach them with one button press when you need to. If you catch an intruder inside your house—or if you just want to scare the crap out of your significant other—you can trigger a 90dB siren—from within the app.
When the last person registered to the system leaves the house, Canary will automatically arm itself. But the device seemed to have a difficult time determining when I was away with my Android phone, so it didn't consistently arm the system when I left the house. And since the app doesn't inform you when it's changing modes, the only way to know for sure that the system is armed is to pull out your phone and check. I don't know about you, but there's no way I'd remember to do that every time I leave the house.
Canary has a number of tips on its website for improving its geofencing performance, and one of them suggests not installing the Canary app on a device—such as a tablet or digital media player—that you don't carry with you everywhere you go. That's common sense, when you think about it, but I bet there was a "Eureka!" moment when it dawned on the company's engineers why early users were complaining about Canary not being able to determine their locations.
I armed Canary while I remained home, so that I could test its detection capabilities, but the device would automatically disarm itself after a few minutes (sometimes after just a few minutes, other times after more than 20 minutes). That's reasonable behavior, I suppose, except for the fact that the app doesn't notify you after it's being disarmed. More importantly, the status report on the home screen continued to report that it was armed. Yes, I'm being picky here, because you normally would not arm while you're home, but it bothers me that the timeline was correct, but the main screen—which is what you and anyone else with the app would count on to know the Canary's status—was not.
When the system is armed, it records video clips—with audio and a time stamp—each time its motion sensor is triggered (with a 10-minute buffer in between triggers, so as not to record lots of largely redundant clips). In my tests, there was just a 10-second delay between motion detection and my receiving an alert on my phone, but it takes an annoyingly long time to initiate clip playback—upwards of 25 seconds, in my experience. That's a painfully long wait when you're worried that someone has broken into your home.
Canary sends a message to everyone who lives in the home who has the app installed, so that anyone can review the clip and take action if warranted. You can also designate family members and trusted friends or neighbors who don't live in the home as backup contacts. If the primary contacts don't respond to an alert, the message will cascade down your phone tree until someone responds. The app even has integrated text posts, so you can let each other know what's going on, complete with an "everything's fine" button if you don't feel the need to elaborate about a false alarm. Put that feature in the "great feature that wasn't promised" column.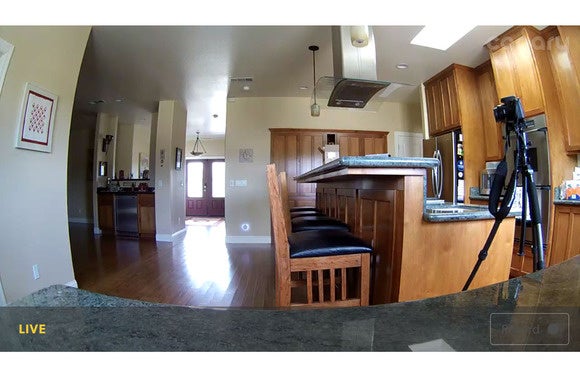 Video playback is somewhat buggy, though; the play/pause button doesn't work consistently, and the 10-second rewind button doesn't work at all. On the bright side, a clip remains buffered once you've played it, so that you can watch it again without delay—at least as long as you don't navigate away from that screen. The app can display clips organized three different ways: All recorded clips, only the clips that were recorded while the system was armed, or a list of only the clips you've saved. The third view lets you see a list of the most important clips instead of scrolling through everything to find the ones you're looking for.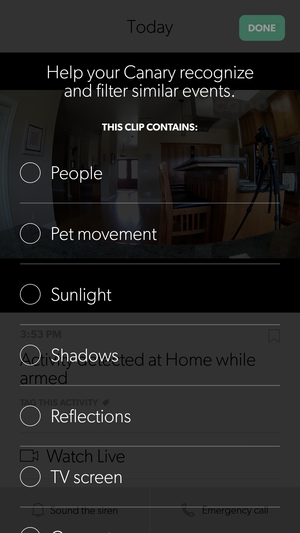 Canary automatically disarms itself when you return home, but it will continue to record video clips when its motion detector is tripped. This would be useful if someone breaks in while you're home, except that it doesn't send anyone an alert. If you don't like the idea of Canary recording clips of you walking around your home naked, you can put the system into Private mode and it won't record anything.
Canary's motion sensor is very sensitive. My cat triggered it while walking past even though the Canary was 15 feet away. Shifts in ambient lighting that caused its infrared night vision kick in were another common source of false alarms. You can tag such clips with categories such as "pet movement," "sunlight," or "moving fan" to help the Canary filter such clips. This won't reduce the number of false alarms, but at least the messages won't be so, uh, alarming. If it's just your cat on the prowl, for example, all similar clips in the future will be labeled with "pet movement detected…."
Home health monitoring
Canary will also evaluate the health of your home's environment, as measured by its temperature, humidity, and air quality. The temperature measurements are a good way to monitor the efficiency of your HVAC system; I was happy to discover that mine was able to keep the interior temperature to within one degree of the thermostat's target even though it was 103 outside on the day that I checked it. The Canary's humidity sensor is very sensitive, recording a slight spike when I took a shower in the morning, even though my bathroom ceiling fan was turned on. Consistently high humidity inside your home could lead to mold growth. Knowing you have such an issue, you could defend against it by deploying a dehumidifier.
I'm not as sure what to make of the "air quality" measurements, though. Canary says its device can detect indoor air pollutants including carbon monoxide, methane, ethanol, cigarette smoke, and cooking odors, but its reporting tool doesn't actually identify any of that. It just shows a running line graph with three ranges: Normal, Abnormal, and Very Abnormal.
Canary says its device will "immediately notify you of any abrupt changes in your home." A sudden increase in humidity, for instance, could indicate a burst water line. A temperature spike could mean that there's a fire. A malfunctioning furnace might lead to a spike in the amount of carbon monoxide in the air. Most homes have legally mandated sensors for the latter emergencies, but you won't hear those alarms if you're not home. It would be great if Canary, like the Leeo Smart Night Light, used its onboard microphone to listen for those sounds and sent you alerts if they're triggered.
No system integration
Canary says it "will consider the possibility of integrating with other smart devices in ways that add significant value." As it stands, the only smart home system integration that's available is via the Wink Hub or IFTTT. We haven't evaluated either of those scenarios. Those looking for HomeKit integrations, meanwhile, will need to wait for the Canary Plus.
What you can do is deploy up to four Canarys at each location, which is terrific if you live in a large home or just want to monitor more than one room. The Canary has a very good camera (with a 147-degree viewing angle) that records video in 1080p resolution, but you can only watch that video on a mobile device. Canary encrypts your video clips and stores them in the cloud, but the company doesn't have a web app that would let you watch them on a bigger screen. According to Canary's website, that feature should become available later in 2015.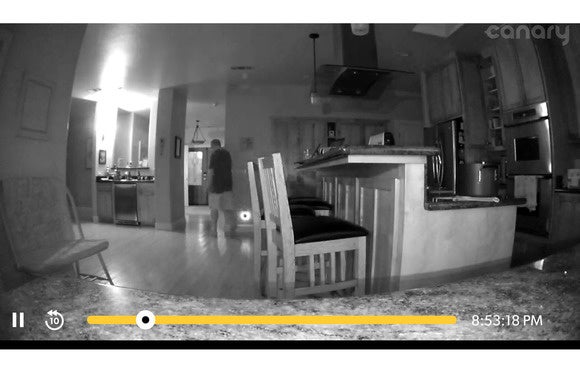 Canary's free service plan stores videos for 12 hours and allows you to save up to 5 videos in the cloud. (I'll go over the company's upcoming paid plans later). But there is no provision for downloading video clips to your own storage device, which means you won't be able to provide police with forensic evidence if you suffer a break-in (apart from showing them your phone, of course). A month-old note on Canary's blog says that a download feature is "coming soon" and suggests using a third-party screen-capture app as a workaround in the meantime. Video downloads have since been enabled.
Canary relies on your router—it can connect via Wi-Fi (2.4GHz only) or with an Ethernet cable—but it has no cellular failover protection. If your Internet connection goes down, you won't be able to reach the Canary and the Canary won't be able to upload its video clips to the cloud. Canary relies on an AC power adapter and has no backup battery. So if you suffer a power outage, or an intruder discovers the device and unplugs it, you'll be in the same boat (the camera should capture anyone approaching it, but if you have a slow Internet connection, the clip might not get uploaded before the Canary loses power). To be fair, adding any or all of those features would increase the Canary's cost, but they are limitations a potential buyer should be aware of.
Paid service plans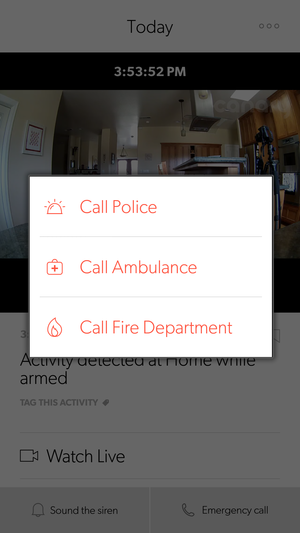 Canary offers an optional subscription plan for $9.99 per month. The service gives you 30 days of video history in the cloud, with unlimited downloads. You're also entitled to access to an "incident support team" and up to $1000 in insurance deductible reimbursement in the event of a break-in (the reimbursement benefit is not available to residents of New Hampsire, New York, and Texas). Membership also extends your device warranty to two years.
Should you buy a Canary?
There is a lot to like about Canary, starting with its $250 price tag—that's just $50 more than a Dropcam Pro, and there's no monthly service fee (unless you sign up for a higher level of service). Canary bristles with sensors, it has a great camera, a very loud siren, a very good app, and solid cloud support. It's super easy to set up, but there's free telephone tech support if you run into any issues. When I called, someone answered after the second ring and resolved my issue quickly. (Phone support is not available on weekends.)
You can get around Canary's reliance on AC power by plugging it into an uninterruptible power supply. And you can get over its reliance on 2.4GHz Wi-Fi by running an Ethernet cable to it (adding support for 5GHz Wi-Fi would be a better solution). Most of Canary's other shortcomings could be addressed by integrating it with other systems or at least enabling it to communicate with other sensors. But I don't know if that's doable. There's certainly no way to overcome its reliance on your broadband connection. And if the ability to download video clips, save more than 5 video clips in the cloud, or have a call center monitor your home-security system are important to you, don't buy the Canary until those features and added-cost services are available.
In the end, I keep coming back to that $250 price tag and the ability to have four Canarys work together. That is a lot of bang for the buck, but it's not enough for me to give up my current home-security system that does integrate door/window sensors, that does enable me to control my lights, that does allow me to unlock my front door without needing a key, and that does all the other things a more sophisticated system can handle. None of that is free, but I feel I'm getting my money's worth.
If those features aren't of value to you, Canary could be a good security solution for your home. Just be sure you're okay with of all its shortcomings.
Originally published on June 10, 2015, this review was updated on July 18, 2017 to reflect a few new features along with information about limited Wink Hub and IFTTT integration, currently available membership plans, and the upcoming Canary Plus, which will support Apple's HomeKit ecosystem.
Best Prices Today: Canary Home Security System