Until now, there haven't been a whole lot of reasons to care about Android TV. While Google's software isn't inherently bad, devices like the Nexus Player have suffered from too few apps and a shortage of selling points over Roku, Apple TV, and Amazon's Fire TV. Google isn't giving up, however, and at this week's I/O developers conference, the search giant talked up how it'll put Android TV on the map.
Let's start with the app problem: As we've noted in our TV app showdown, Android TV hasn't gotten much love from major content providers. That's going to change over the next few months, as apps roll out for HBO Go, HBO Now, CBS News, CBS Sports, CNET, Epix, Fox Sports, FX Now, Fox Now, Fox News, Epix, WWE, UFC, USA Today, Buzzfeed Video, Vimeo, Qello, Vudu, and Twitch. (The timing on each app is unclear, but I'm told CBS apps are arriving now.)
Google is also going to do something it should have done a while ago: List more TV apps in the Play Store. Previously, the company only showed a selection of apps in the Store, and the only way to find unlisted apps was to search for them, making the catalog seem smaller than it actually was. An update to the Play Store will make it easier to discover those apps that weren't listed before.
Beyond just standalone apps, Android TV has a Live Channels app that combines linear television (such as cable TV or over-the-air channels) and streaming sources into a traditional-looking channel guide. Live Channels has actually been available since day one, but now it's getting new streaming channels including TED, Vevo, Huffington Post, Bloomberg, The Weather Network, AOL, and Pluto.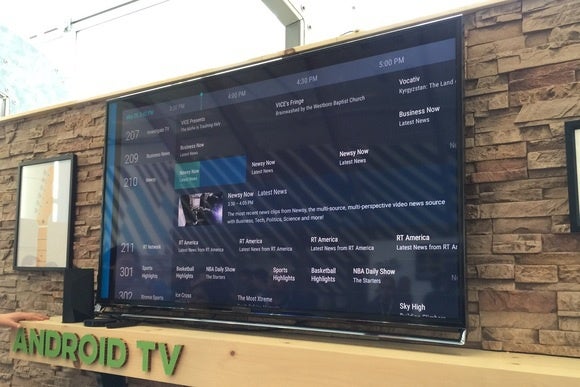 Getting Live Channels to appear, however, is still a bit convoluted. You need either a television with Android TV built-in (Sony and Sharp both make them), so you can plug in your cable box or an antenna, or you have to connect a networked TV tuner such as HDHomeRun. But Sascha Prueter, a program manager for Android TV, told me the company's looking at ways to offer streaming-only Live Channels to all users.
Google is also playing catch-up on a couple features we've found in other set-top boxes. Later this year, a software update to Android M will add USB mass storage support (so you can put your media on a hard drive and plug it into an Android TV box) and support for Bluetooth headphones.
As for hardware, Google didn't announce anything at I/O, but Nvidia is now shipping its Shield Android TV box. At $200, it's a lot pricier than the competition, but it does support 4K streaming, and it has some neat gaming features.
None of this guarantees success for Android TV. As a relatively new platform, it doesn't have the word-of-mouth appeal of its competitors, and the hardware doesn't come as cheap. (Even at discounted pricing, the $79 Nexus Player is more expensive than a Roku 2, Apple TV, or Amazon Fire TV Stick.) But if Google can flesh out its app selection and turn Live Channels into a killer tool, Android TV could be worth a little extra.