It's been more than three years since People Power first began offering Presence, a freemium app that can transform any smartphone or tablet into a Wi-Fi security camera, complete with two-way streaming and some rudimentary motion-detection capabilities. It now wants to take things a step further.
Today the company launched an Indiegogo campaign to raise $20,000 for Presence Security: a suite of ZigBee-speaking sensors designed to augment existing Presence home-security setups. There are three bundles in all catering to different needs and budgets: the Presence Security Entry Pack, the Security Pack, and the Premium Pack.
The $199 Entry Pack contains two entry detectors (i.e., two door/window sensors) and a motion sensor. The mid-tier bundle, $299, includes three door/window sensors, one motion sensor, and one sensor each for water, temperature, humidity, and touch. The $499 Premium Pack includes six door/window sensors, three motion sensors, three touch sensors, and two water sensors. You still get just one temperature sensor and one humidity sensor. The Presence Gateway, which speaks Wi-Fi and ZigBee, is common to all three bundles. People Power is selling limited numbers of each package at "early-bird" discount prices.
Why this matters: Presence already offers a great way to breathe fresh life into spare smartphones and tablets, but there is only so much home monitoring you can do with a repurposed device. For something more comprehensive, it's best to bite the bullet and splurge on the kind of solution that's on offer here. In Presence Security, however, we have an integrated solution that claims to combine the best of both worlds. And what's more, the company tells us giving users the ability to add third-party cameras to their Presence setup (à la Camio) is also on the roadmap.
How it works
The Presence Security user experience will revolve around the existing Presence app (or an updated version thereof) to provide an integrated solution using both your converted smartphone/tablet security cameras and the sensors mentioned above.
The app lets you greatly automate your DIY security system's behavior through the creation of Rules. These are simple conditional statements similar to IFTTT (If This Then That) Recipes. "If my front door opens and I'm in 'away' mode, then make my security camera sound the siren" is just one example. An upcoming feature we're excited about is the ability to share alerts and notifications with neighbors while you're away.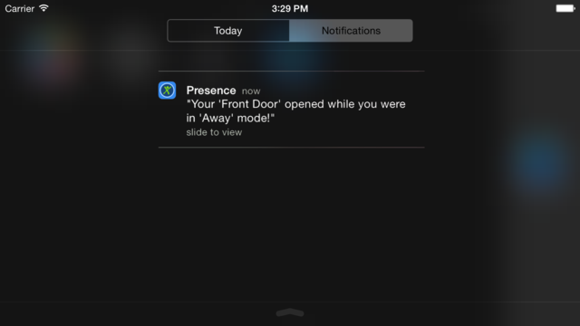 While a subscription isn't necessary, free users are limited to a measly 50MB of cloud storage and are allowed to record just one 60-second video every five minutes. Step up to the $5-per-month subscription and you're allocated 5GB of cloud storage, back-to-back recordings, longer videos, better overall quality, priority feedback and support, and more.
Repurposing hardware you otherwise no longer have a use for is a great way to save money, but there's only so much you can do with a smartphone or a tablet that were designed for other uses. Adding purpose-built sensors should go a long way to making up for that deficiency.