At a Glance
Expert's Rating
Pros
Impeccable audio performance
Lots of connnectivity options, including AirPlay for multi-room setups
Luxuriously elegant design
Our Verdict
The Mu-so sounds every bit as as beautiful as it looks. Yes, it's pricey at $1500, but its price tag is fully justified by its build quality and audio performance.
Best Prices Today: Naim Mu-So Wireless Music System
The more enthusiastic you are about high-end audio system, the less you're bothered by the law of diminishing returns. But I guess you could say that about hardcore fans of any type of hardware, be it automobiles or bicycles. So, whether you agree with my opinion of the Naim Mu-So wireless speaker, or think I'm a blithering idiot with no concept of value for lavishing praise on a $1500 soundbar, will likely depend on just how passionate you are about music reproduction.
Naim provides the audio systems for Bentley, so price sensitivity probably isn't in the company's vocabulary. And like that luxury automobile, the Mu-so is not a product designed for the mass market. That said, $1500 for a networkable powered speaker of this quality doesn't fall into "if you have to ask how much, you can't afford it" territory, either. And the bottom line is that the Mu-so fully justifies its price tag, whether you're looking for a soundbar to fill a large room, or you want to put together a multi-room audio system using your home network.
The Mu-so sits on a clear acrylic base, which makes the 28.7-pound speaker look as though it's floating above whatever surface you place it on. The next thing that captures your attention is that its enclosure is wrapped in brushed aluminum—the cabinet itself is fabricated from thick medium-density fiberboard, a wood product valued for its uniformity. I questioned Naim about the aluminum, since it seems as though that would have a negative impact on the speaker's Wi-Fi antennas.
A company spokesperson responded that the aluminum cladding helped render the Mu-so more rigid than would have been possible with MDF alone. I was also told that Naim had developed "a new type of antenna (patent pending) in collaboration with Queen Mary University, London. Two hidden printed-circuit slot antennae, one between the bass drivers and one deep inside the rear heatsink, work in combination with a dual-channel diversity receiver. This means we can maintain the seamless aesthetic, without external fixtures or antennae, whilst still providing robust wireless connectivity." A massive aluminum heatsink runs across the entire back of the Mu-so's cabinet.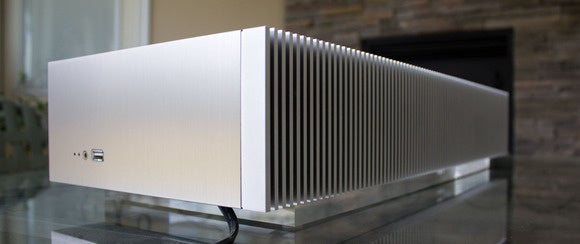 Touch me, hear me
Power the Mu-so up and your eye is drawn to the oversized control wheel on top of the cabinet. A ring of LEDs illuminates the outer ring of the oversized dial, and touchscreen controls appear on its surface. Touch-sensitive icons appear for play/pause, track forward, and track back; input source; streaming source; and Internet radio (you can program up to five station presets and select them right from the touch dial). If you're a Spotify Premium subscriber, you'll be interested to know that the Mu-so supports Spotify Connect.
The Mu-so is equipped with a 10/100 ethernet port, for those who prefer the reliability of wired connections, but it can also operate on your Wi-Fi network (802.11b/g on the 2.4GHz frequency band). The box supports Apple's AirPlay technology, Universal Plug and Play (UPnP), and Bluetooth (including support for the higher-quality AptX codec). Multi-room setups will depend on either AirPlay (with music sourced from a computer, iPod, or NAS box), or something from Naim's line of networked-streaming players acting as a master device that can support up to four additional clients. The Mu-so does not support DTS Play-Fi, Qualcomm AllPlay, or Google Cast for Audio.
In addition to networked sources, the Mu-so also has a 1/8-inch analog audio input; a TOSlink connector for digital sources, such as a TV (HDMI would have been an even better choice); and a USB port, so you can connect a storage device—or an iPod—directly to the speaker. The Mu-so app (Android and iOS) will index the contents of an attached drive, so you can choose which music you wish to listen to. You'll want to use the app over the Mu-so's surprisingly cheap-looking plastic remote control.
Wherever your source your music from, the Mu-so supports most of the important audio formats, including WAV, FLAC, and AIFF up to 24-bit resolution with maximum sampling rates of 192kHz; Apple Lossless up to 24-bit resolution with a 96kHz maximum sampling rate; and up to 16-bit/48kHz AAC, MP3, Ogg Vorbis, and WMA files.
Six amps for six speakers
Pull off the Mu-so's fabric grill and you'll see a three-way speaker system consisting of paper-cone woofers and mid-ranges and silk-dome tweeters. Each 8-ohm speaker is driven by a discrete 75-watt Class D amplifier, so the Mu-so had had no problem filling my kitchen and adjoining great room (roughly 700 square feet) with enough quality sound for a raucous party. Bass response was particularly impressive (aided in part by the presence of a large vent on the bottom of the cabinet) and a room-position switch that reduces bass response if the speaker is placed close to a rear wall and boosts it if the speaker is in a more free-standing location.

To evaluate the Mu-so's musical performance, I streamed a number of tracks over my home Wi-Fi network (using both UPnP and AirPlay), and I connected a USB hard drive with a collection of albums encoded in Apple Lossless (16-bit resolution and a sampling rate of 44.1kHz) and FLAC (16-bit/44.1kHz, 16-bit/48kHz, and 24-bit/96kHz). "Alleluia," from Eric Whitacre's album Water Night, was the first track I played. This composition for a cappella choir sounded appropriately divine, with every voice presented in perfect balance.
"Equus," from the same album, was up next. The Mu-so delivered a dazzling performance and an extremely wide sound stage with this exciting orchestral piece. Symphonic recordings can be tough on audio systems, because of the sheer number of instruments and broad dynamic range in most compositions. If you crank it up to hear the details in the softer passages, you can get blown out of the room when the music swells. The Mu-so handled the track with aplomb, whether it was placed against a wall or in the open space of my kitchen counter. Every instrument, from the trumpets and horns to the violins and timpani, was rendered distinctly and clearly.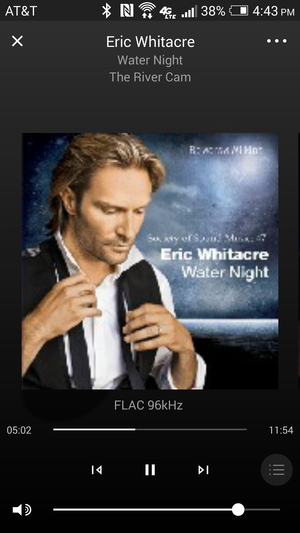 The Mu-so proved equally adept at delivering exciting performances with other musical genres as well, ranging from folk (Robert Earl Keen's cover of the mournful folk song "Long Chain," from his album What I Really Mean), to funk (Tower of Power's "Don't Change Horses," from Back to Oakland), and retro rock-and-roll ("10 Lovers," from The Black Keys' Turn Blue). The Mu-so delivered every performance with verve, excitement, and—above all—precision.
The beauty in this one is more than skin deep
If you can afford the Mu-so's admittedly steep price tag, you'll be rewarded with absolutely marvelous musical performances. It truly sounds a beautiful as it looks. You could also use this soundbar in your home theater, paired with a flat-screen HDTV—provided you have the furniture to accommodate it, as the Mu-so cannot be hung on the wall. You'll also need a TV with a S/PDIF output, because the absence of HDMI is one of this speaker's few shortcomings.
Best Prices Today: Naim Mu-So Wireless Music System