When a movie genre begins to feel stale, one way to freshen it up is to acknowledge the staleness by becoming self-referential. Several of this week's movies do that: One brings a minor character from an earlier movie up to the lead role, another re-imagines a mystery from long ago. There's a fictitious remake with a real star, a fictitious sequel with real stars, and an adaptation of a TV sketch that pokes fun at itself.
Beyond that theme, we have a horror film that turns around upon itself, a tricky dark comedy that occasionally fools us and one brutally honest story of a woman overcoming tough times.
The Cat's Meow (Netflix)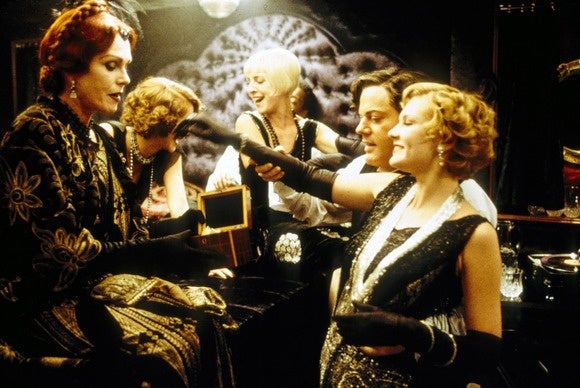 ★★★★☆
Peter Bogdanovich began his career interviewing great directors and actors at the end of their careers in the 1960s and 1970s, and hence became an equally important historian as well as a filmmaker. He brings both his talents to The Cat's Meow (2001), a fictional depiction of a real-life mystery. In 1924, William Randolph Hearst (Edward Herrmann) invited some Hollywood notables for a weekend on his yacht, and one of them never returned.
Though the real story has been distorted beyond repair, Bogdanovich imagines that the passengers included Hearst's mistress Marion Davies (Kirsten Dunst), Charlie Chaplin (Eddie Izzard), columnist Louella Parsons (Jennifer Tilly) and the pioneer of Western films, producer Thomas Ince (Cary Elwes), as well as many other rich friends and associates. Author Elinor Glyn (Joanna Lumley) narrates the tale. Bogdanovich uses heightened Hollywood emotions: greed, jealousy, lust, and larger-than-life egos—as well as Hearst's paranoia (the yacht is lousy with peepholes and microphones)—to drive the suspense.
The Sixth Sense (Netflix)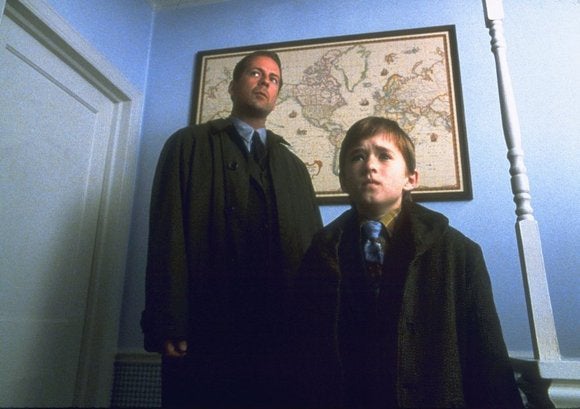 ★★★★☆
One of the most successful scare pictures of all time, M. Night Shyamalan's The Sixth Sense (1999) earned nearly $300 million from a $40 million budget and nabbed six Oscar nominations, including Best Picture. Some of its lines and images have become iconic ("I see dead people"), and by now most movie fans probably know how it turns out, but that doesn't stop viewers from returning to it again and again, just to see how beautifully, perfectly it all comes together.
Bruce Willis stars as a child psychologist who meets a new patient (Haley Joel Osment), who claims to see dead people; together they try to help the ghosts finish their earthly business. Shyamalan favors a quiet, spacious look for his film, using his beloved Philadelphia for the appropriate locations. Toni Collette co-stars, and received an Oscar nomination, as Willis's wife.
Wes Craven's New Nightmare (Netflix)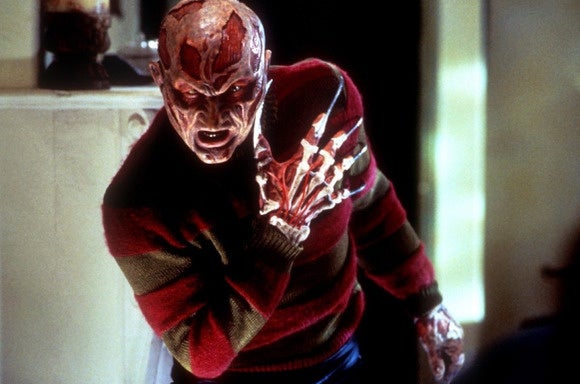 ★★★★☆
Though he took the meta-horror movie to massive new highs two years later with Scream, Wes Craven's New Nightmare (1994)—the director's name in the title—was his first real foray into post-modernism. In this movie, all the stars of the hit series—which had begun to repeat itself in parts 4, 5, and 6—play themselves. Robert Englund is just a regular guy, Heather Langenkamp is now a mom with a young son, and she occasionally chats with her friend John Saxon. There hasn't been a new Freddy Krueger movie in years, but fans are clamoring for more, and Wes Craven has begun to work on something based on his own nightmares.
Unfortunately, a real-life Freddy—a demon that can only be contained by telling stories and making movies—begins slashing his way through Hollywood. With his unique use of space and rhythm, Craven once again defends his title as one of the great living horror masters. To date, Freddy has only re-appeared twice, battling another slasher in Freddy vs. Jason (2003) and in the obligatory remake A Nightmare on Elm Street (2010).
Leon: The Professional (Netflix)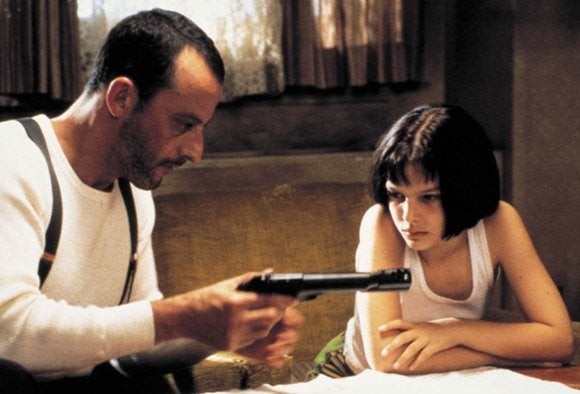 ★★★★★
Expanding on an idea used in La Femme Nikita (1991), writer/director Luc Besson took the character of a "cleaner" played by Jean Reno, and made him the hero of his own movie, the English-language Leon: The Professional (1994). (The film was called Léon in France, and changed to The Professional in the United States; it's now referred to as both together.)
In this movie, Leon lives a simple, stripped-down life, drinking milk, taking care of a plant, and watching old movies. When the family of a twelve year-old girl (Natalie Portman, striking in her film debut) is murdered by a drug lord, Leon (Reno), finds himself protecting her. She wishes to learn his trade, and together they take on the vicious bad guy Norman Stansfield (Gary Oldman).
Besson does some of his finest work here, clean, uncluttered, thrilling, and with welcome touches of warmth and humor. Interestingly, the AmericanLa Femme Nikita remake called Point of No Return featured Harvey Keitel in the "cleaner" role. Keitel then played a similar character in Pulp Fiction, which was released around the same time as Leon: The Professional.
Harold and Maude (Amazon Instant Video)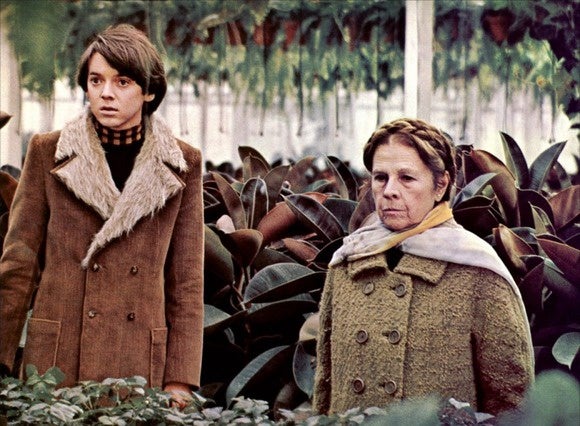 ★★★★★
Hal Ashby's Harold and Maude (1971) is perhaps the quintessential example of "dark comedy," dealing as it does so directly, tenderly, and humorously, with death. The movie was largely misunderstood on its original release, and was not particularly well received by audiences or critics. Not long after, it became a staple of the midnight movie circuit, and was embraced as a cult favorite. A generation later, it became a classic comedy and found a place in the National Film Registry.
Bud Cort stars as a young man obsessed with death who loves to stage his own suicides, drives a hearse, and attends funerals. He meets Maude (Ruth Gordon), a 79-year-old lover of life who steals cars with a carefree attitude. Ashby's minimalist staging works wonders with the deadpan humor, and Cat Stevens' wistful songs add to the emotional impact. Gordon had been an Oscar-nominated screenwriter in her youth, and became an Oscar-winning actress in her sixties. (Also available on Netflix.)
When a Woman Ascends the Stairs (Hulu Plus)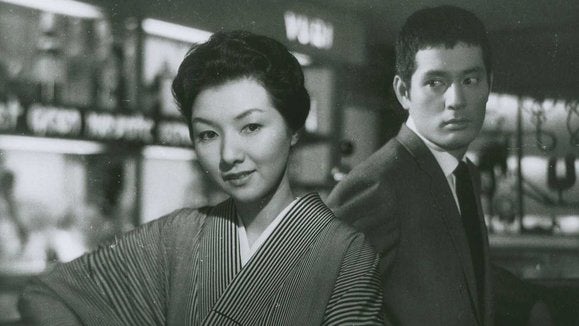 ★★★★★
Though Japanese filmmaker Mikio Naruse (1905-1969) was a contemporary of Akira Kurosawa, Yasujiro Ozu, and Kenji Mizoguchi, he never received the same kind of attention, at least not in America. His masterpiece When a Woman Ascends the Stairs (1960) shows that, though he doesn't have a particularly flashy visual style, he is very much a humanist; one with a focus on women.
In Japan's Ginza district, after WWII, women mostly have two choices for work. They can either get paid to flirt with drunken customers in bars, or open bars of their own. Keiko (Hideko Takamine) is a popular attraction at one watering hole, but she's not getting any younger and she realizes it's time to try to open her own place; unfortunately, this requires her to get closer to her wealthy male admirers, an act that she disdains. Keiko is a psychologically rich character, and an unwavering center of an ever-changing landscape.
Irma Vep (Fandor)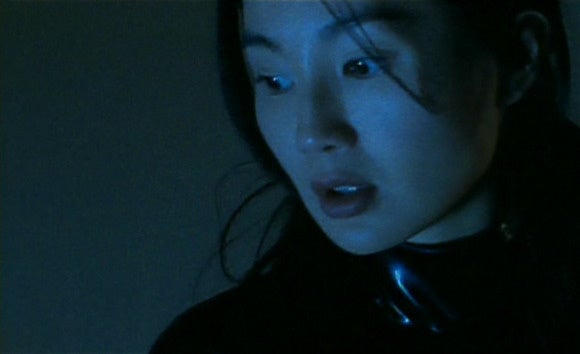 ★★★★★
A former Cahiers du Cinema film critic turned director, Olivier Assayas made one of the great meta-movies of recent years with Irma Vep (1996). Paying tribute to Louis Feuillade's amazing silent adventure serial Les vampires (1915), Assayas' movie begins with a director (Jean-Pierre Léaud) attempting a remake in modern-day France.
He casts Hong Kong actress Maggie Cheung in the lead role of master criminal "Irma Vep" (an anagram for "vampire"). She is fitted with a skin-tight costume (modeled after Michelle Pfeiffer's Catwoman suit), and sits for insipid interviews with clueless members of the press. Eventually, the director's vision for the fictional film becomes increasingly jagged and fragmented, and the real film begins to follow. Filled with film references and experimental touches, this one is mainly for ultra-die-hard cineastes, but those who get it will love it.
The Blues Brothers (Netflix & Crackle)
★★★★★
It's usually a losing proposition to bring Saturday Night Live sketches to the big screen, but writer/director John Landis and co-writer Dan Aykroyd envisioned The Blues Brothers (1980) as an epic "assemble-the-team," "let's-put-on-a-show" road movie to end them all. Aykroyd and John Belushi starred as musicians Elwood and Jake Blues. When Jake gets out of jail, they visit the orphanage where they grew up. Learning that it is about to be shut down, they decide to raise money by putting the old band back together.
On their travels, they meet James Brown, Aretha Franklin, Cab Calloway, and Ray Charles, with small comic turns by John Candy, Carrie Fisher, Henry Gibson, Paul Reubens, and Frank Oz, plus a cameo by Steven Spielberg! Landis has an extremely deadpan style, emphasizing empty space and extra beats to drive home his singular brand of humor. Plus, the music is jumpin'. Netflix offers the uncut, 148-minute version, while Crackle has the 133-minute theatrical cut.