When Samsung unveiled its 2015 smart TV lineup at the Consumer Electronics Show in January, owners of Evolution Kit-compatible sets wondered if they, too, were in line for an upgrade to the new Tizen smart-TV platform. The South Korean giant was quick to reassure them, saying it would release a special hardware kit for this purpose sometime during the second quarter. Well, the wait is almost over.
According to Tizenexperts.com, the 2015 Evolution Kit (SEK-3500U) will be compatible with Samsung's F9000 series (2013) and HU series (2014) ultra HD televisions. The kit's addition will bring them at par with the company's latest smart-TV offerings—some of which it began shipping last month—both in terms of software and hardware capabilities.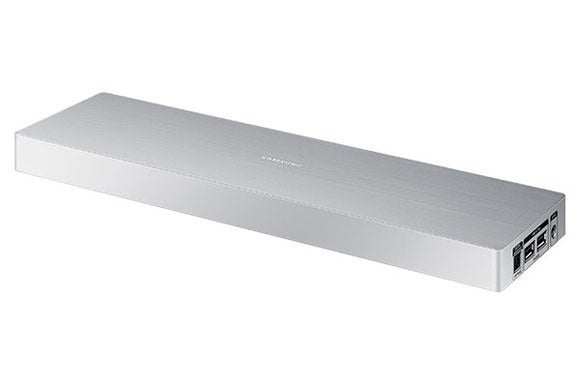 As you may know, Samsung's 2015 smart TV range is the first to run on Tizen, a Linux-based operating system the Korean firm developed in partnership with Intel and a few other companies. Once you have plugged the add-on device into the TV's proprietary Evolutionary Kit port, you will be able to update your TV to Tizen and the new five-panel Smart Hub user interface. And with the update including HEVC and VP9 codecs, the site says you can look forward to delighting in some glorious, buttery-smooth 4K/60p video action.
On the hardware front, the upgrade kit includes an octa-core processor, extra RAM, a new touch remote, and HDMI 2.0 ports with HDCP 2.2. Samsung has the 2015 Evolutionary Kit listed for preorder for $400.
Why this matters: Introduced in 2012, the Samsung Evolution Kit initiative presents TV owners with a way of revitalizing their aging sets from time to time. Sounds great, doesn't it? Well, let's get real: Not everyone is going to want to do so every one or two years. And let's not discount streaming sticks and other streaming paraphernalia—a much more affordable way of making TVs smarter. We, therefore, don't foresee such upgradable TVs going mainstream anytime soon.