Verizon has hatched a scheme to win back cord cutters by offering more flexible channel bundles, but as always with pay TV providers, you must beware the fine print.
When media reports on Verizon's new FiOS "Custom TV" package started popping up over the weekend, I was excited. The traditional channel bundle has become far too bloated, and more people are realizing they don't need it all. It was only a matter of time before TV providers responded to the trend.
But while Custom TV looks like a heck of a deal on Verizon's newly updated website—only $5 per month more than Internet alone—the hidden costs can add up quickly. New customers who are eligible for this "skinny bundle" will need to approach with caution.
Verizon Custom TV explained
Custom TV isn't exactly a la carte, in that you don't choose exactly which channels you want. Instead, Verizon takes a page from Sling TV and gives you a small bundle of mandatory channels, plus your choice of optional add-on packs.
The main bundle includes the major broadcast networks (ABC, CBS, NBC, Fox, PBS) and several big cable networks such as CNN, AMC, and the Food Network. There are 45 channels in total, though nearly half are standard-definition only.
The add-on packs are arranged around themes like "Lifestyle" (Bravo, TLC, A&E, etc.), "Entertainment" (TBS, TNT, FX, etc.), and "Sports" (ESPN, Fox Sports, and so on). For now, Verizon is throwing in two of these add-on packs at no extra charge. Additional packs cost $10 per month.
I've included an image of Verizon's full Custom TV lineup at the bottom of this post, or you can click here to view it directly.
In Maryland, where I've been perusing Verizon's FiOS website and order forms, a Custom TV and 25Mbps Internet bundle is billed at $60 per month for two years. That's only $5 per month more than Verizon's Internet-only offering in the same area.
But once you start working through the sign-up process, the true cost starts spiraling upward.
Want a high-definition picture and an on-screen channel guide? That'll be a $12-per-month set-top box rental fee. Adding DVR brings that fee up to $18 per month, and that's only for one television. If you want a second TV box with multi-room DVR, the monthly rental price rises to at least $35 per month, or as much as $50 per month for the most advanced features.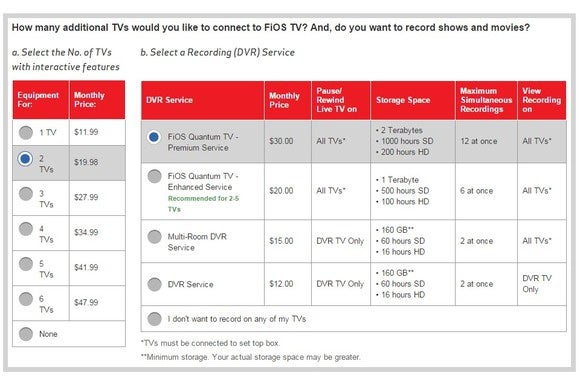 The fees don't stop there. All TV bundles also include a $1.99 per month "broadcast TV fee," and if you include a regional sports package, another $4.99 per month fee applies.
All packages also include "Taxes, Fees and Other Verizon Charges," which depend largely on the hardware you decide to rent. Here are the taxes and fees Verizon charges in Maryland:
$2.82 with no HD set-top box
$4.17 with one HD set-top box
$4.84 for one TV with basic DVR service
$7.32 for two TVs with "Quantum TV Enhanced" DVR
$10.14 for four TVs with "Quantum TV Premium" DVR
Let that sink in. Even though you're already paying out the nose to rent Verizon's set-top boxes, you'll pay even more for that hardware in ongoing taxes and fees that are practically hidden during the sign-up process.
All told, while Verizon says you'll pay a mere $5 per month extra for Custom TV, the true cost is at least $25 per month with HD channels and DVR service. Add more TVs or regional sports to the mix, and the price gets even higher.
Oh, and that's only for the first two years. According to Verizon's website, the whole shebang gets $30-per-month more expensive after your contract is up. And if you'd rather not lock yourself into a two-year contract (which carries an early termination fee up to $230), the price rises by $20 per month after the first year.
A deal with downsides
Despite all of those fees, caveats, and gotchas, Custom TV might make sense for some people. Compared to Verizon's standard 235-channel bundle, Custom TV is $25 per month cheaper. If you can find the channels you want within Verizon's customizable packages, you'll put a lot of money in the bank every year. (I should note that the prices on Verizon's site are for new customers only; Verizon says it may still provide "ancillary offers" to existing customers, who can call customer service to find out what they're eligible for.)
Still, this whole exercise just illustrates how Verizon and other traditional pay-TV providers are trapped in a system of their own design, which relies on expensive hardware, invented fees and shifty pricing tactics to keep the profits coming.
The advantage of Internet video services like Netflix, Amazon Prime, Hulu Plus, and HBO Now is that they aren't burdened by the old pay-TV model. While Verizon could try to create its own Internet-only service—as the Dish Network has done with Sling TV—this would become a much more complicated endeavor, requiring Verizon to strike new deals with TV networks. Better to keep the burden on subscribers instead.
This story has been corrected to reflect that existing customers can subscribe to Custom TV, though they aren't eligible for the same discounts as new customers.