The bane of every backyard barbeque master is running out of propane midway through the grilling process. Instead of serving guests perfectly cooked burgers and mouth-watering steaks with crosshatch grill marks that would elicit a thumbs up from Gordon Ramsay, you're instead left to make a mad dash to the nearest propane tank vendor in hopes of salvaging the meal, the afternoon, and your reputation—emblazoned on your apron—as "King of the Grill." Worse yet is hanging your head in shame as you make the sad walk from the outside patio to the oven in your kitchen to finish the job. It's these sorts of embarrassments that GasWatch aims to eliminate.
GasWatch's self-named gadget is a cleverly designed propane tank scale that reads how much fuel is left in the tank. It does this simply by measuring the weight of your tank and subtracting that amount from the weight of an empty tank, which you input through an accompanying iOS or Android app. It then s the remaining weight into cooking time using an average BTU output, so there's no number crunching required on your end. As far as you're concerned, there might be approximately 40 minutes of cooking time left, giving you peace of mind that you can grill those porterhouse cuts and lobster tails for a surf 'n turf cookout that will be the talk of the neighborhood.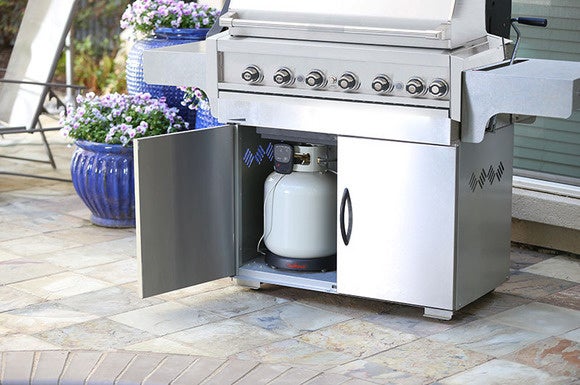 This product already exists, though the newest model that's getting ready to hit Indiegogo adds an integrated smartphone app that connects you to your tank by way of a Bluetooth connection. This gives you the freedom to mingle with your neighbors while you slow-cook a meal. If during that time the propane level dips below 20 percent, GasWatch will alert your phone and sound an alarm. In addition, the app keeps track of the last recorded propane level, so if you haven't grilled in a few weeks (or months), you can jump back in and still know how much cooking time is left.
Questions and concerns
Like us, you might be wondering about the compatibility of GasWatch with your particular setup. The scale itself is a small ring, and according to GasWatch, it fits "comfortably" in any grill cabinet. It's also supposedly compatible with all propane appliances, everything from gas grills to space heaters, and even smokers.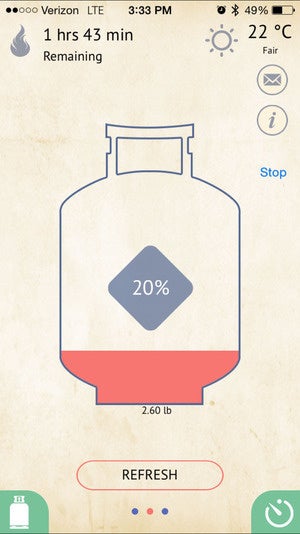 Our other question concerns accuracy, especially as it compares to other types of products that purport to measure the amount of gas left in a tank, such as pressure and magnetic gauges.
"Pressure in a propane tank can drop rapidly, so propane tank fuel gauges aren't the best option for someone looking to know if they need a refill prior to starting up the grill. The propane tank also needs to be on to get a reading from any propane pressure gauge," GasWatch explains on its website. "Magnetic gas level indicators also require the propane tank to be on to get a reading, and can only tell you if there is propane on the other side of the magnet. The preferred method for accuracy in propane tank level indicators are products that measure the weight of the propane. Digital propane tank scales offer more accuracy because weight decreases more gradually than pressure."
GasWatch also points out that its solution doesn't attach directly to the propane tank, making it one of the safer options available.
We did a little digging online and while there isn't much in the way professional reviews, the relatively few user reviews that are out there generally agree that GasWatch's scales work as advertised.
Why this matters: Not every smart home appliance has to be overly complicated or expensive. GasWatch is neither–it's basically a glorified scale that's capable of converting weight into cooking time. In the context of a propane gauge, that's highly useful information. Being able to communicate with mobile devices is icing on the cake, or seasoning on the steak, if you will.
If you're interested in this product, GasWatch will land on Indiegogo on April 22. The first 50 who contribute $30 will receive a GasWatch unit and app. At the other end of the spectrum, there will be a "Grill Master" reward level for $150 that will include a GasWatch, a barbeque tool set, and a $100 Omaha Steaks gift card.
Update: GasWatch's Indiegogo campaign is now underway.