Netflix is making its shows more accessible for the blind.
The company recently announced plans to add audio descriptions (also known as video descriptions) to its original television series. The first title to get the new accessibility option is, fittingly, Marvel's Daredevil, a television series that debuted on April 10 and is based on Marvel Comics' blind superhero. In fact, the feature is already live.
Audio descriptions are audio tracks that describe the on screen action in detail between dialogue. Here's an example from one episode of Netflix's new series:
"Matt [Murdock a.k.a Daredevil] head butts one cop and kicks another, he does a backflip and takes down the cop with the gun on Vlad…Matt jumps up and pulls his cuffed hands in front of him. He is a blur of motion spinning, kicking, and punching."
The Federal Communications Commission requires the major broadcast networks including ABC, CBS, Fox, and NBC to supply video descriptions to 50 hours of prime-time and children's programming per quarter in the nation's top 25 markets. In July, that requirement will expand to including the 60 biggest markets in the U.S.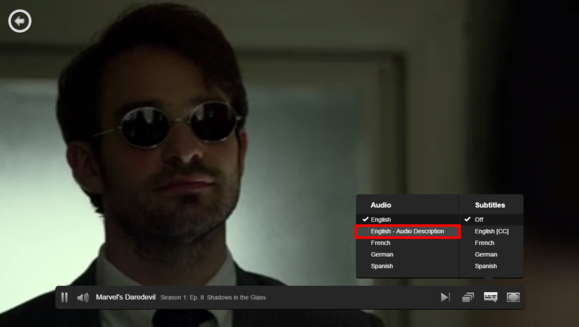 The addition of audio descriptions comes after comic book fans and advocates for the blind pushed Netflix to include the feature, according to CNBC.
Why this matters: Adding audio descriptions to a television show about a blind superhero seems like a no-brainer in retrospect. But it shows how easily people with physical challenges are forgotten in our society. It's great to see that Netflix is correcting this issue and plans to expand its audio descriptions to more titles in the future.
More expansion plans
Following Dardevil, Netflix plans to add audio descriptions to its other big original titles in the coming weeks including House of Cards, Orange is the New Black, Unbreakable Kimmy Schmidt, and Marco Polo.
Netflix says it is also working with other content producers to bring audio descriptions to non-Netflix titles that are available in the company's catalog.
Audio descriptions are currently English only, but Netflix is hoping to add other languages in the future.