One of the best features of Amazon's Fire TV no longer requires a Fire tablet to use.
With a new software update, Amazon will enable "X-Ray" directly on the Fire TV and Fire TV Stick. This allows users to pull up actor lists, character bios, trivia, soundtracks, and other details while watching videos from Amazon Instant. Most of the data comes from the Internet Movie Database, which Amazon acquired 17 years ago.
Previously, Amazon offered X-Ray through a companion app on Fire tablets and the Fire phone. The update will let users view this information on the big screen by clicking "Up" on the Fire TV remote. Users will first see an overlay on the playback screen with some basic details; clicking "Up" again pauses the video and opens a full-screen X-Ray page.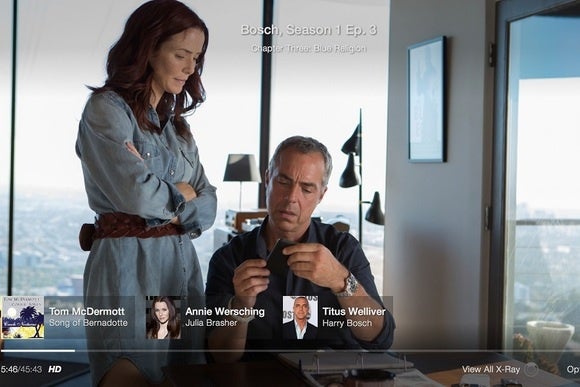 Amazon says that "tens of thousands of titles" support the X-Ray feature, including original series such as Transparent and Mozart in the Jungle. In its press release, Amazon also revealed that it has more than 1,400 apps and games for Fire TV (though we're guessing most of those are games).
The new feature comes less than a month after a major update for Amazon's media streamers, adding hotel Wi-Fi network support, USB storage support on Fire TV, private listening over Bluetooth, more direct access to Prime Music, and a more secure PIN entry screen.
Why this matters: The streaming set-top box wars have been heating up lately, with new hardware from Roku, a price cut for Apple TV (reportedly ahead of a hardware upgrade this summer), and a couple more Android TV boxes on the way. While app selection is still the biggest factor in choosing a media streamer, features like X-Ray could help cement the loyalties of users who've already made their decision.