After months of build-up, HBO launched its long-awaited standalone streaming service on Wednesday.
It's called HBO Now, and it brings the network's library of original series, movies, specials, and documentaries to people who don't have a traditional cable or satellite TV subscription. The service costs $15 per month—roughly the same price HBO charges for its regular pay-TV network—and you can get started with a free 30-day trial.
Now that the service is up and running, we have answers to many of the questions that came up after HBO's announcement last month. But we're also still scratching our heads over a few details. Here's what we know, and what we don't:
Most users need an Apple device to sign up …
HBO isn't selling HBO Now directly to users. Instead, it's working with third parties such as Apple, which is signing up and billing users through iTunes on iOS devices. HBO is also partnering with Internet service providers to handle sign ups and billing, though Cablevision is the only one on board for now.
What this means in practice is that you currently need an iPhone, iPad, or Apple TV to sign up for HBO Now, unless you live in an area where Cablevision provides Internet service. This is going to be the case for at least 90 days, during which Apple is the exclusive non pay-TV provider for HBO Now.
… But you don't need an Apple device to watch
Signing up for HBO Now through Apple does not restrict viewing to Apple devices. In addition to iPhones, iPads, and Apple TVs, you can also watch HBO Now through any desktop web browser, using the password you create during sign-up. (By extension, you can use a Chromecast to beam the video from a browser to your television.) An Android app is also coming soon, and HBO says it's working to support "additional devices" in the future.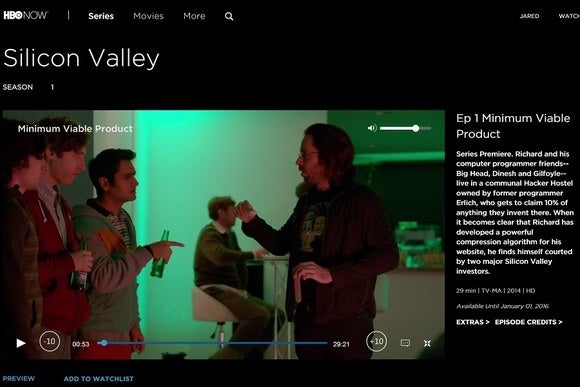 It's a lot like HBO Go
For years, HBO has streamed nearly all of its programming through another service called HBO Go, but this still required you to subscribe to HBO through a traditional pay TV provider, or bum a login from someone who did. HBO Now opens up the same programming to anyone, even if you don't have cable or satellite TV at all.
In terms of content, HBO Now seems identical to HBO Go. Every episode of every original series is available for streaming, along with dozens of comedy specials, movies, sports programs, and specials. The two Apple TV apps are almost indistinguishable, though HBO Now's iPhone and iPad apps are a little spiffier than the HBO Go version.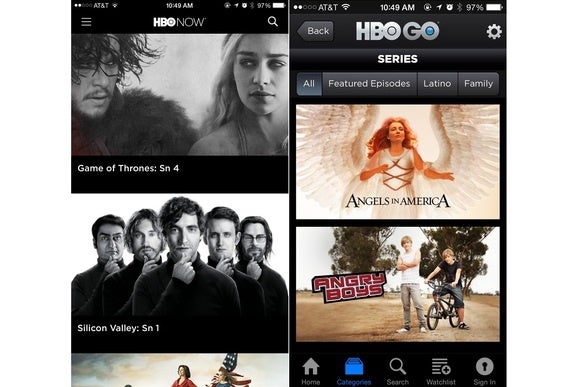 There's no live feed, but new shows are in real time
The only thing you don't get with HBO Now is access to the live feed from the proper TV channel. Original series will still land on HBO Now as soon as they air in TV—you'll be able to tune into Game of Thrones on Sunday night at 9 p.m. just like everyone else—but some programming, such as live boxing broadcasts, will show up with a delay.
HBO still won't bust you for a little sharing
Password sharing was a common practice when HBO Go was the only option, and HBO was surprisingly relaxed about it. With HBO Now, the network says its policies will be similar: Feel free to share with members of your household, but be aware of "other tools of enforcement available to us" if people are sharing too much.
In concrete terms, Engadget reports that HBO Now users can activate as many devices as they want, though the number of simultaneous streams per account is capped at three. Sharing with people you trust probably won't be an issue.
You can totally binge-and-ditch
HBO Now is a monthly subscription with no long-term contracts, so there's nothing stopping you from dropping your subscription during programming lulls, and starting it back up when your favorite shows return.
The process is a bit convoluted, however, because you can't unsubscribe through HBO's apps or website. Instead, you have to manage your subscription from the provider you signed up with. If you signed up through iTunes, you must go to the App Store, open the Featured section, scroll to the bottom, press "Apple ID," press "View Apple ID," and then press "Manage" under the Subscriptions section. From here, you can see your HBO Now subscription and turn auto-renewal on or off.
It's not the only cable-free way to watch HBO
Another option for watching the latest HBO shows without a cable TV subscription is through Sling TV. For $20 per month, Sling TV offers 20 live cable channels, including ESPN, AMC, and the Food Network. HBO is a $15 per-month add-on, and provides both the live channel feed and a library of on-demand programming. HBO is available on Sling TV now.
What we still don't know
We don't know which other non-pay TV providers (Google? Amazon? Microsoft Xbox?) will sell HBO Now after Apple's exclusivity ends.
HBO has hinted at flexible pricing for HBO Now, but we don't know who will offer it cheaper or under what conditions.
We don't know the timing of HBO Now apps for other devices, such as Roku, Amazon Fire TV, Xbox, or PlayStation.
We don't know why there's an "available until" date next to every piece of HBO Now content, including original series. These series never seem to expire on HBO Go, so it's a bit unnerving.