We all know what it's like to be woken up by a bedmate's alarm, don't we? Over the years, many products—from pulsating pillows to vibrating wearables—have been launched to prevent precisely this kind of literally rude awakening. Some have been effective, but none can match Wakē's hi-tech smarts.
Wakē is a wake-up aid that deploys directional audio and focused lighting to gently pull you out of your slumber while leaving others in the room undisturbed. Well, at least that's what Lucera Labs, the Los Angeles-based company behind Wakē, is promising on Kickstarter, where it is currently seeking $100,000 to bankroll the initial production run.
Why this matters: Study after study has shown that a large chunk of the human population is getting less than the recommended daily quota of sleep. Although there is no consensus on what's the right amount of sleep—some say eight hours, other say seven—the bottom line is that sleep is a precious commodity, more so in these hectic times of ours. If the Wakē works as well as its makers claim (and the manufacturer makes some tall claims) many sleep-deprived couples could soon be waking up to domestic felicity and enhanced professional productivity.
The wall-mounted "personal sunrise" alarm uses its built-in body heat sensor to determine the designated individual's location on bed, letting out narrow, focused beams of light and sound the moment it has zeroed in on them.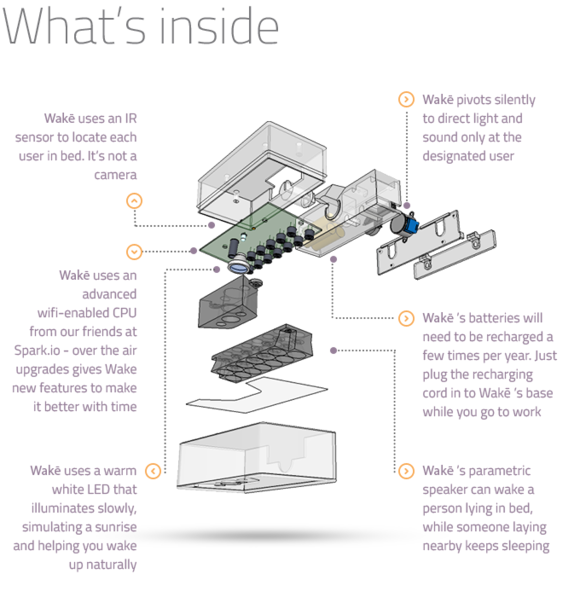 According to the company, Wakē uses its white LED light to "gently illuminate the area around your face" while a parametric speaker delivers an almost laser-like beam of sound. The light-and-sound show starts off nice and slow, gradually crescendoing to a point, we presume, where you've to either get up or hit snooze via the Wakē app.
As of the writing of this article, the project is more than halfway to its funding goal and has until May 30 to raise the remaining amount. If you want one, you'll have to pledge a minimum of $249 and wait until at least September 2015 for your order to arrive.