At a Glance
Expert's Rating
Pros
Zero setup required for basic installation
Mobile app is streamlined and simple, with no training required
Audio quality is good enough for casual listening
Cons
Bulbs are enormous and only suitable for floodlight canisters
Wireless range is extremely limited
Dimmer is stairstepped and chunky
Our Verdict
The Sengled Pulse stereo system offers middling but decent sound along with bright white light.
Note: This review has been superseded by a new story based on a comparison with three other LED speaker/light systems. You'll find the new review here.
Now here's a truly genius idea: Take a Bluetooth speaker and embed it inside an LED light bulb. Screw it into any available socket and you've got an instant in-ceiling audio system that also lights up the room.
The Sengled Pulse in kit form ships with two bulbs, one denoted the master and the other a satellite. These are straight Bluetooth products, so your audio source will need to be fairly close to the master bulb to operate. The master bulb also relays music to the satellite via Bluetooth, so they will also need to be in range of each other.
You can add additional satellites to the mix as needed, but given the range limitations, I can't see a typical home supporting more than three or four bulbs total. (Alternately, you could configure separate Pulse setups in different parts of the house, but these wouldn't communicate with the others.)
Installation is ultra-simple—provided you can find a suitable place to screw the bulbs in. Never mind the LIFX monster reviewed elsewhere in this roundup, the Pulse bulb is so large I had trouble finding a fixture it would fit into. Ultimately I installed the bulbs in in-ceiling canisters designed for PAR30-sized, floodlight-style bulbs—and this is probably the intended idea. Smaller bulbs might not make sense anyway, as I'm not sure there's much of a way to shrink the speaker elements down without severely compromising sound quality.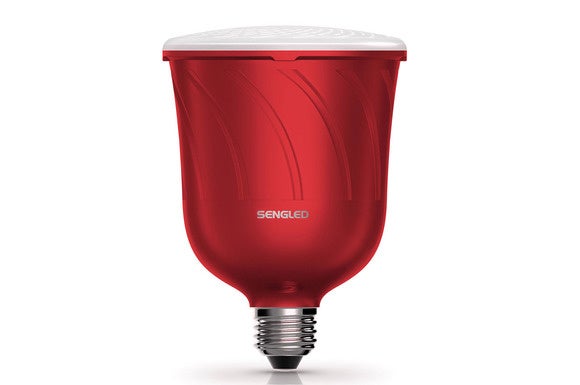 Each Pulse bulb provides 600 lumens of brightness and contains a 1.75-inch JBL loudspeaker driven by a 13-watt amplifier. These speakers won't fill a room with sound, especially when they're mounted in the ceiling, but the quality of the sound is surprisingly good, with good clarity and a modest bass response.
You can use the audio features on the Sengled Pulse without a mobile app, but that's the only way to control the brightness of the lights. The app is simple, with just two primary functions: One lets you turn the speakers on and off and control their volume, the other controls the brightness of the bulbs. Note that color temperature can't be changed—it's locked at a nicely warm 2700K. Bulb brightness can also be individually controlled.
The app also gives you more fine-grained control over audio than you'll get from simply using your phone's media player. If you have have two speaker-lights, for example, you can set one as the left and one as the right channel, or you can have both speakers play both left and right channels. A rudimentary equalizer is also included if you want to fine-tune your music.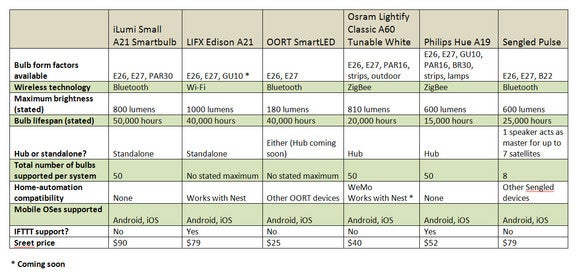 Aside from the sheer size of the bulbs, the only issue I had with the Pulse was range. I lost audio when I moved just 10 meters from the master speaker, and less if I went around a corner. That's not a lot of leeway for a Bluetooth solution, and it means you'll probably have to park your phone nearby—in my case, on the floor of a long hallway—if you want music to be sustained without interruption.
Otherwise, the Pulse is a well thought-out audio/light combo solution that works well and will solve a big problem for people looking for a more permanent in-wall audio system, but who aren't interested in ripping up their walls to install wired speakers. If you can tolerate speakers on tables or other surfaces, however, you might be better off with a Sonos or some other wireless multi-room audio system.
Pros:
Zero setup required for basic installation
Mobile app is streamlined and simple, with no training required
Audio quality is good enough for casual listening
Cons:
Bulbs are enormous and only suitable for floodlight canisters
Wireless range is extremely limited
Dimmer is stairstepped and chunky
Bottom line:
Sengled Pulse is the perfect way to add in-wall audio to your home by letting your light fixtures do double duty as speakers.
Verdict: 4.0 stars