Tablo is one of the more unique tools for those who've ditched cable TV, extending over-the-air antenna broadcasts to phones, tablets, computers, and set-top boxes. But until now, a subpar software situation has held Tablo's hardware back.
Things are looking up, however, with new Tablo apps for Android TV and Amazon Fire TV, along with an overhauled app for Roku devices. Tablo maker Nuvyyo has been talking about these apps since January, and it's finally releasing them now.
Here's how Tablo works: First, you hook up the Tablo box to your home Wi-Fi router with an Ethernet cable, then you plug in your own over-the-air antenna and an external hard drive. Using Tablo's apps, you can then stream live broadcast TV to other devices over your local Wi-Fi network. You can also set up Tablo as a DVR for broadcast channels.
Tablo costs $220 with two tuners or $300 with four tuners, though you'll have to supply your own antenna and external hard drive for the system to work. While Tablo's apps are free, certain features—such as recording by series and out-of-home streaming—require a $5 per month subscription.
Why this matters: The number of people living without cable TV is quickly growing, and many of those people are doing so with the help of over-the-air antennas that can pick up high-definition broadcast channels such as ABC, NBC, CBS, and Fox. Products like Tablo are arriving at just the right time, adding modern-day features such as DVR and playback on mobile devices.
Software cleans up, hardware remains cluttered
As Tablo noted in a recent blog post, the old Roku app was essentially a cookie-cutter design based on Roku's standard development console. As such, it's kind of stodgy-looking, and it doesn't allow for custom views such as a grid-like channel guide. The new app has a more modern look, with a sidebar menu for jumping between different parts of the interface.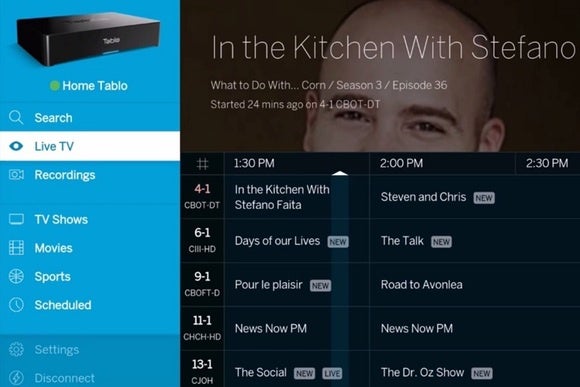 On the downside, the app only supports DVR scheduling for 24 hours out, though an update in the coming months will add scheduling from 14 days out. (Tablo is keeping its old Roku app around until the new one reaches feature parity.)
The Android TV and Fire TV apps look similar to the new Roku app, with some minor design differences.
Unfortunately, Nuvyyo still isn't ready to release its Tablo Metro hardware, which has an integrated antenna so you don't have to clutter the space around your router with a pair of rabbit ears. Nuvyyo originally planned to release the Metro in March, but a spokeswoman told me it's looking more like late May at this point.