At a Glance
Expert's Rating
Pros
Photo-to-light hue matching feature is endlessly entertaining
Vibrant colors
Lots of configurability options, including a clever geofencing system
Cons
Disappointing brightness no matter what color you pick
Non-intuitive app interface
Major range issues in my installation
Our Verdict
Limited range and a clunky mobile interface make Hue a tough sell amidst growing competition.
Best Prices Today: Philips Hue A19 (1st-gen starter kit)
Philips was a pioneer in color-tuning light bulbs; but being a first mover, the brand is already starting to show some age. Hue is a hybrid solution that relies on ZigBee, and it ships with a special hub that connects to your Wi-Fi router via an ethernet cable. This bridge then communicates with your Hue-capable bulbs, and an app on your phone talks to the bridge through your Wi-Fi network.
Despite the extra equipment required, setting up Hue isn't tough, although I encountered a hiccup getting one of the three bulbs in my starter kit to recognize. With the Hue app installed, the fun begins. Hue is at its best when interacting with the full range of supported colors in its "Scenes" feature. Here you can take a photo—or choose one of the dozen-plus preloaded photos—and set the color of each bulb in the house to a point on that picture. All the bulbs can be set the same or differently, as long as the color you want appears in that picture. (Don't worry, there's a rainbow in the mix to choose from, too.)
Once you've set the bulb color, digging deeper lets you adjust the brightness of each bulb individually. The dimmer works smoothly and takes things down from only moderately bright (a relatively lackluster 600 lumens) to an appropriately slow burn.
If you need a super-bright bulb to light up a room, note that the relatively dim Hue shouldn't be your go-to. Extras include a capable (if slightly convoluted) alarm and timer system, and a geofencing feature that turns lights off automatically when you leave, and on when you get back home. All of this works well enough, but some iffy design choices make interacting with the app more complicated than it needs to be.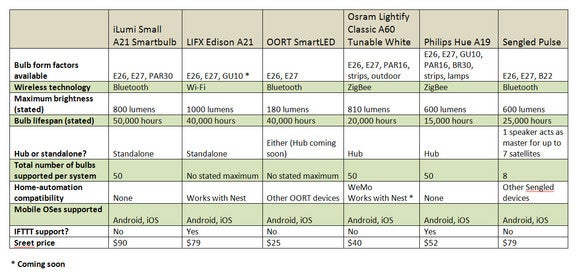 The other main issue I had with the Hue line was range. ZigBee devices typically have a range not much better Bluetooth, which makes it a curious choice for light bulbs that might well be in a different room from the bridge. In my case, a bridge just two rooms away would frequently fail to connect with the bulbs, often requiring me to retry color-change operations and to turn bulbs off and on multiple times before they worked. In many cases, one bulb would change while the other would not. Or one bulb in my setup would turn off while the other stayed on. Hue technically supports up to 50 bulbs on a hub, but getting them all within range of the bridge sounds functionally impossible.
The bottom line: Hue has plenty of nifty tricks and works well in small environments (think a dorm room or studio apartment), but it just isn't a viable solution for larger homes.
(Editor's note: Philips recently announced a portable color-LED lamp, the $100 Hue Go, but it won't be available until June.)
Best Prices Today: Philips Hue A19 (1st-gen starter kit)