Mention Flir Systems to a security aficionado or a defense-industry watcher, and they'll probably mention thermal imaging, the technology that lets you see where the bad guys are—or where they've been—based on their body heat. Today Flir announced its entry into the increasingly crowded home security camera business with the Flir FX. While we're disappointed to report that the Flir FX isn't capable of thermal imaging, Flir has come up with a trick that could be even more useful when you're looking for evidence of a crime.
One of the most common problems with security cameras is sorting through all the video they capture in order to find the information that's most important. Fast-forwarding or rewinding hours of video to find the 10 seconds of crucial evidence—the burglar breaking in, the thief snatching your bike off the front porch, the house cleaner sneaking into your liquor cabinet—takes the patience of Job and the eyes of a hawk.
"We're solving the 'too much video' problem," John Distelzweig, VP of Flir's security division, told me in a briefing last week. "We're bringing forensic technology to the connected-home space. We've taken a mid-range industrial camera, and added a MicroSD card and a battery so it can operate without Internet access for up to four hours."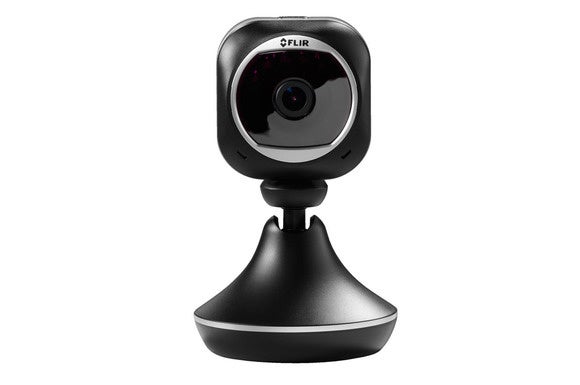 Flir's solution, dubbed RapidRecap, enables you to watch an entire day's worth of video in just a few minutes. It combines dozens of time-stamped motion events into a single clip: So instead of watching the delivery person leave a package on your door, followed by several hours of inactivity; then seeing your letter carrier deliver the mail, and only after sitting through several more hours of innocuous activity, finally catching a thief purloin the package from your porch, you can watch all three of those people—and as many more who happen to pass before your camera—come and go all at the same time. A box overlaid on each person displays the exact time their movement was captured. This is much easier to watch than to explain; fortunately, Flir has embedded a host of sample videos on this page of its website.
The Flir FX captures 1080p video and stores it on an included 8GB MicroSD card (the slot can accommodate cards with up to 64GB of capacity). The camera uploads the video clips it has captured to Flir's cloud-based server—via your 2.4GHz Wi-Fi network—as bandwidth allows. RapidRecap videos based on these clips are created on the server at the user's request. The demos look terrific. We have a camera in house now and will be able to report soon on how well the technology works in the real world.
The camera has a 160-degree field of view and is equipped with infrared LEDs that can deliver up to 33 feet of range in a dark environment. The $200 camera can be enclosed in an IP66-rated outdoor housing, a waterproof sport housing ($60), or installed on a dashboard mount ($50). The outdoor enclosure includes powerful LEDs that increase the camera's night-vision range to 65 feet. Flir also sells the Flir FX preconfigured with the outdoor housing for $250.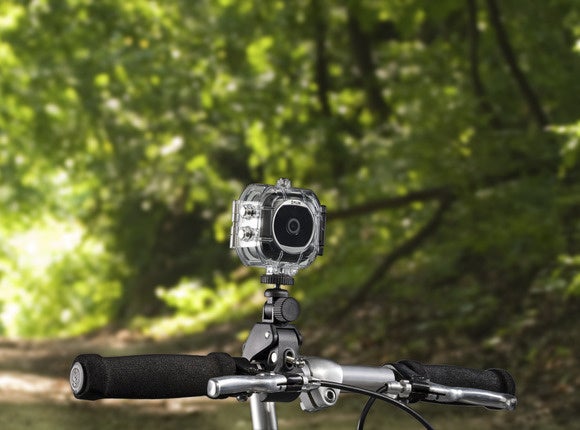 As with many products in this class, you'll need a paid subscription to get the most benefit from the Flir FX. Unlike most of its competitors, however, Flir offers a free tier that stores video motion events dating back 48 hours and enables you to create three RapidRecaps per month. Flir Cloud Plus provides seven days of storage and an unlimited number of RapidRecaps for $10 per month (new cameras come with a 30-day free trial to this level of service). If you need even more cloud storage, Flir Cloud Premium delivers 90 days of cloud storage for $20 per month.
Flir is taking preorders for the Flir FX now and expects to begin filling those orders by the middle of April.