At a Glance
Expert's Rating
Pros
Unobtrusive gateway can be stashed in any nearby plug
Bright bulbs with quick responsiveness
Most attractive and familiar bulb form factor of the lot
Cons
Poorly designed setup process
Dimming isn't smooth
Full-color bulbs not available yet
Our Verdict
Lightify suffers badly from an arcane setup process, but once it gets going, it's an impressive but simple tunable solution.
Best Prices Today: Lightify Classic Tunable White
Osram is another ZigBee solution that requires multiple components to operate. But unlike the Philips Hue, Lightify's gateway is a simple plug-in device that connects via Wi-Fi, not ethernet. This gives you considerably more flexibility in where you place the gateway, since it just needs a power outlet, not a permanent home next to your router.
Connecting Lightify's hardware is a brainless, two-step process (plug in the gateway, then twist in the bulb), but dealing with the final steps of configuration within its mobile app is another story. This incredibly obtuse setup almost had me quit in frustration. First you must register for an account, and then wait for an email with an automated passphrase to activate it. The passphrase is provided in upper and lowercase letters and numerals, making for some frustrating data entry (is that an I or an l ?). After that, you connect to Osram's temporary Wi-Fi network with another complex, single-use passphrase. Same issue here with the lengthy, hard-to-parse characters. Then you can actually use the bulb. All told this is clearly a product from an old-school manufacturer (Osram is a 96-year-old German lighting company) and not a tech startup focused on the needs of the user.
Once things are set up, the Lightify app is fairly simple in use. Basic functions for each bulb are handled by a wheel around a central power button. Set brightness, color temperature (for white tunable bulbs), and full color settings (for future color-tunable bulbs) all by orbiting around that center button. Unfortunately, Osram's full-color bulb won't be available until later this year; only the tunable white is currently for sale. A few presets let you configure bulbs for "relax," "active," or "plant light" modes—all points on the white color temperature spectrum. There's also a basic light timer that's easy to work with.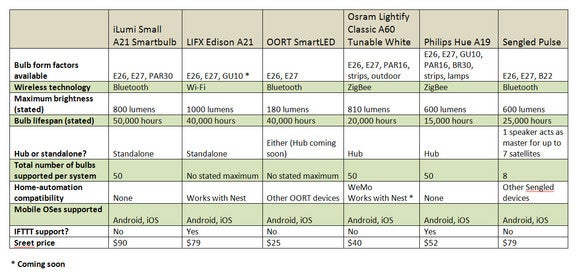 One caveat on the app: Don't accidentally hit the "+" button to add a new bulb (unless you really have one to add to your network). Once activated, there's no way to cancel this process short of quitting the app manually.
Overall I found Lightify's light quality to be exceptional, and the bulb—rated at 800—was bright enough to easily illuminate a large room without much trouble. The dimmer isn't terribly smooth, unfortunately, as the brightness rises and falls in chunky stair-steps instead of in a gentle gradient. The tunable white bulb ranges from 2000- to 6500K, which is plenty of range for both energizing early and relaxing later.
Setup hiccups aside, the Osram Lightify is a capable tunable lighting solution. It's also compatible with Belkin Wemo out of the box and the company says Nest integration is in the works, too. The affordable price point is just icing on the cake.
Best Prices Today: Lightify Classic Tunable White