The battle for control of the emerging smart lighting market is heating up, with new products coming in thick and fast from companies big and small. Yesterday Dutch lighting behemoth Philips announced the Hue Go—a portable version of its now iconic Hue connected LED bulb—and Aussie smart-lighting startup LIFX Labs follows suit with a new product of its own.
The company, which pioneered Wi-Fi-enabled color-changing LED bulbs in 2012, has finally gotten around to adding a white-light-only bulb to its portfolio. It's called the LIFX White 800 and is the company's cheapest offering yet at $40 each. Being Wi-Fi-enabled, like its color-changing predecessors, means it requires no hub.
The timing of the announcement is just a touch off, though. It comes just a day after Philips slashed the price of its own white-light-only offering, the Hue Lux, by a third to $20 a pop. Granted, the ZigBee-enabled Lux is useless without the Hue bridge, but getting one is cheaper now that Philips has also lowered the price of its two-bulb-and-a-hub starter kit from $100 to $80.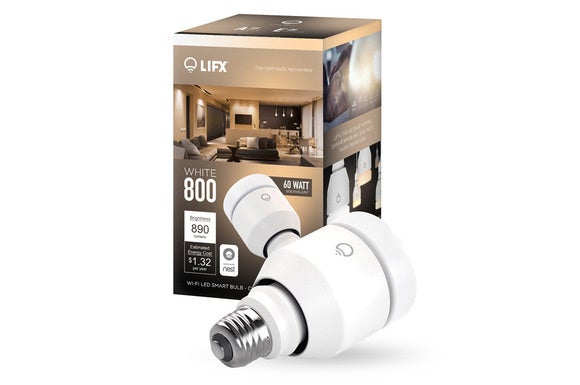 Put differently, the Hue Lux is the cheaper option if you need more than two bulbs, with the savings adding up as you scale up. That's true even if you buy the White 800 in packs of five or ten.
But is Hue Lux the better bulb? Not necessarily. A quick look at their respective specs suggests the White 800 has a slight advantage: At 890 lumens (equivalent to a 60W incandescent), it is a good 140 lumens brighter than the Lux. Further, the company claims the White 800 is the first bulb in the entry-level segment to feature a "choice between rich warm to cool white lights all in one bulb." The official product page, however, makes no mention of the exact color temperatures. A spec sheet gets more specific, listing the bulb's color-temperature as ranging from 2700- to 6500K.
Why this matters: Entry-level smart bulbs like the White 800 should please those who desperately want in on the home automation action, but find most other connected-home devices either too expensive or too intimidating for their liking. In fact, they should please anyone and everyone who just can't wait for the smart-home party to get started in earnest. Confused? Let us explain.
Over the last couple of years, we've often heard smart bulbs being described as a potential Trojan horse for the Internet of Things (IoT) phenomenon. Bulbs, the argument goes, trump most other home devices and appliances in this regard due to their almost unparalleled ubiquity and indispensability. And since we're already in the middle of a global transition from incandescent bulbs to more efficient LED lighting, many will be tempted to go whole hog and get smart bulbs. But for that to happen on a large enough scale, smart bulbs must become more affordable.