This week we have several movies that buck the trend, movies that just didn't do what they were expected to. We have an Oscar winner that could have been dull but isn't, and is actually highly entertaining and often exhilarating. We have Oscar favorites that did not win, or won only one. We have movies that had production troubles, or distribution troubles, and still managed to come out worth seeing. And we have movies by successful filmmakers that are generally overshadowed in their filmographies. Enjoy!
Now on Netflix
Amadeus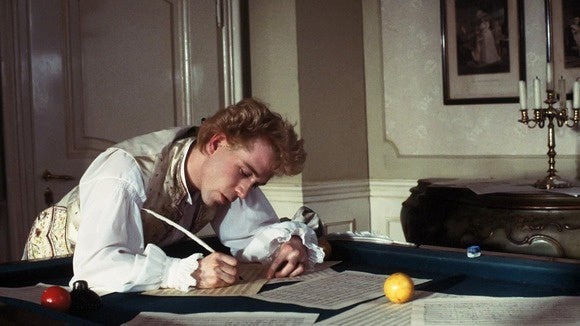 ★★★★☆
Milos Forman's king-sized costume epic Amadeus (1984) won eight Oscars, including Best Picture, Director, Actor, Screenplay, and of course, Art Direction, Makeup, and Costume Design. But what could have been a three-hour snooze-fest—most studios did not want to make it—is actually an incredibly vibrant, entertaining, passionate, and even funny movie experience. As the movie ravenously feasts on jealousy and revenge, the images themselves grow more fevered, as if manipulated by the heavens.
F. Murray Abraham won an award as court composer Salieri, who has the emperor's favor, but who knows deep in his heart that he can never be as brilliantly talented as the cackling, irresponsible upstart Wolfgang Amadeus Mozart (Tom Hulce). Hulce also received a nomination for his vigorous, juicy performance, while Jeffrey Jones is dryly, humorously memorable as the not-too-bright emperor ("too many notes"). Peter Shaffer wrote the screenplay, adapted from his own play. In 2002, Forman was allowed to release a director's cut, 20 minutes longer than the original, and that's the version Netflix has available.
Bound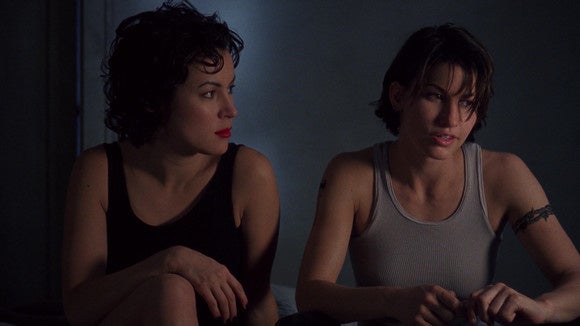 ★★★★☆
The Wachowski siblings did not always make futuristic movies about the "chosen one" that saves the world. In their directing debut Bound (1996), they created a twisty, character-driven crime film that was good enough to evade comparisons to Quentin Tarantino. In it, ex-con Corky (Gina Gershon) tries to go straight with a job as a painter and a plumber, but she meets gangster's moll Violet (Jennifer Tilly), who seduces her. Together they cook up a plan to steal $2 million from Violet's volatile husband, Caesar (Joe Pantoliano). The movie includes a famous sex scene between Gershon and Tilly that is celebrated for its beautiful frankness and passion.
In the years since this was made, directing brother Larry Wachowski had a sex change and became Lana; one wonders if she had a special affinity for the characters? Otherwise, the movie's accomplished use of dialog, rhythm, sound design, and color palette are all highly inventive. The unrated cut that Netflix offers runs 14 seconds longer than the theatrical cut.
Buffalo Soldiers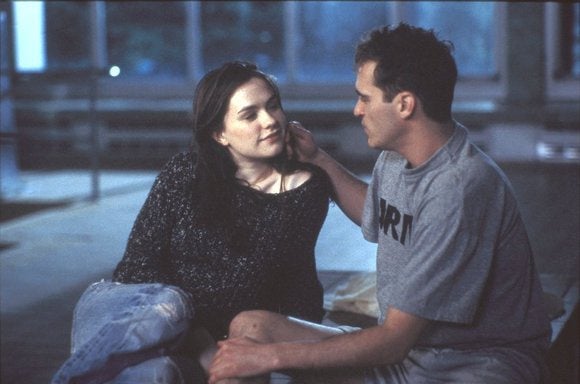 ★★★☆☆
Initially scheduled for release in September of 2001, Gregor Jordan's Buffalo Soldiers (2001) was shelved until the summer of 2003, due to fears of how it would be perceived after the 9/11 attacks. Perhaps now it can be seen as the rowdy military comedy—part Stripes, part Three Kings—that it was intended to be.
Joaquin Phoenix stars as Specialist Ray Elwood, who ostensibly assists Colonel Berman (Ed Harris), but in reality makes and sells drugs to his fellow soldiers and sleeps with the colonel's wife. When a much harder-edged new First Sergeant (Scott Glenn) comes in, Rya must change up his tactics, including seducing the sergeant's daughter (Anna Paquin). The movie's humor is fairly dark, but also lowbrow; it's hit and miss, but generally has more hits than misses. It received mostly positive reviews, but flopped at the box office.
Frankie & Alice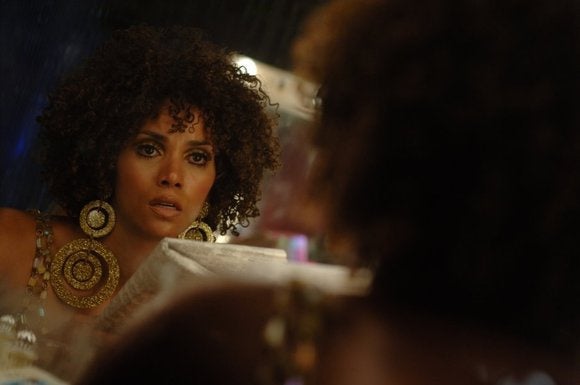 ★★★☆☆
Based on a true story, Frankie & Alice (2010) may look like a blatant attempt to earn another Oscar nomination for Halle Berry, but the truth is that Berry really gives a grand-slam performance as a woman with a multiple-personality disorder. She's Frankie, who works as a stripper, but she's also "Genius," a 7-year old, and "Alice," a Southern, white racist woman. Berry flips back and forth between them through fits of rage, confusion, and fear, but always with an underlying strength holding everything together.
Director Geoffrey Sax emphasizes the lurid, soap-opera aspects of the story, without bothering to shape the movie's central relationship, between Frankie and her doctor (Stellan Skarsgard). But the movie also avoids a condescending, preachy tone that this genre sometimes has, and Berry's performance wins the day. The movie opened briefly for awards consideration in 2010—Berry earned a Golden Globe nomination, but not an Oscar nomination—and then it sat on a shelf until 2014 before receiving a wide release.
Now streaming on Amazon Prime
Amistad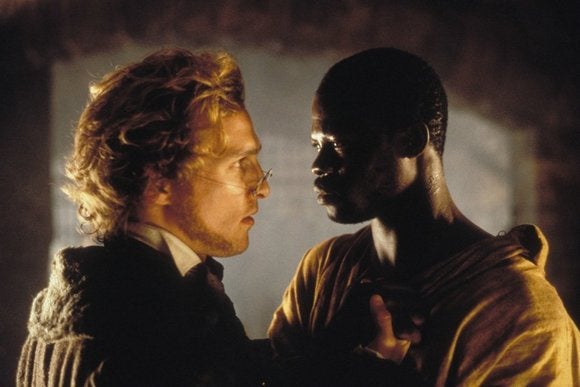 ★★★★☆
In 1993, Steven Spielberg ruled the box office with the summer hit Jurassic Park, and then ruled the critics and the awards with his winter hit Schindler's List. Four years later, he tried to repeat the trick with The Lost World: Jurassic Park in the summer and Amistad in the fall, but neither one quite caught on.
Amistad (1997) tells the true story of a mutiny on a slave ship and a subsequent trial. It opens with an incredibly powerful sequence, and contains several more highly effective scenes, but these are intertwined with quite a few goopy, hokey moments. Djimon Hounsou stars as Cinque, the man on trial as the leader of the revolt, though his role is too noble to allow for much of a performance. The other actors, including Morgan Freeman, Matthew McConaughey, Chiwetel Ejiofor, Oscar-nominated Anthony Hopkins as President John Quincy Adams, and Anna Paquin as the Queen of Spain, have slightly more to play with. The movie has Spielberg's typical professional polish, though, and with fine cinematography by Janusz Kaminski and music by John Williams (both nominated for Oscars), it's well worth a look.
The Brothers Grimm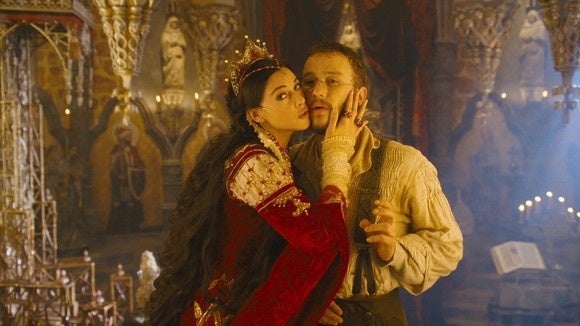 ★★★☆☆
One of the biggest visionary filmmakers of recent times, former Monty Python member Terry Gilliam quickly fell on hard times as money to fund his features became harder and harder to secure. Made with the Weinstein brothers, The Brothers Grimm (2005) feels like a compromised film, although it contains many glimmers of the greater film that it could have been. Matt Damon and the late Heath Ledger star as the title brothers, not yet storytellers, but rather a kind of medieval ghostbusters who create and vanquish their own ghosts for pay. It follows that they must battle a real evil in the form of an evil, beautiful queen (Monica Bellucci).
Gilliam's touches are evident throughout, including the oppressive design of the woods with its dead leaves and black crows, even if Ehren Kruger's script is a little lacking. Jonathan Pryce, Lena Headey, and Peter Stormare co-star.
Newly avaialble on Hulu Plus
Shadows and Fog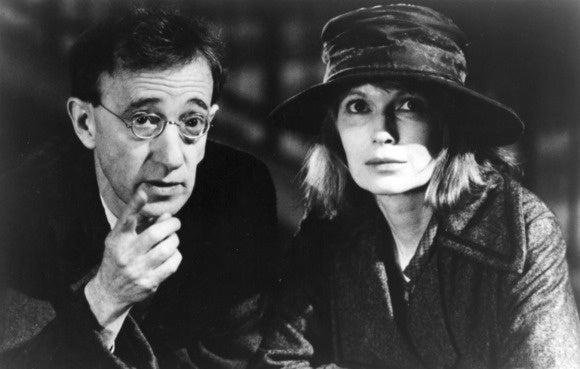 ★★★☆☆
One of Woody Allen's stranger movies, Shadows and Fog (1992) was based on a one-act play Allen had written in 1975. It was shot in black-and-white entirely on studio sets, deliberatly evoking the German Expressionism movement of the 1920s. Allen plays Kleinman, the Kafkaesque hero who finds himself hunted by a mob for no particular reason. Several other strange characters roam about in the night; these are played by an incredible cast of A-listers, many of whom only have a few minutes of screen time: Jodie Foster, Mia Farrow, Kathy Bates, Madonna, John Cusack, John Malkovich, Donald Pleasence, Lily Tomlin, and more.
The movie doesn't quite come together as a whole, but some of those vintage 1970s-era Allen zingers are intact; it has quite a few laughs, as well as some luscious cinematography.
That voodoo that Vudu does so well
Interstellar
★★★☆☆
Easily the most disappointing movie yet made by Christopher Nolan, Interstellar (2014) still found a devoted and passionate following among film fans and many film critics. Inadvertently borrowing a plot from the much-hated 1998 movie Lost in Space, Interstellar features overwrought post-apocalyptic ideas, iffy story twists, forced editing, and limp dialogue (including a much-repeated Dylan Thomas verse). Additionally, the controversially noisy, dialogue-drowning sound design drove many viewers crazy. Yet it contains some truly haunting moments, notably when a black hole distorts time, as well as the hallucinatory climax.
It may survive more as a sci-fi camp classic than any kind of masterpiece, but certainly fans of the genre will want to give it a shot (if they haven't already). Recent Oscar-winners Matthew McConaughey and Anne Hathaway star, along with Wes Bentley, Jessica Chastain, Matt Damon, Michael Caine, and Casey Affleck.
Don't miss this on TubiTV
Dogtooth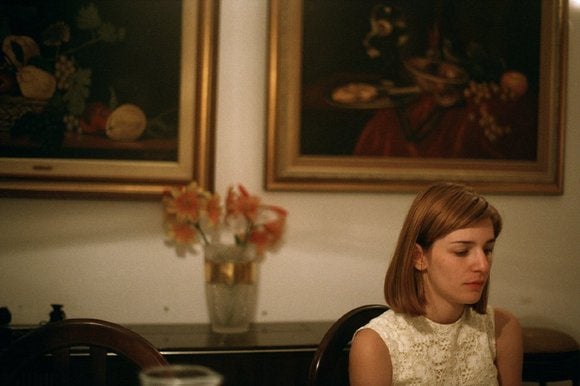 ★★★★☆
This very strange Greek import from director Yorgos Lanthimos unexpectedly received an Oscar nomination for Best Foreign Language Film, a category that usually prefers safe, respectable films over very strange ones like this. In Dogtooth (2010), a woman is led, blindfolded, through a house where she has somewhat impersonal sex with a young man. Slowly, we learn that this young man and his two sisters have been raised in complete isolation, with no influences from the outside world. Unfortunately, the woman—who has been brought in to satisfy the young man's natural sexual urges—eventually upsets the balance that has been carefully established, with dire results.
Lanthimos films all this in a totally deadpan style, with lingering shots, plenty of wide, empty space, and an off-kilter sound design and editing style. The result is weird and unsettling, but also strangely compelling.