I signed up for a trial subscription to Tidal last week, and decided to stay with the service after a few days of streaming to my desktop speakers and to my Sonos system (Spotify on Sonos sucks). I don't consider myself an audiophile—I don't even own a turntable—but I am passionate about audio quality, and Tidal streams in the same format that I use to rip the CDs that I purchase.
Yeah, I still buy CDs. But I can buy fewer than two per month for the price of a Tidal subscription that lets me discover as much new music as I have time to listen to.
I respect what Jay-Z is trying to accomplish with Tidal, even if I've never listened to his music. In fact, Jack White was the only artist on the stage yesterday whose music I do own. Watching yesterday's glitz and glamour, it's easy to be cynical and ask "why do these megastars need more money?" The fact is, the recording industry was built on the backs of artists who never achieved the fame and fortune that was on display at yesterday's press conference.
If artists want to band together to ensure they get a larger slice of the pie they baked, then more power to them—especially if they make an effort to help independent artists avoid the traps the major record labels set.
"Our goal is simple," said Alicia Keys at yesterday's press conference, "We want to create a better service and a better experience for both artists and fans. Tidal will be a place for connections between artists and fans."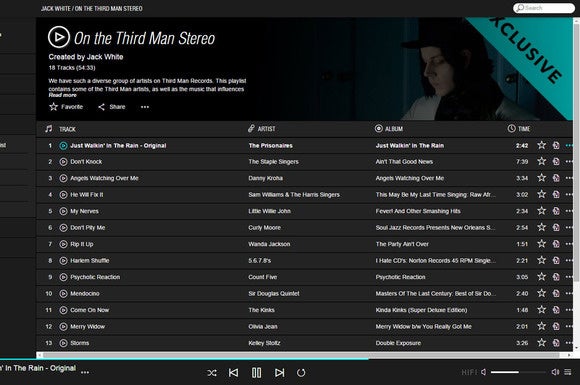 It's started on that path with "exclusive" playlists compiled by some of its new owners: Jay-Z, Beyonce, Cold Play, Jason Aldean, Deadmau5, and Jack White. The playlists include the artists' own music as well as tracks that inspired their direction. I'd like to see these playlists supplemented by blog posts from the artists explaining why these songs inspired them.
On the other hand, Tidal's genre listings are much too shallow, its user interface needs work, and its dependence on playlists that simply stop playing when you reach the last track is problematic. I'll be patient for a while, but Tidal will need to do more to keep me as a customer, and it will need to do a lot more if it's to expand beyond serving a tiny niche of music lovers.
But the one feature I want even more is for Tidal to fulfill its pre-acquisition commitment to stream tracks using Merdian's MQA codec. The MQA acronym stands for Master Quality Authenticated, and it enables a streaming service to deliver music at the same quality as the original studio master that the artists heard when they were in the studio. You don't need anything fancy on the receiving end to decode an MQA track, because the task can be performed with software. You'll get an even better experience with a high-end DAC, but it's not a requirement.
I got an ears-on demo of MQA at CES earlier this year, and it blew me away. But before you ask, Jay-Z: No, I won't swallow a bump beyond $20 a month to get it. My positive comments about Tidal are a minority opinion as it is.