App selection should be one of the biggest factors in choosing a streaming media player, because all the fancy features in the world don't mean much if you can't watch the movies, TV shows, and other content that you want.
The good news is that there's relative app parity among the major streaming-media devices, including Apple TV, Amazon's Fire TV and Fire TV Stick, the Roku boxes and the Roku Streaming Stick, Google's Chromecast, and Android TV devices such as the Xiaomi Mi Box and Nvidia Shield. If you're just looking to watch Netflix or Hulu, pretty much every device on the market has you covered.
Still, each platform does have its hang-ups, which we reveal in the chart below. Have a look, then keep reading for some takeaways and caveats. (Keep in mind, the chart applies to the United States only. Some apps and services may not be available in other areas.)
The services that are available on each device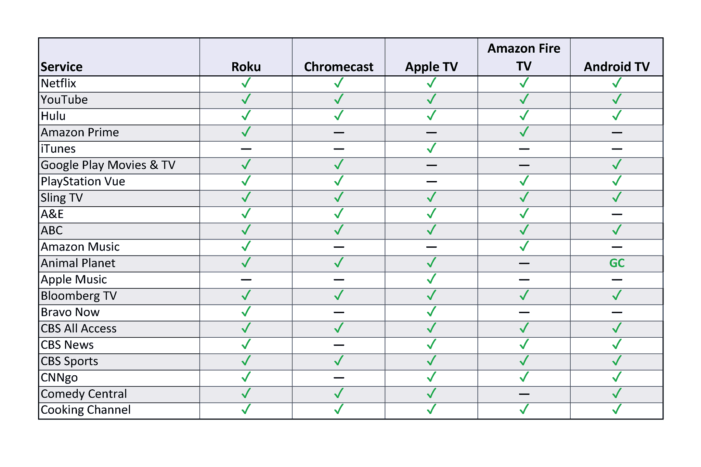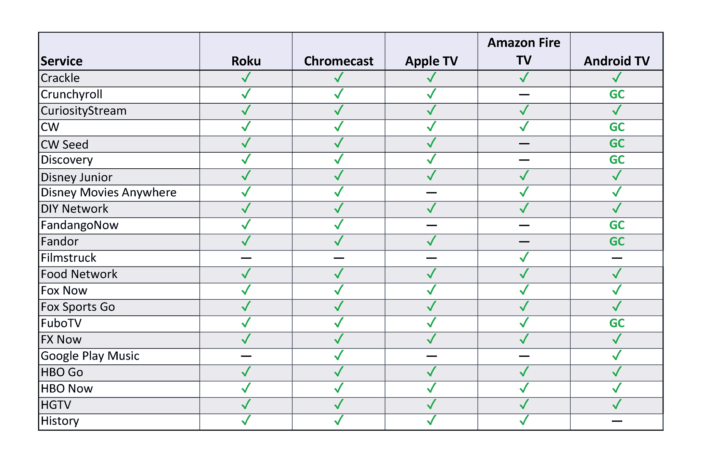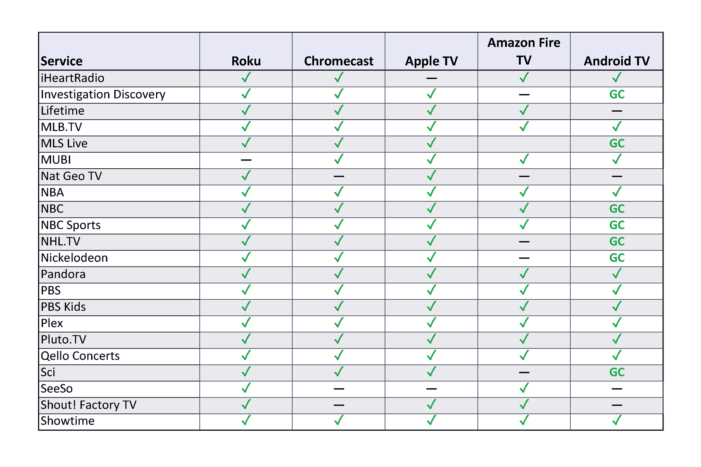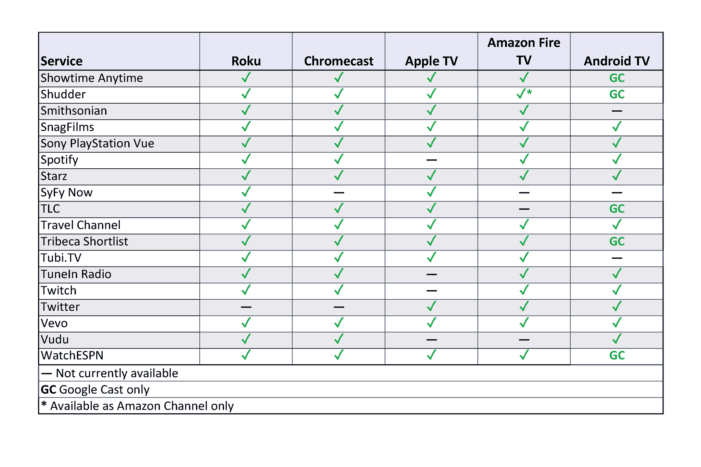 Okay, now let's answer some questions that I assume will be asked frequently:
Aren't there way more apps than this?
I focused mainly on apps that offer full TV episodes and movies, either for free or with a standalone subscription, but it's not a complete list. Roku, for instance, has lots of niche apps for oldies, cult classics, and international programming, which I didn't get into. I've also included music-streaming apps and some popular internet video sources for good measure.
My Apple TV has hardly any of these apps. What gives?
You must be using an older Apple TV, which does not include an App Store and is no longer receiving updates. This chart only applies to the fourth-generation Apple TV, which launched in October 2015. For a list of apps available on older Apple TVs, check here.
Roku has the most extensive app selection. Why buy anything else?
Beyond just app selection, you're also choosing between ecosystems. The Apple TV, for instance, is your only option for iTunes videos, Apple Music, HomeKit controls, and AirPlay streaming from other Apple devices. Amazon devices have the Alexa voice assistant and a clever interface that's more focused on content than individual apps. Both Chromecast and Android TV devices offer powerful second-screen controls. And Roku itself has some novel features such as private headphone listening through a smartphone, and the Roku Feed for tracking favorite shows and movies.
Doesn't AirPlay on an iPhone or iPad let you watch pretty much any video on Apple TV?
Yes, but AirPlay doesn't really try to replace your remote control like Chromecast does. It won't let you watch other videos on the small screen or play games with sound while TV playback is in progress, for instance, and it requires your phone or tablet to stay connected to the local network. It feels more like a fallback than a complete solution.
So why'd you even include Chromecast, which is similar to AirPlay?
While Chromecast also requires a phone, tablet, or laptop to operate, it has several features that make it more remote-like. If it's plugged into an outlet, Casting a video will automatically turn on your TV and switch to the appropriate input. Many apps let you adjust playback volume through your phone or tablet as well, and you can use some standard TV remotes to hit pause. And if your device disconnects or runs out of battery, the video keeps on rolling. It also helps that Chromecast costs just $35; that's half the price of the least-expensive Apple TV. Check out our Chromecast FAQ for more details.
You said [Device X] doesn't have [App Y], but now it does! What the heck?
I will try to keep this chart up to date, but the world of streaming video is rapidly-changing, and I'm only human. If you see something that's not right, drop a comment on TechHive's Facebook page or holler at me on Twitter.
Sign up for Jared's Cord Cutter Weekly newsletter to get this column and other cord-cutting news, insights, and deals delivered to your inbox.
This story was updated to correct an error in the tables that was introduced during editing.