If you're a longtime customer of an independent home-security firm, there's a good chance your system's control panel will soon need a major upgrade. That's because companies such as AT&T, Verizon, and others are gradually shutting down their 2G cellular networks to make room for faster and more efficient 3G and 4G networks.
Most home-security systems rely on cellular networks because burglars can easily disable a wired land line, severing the connection between your home and the central monitoring office and rendering the service useless. When all the 2G networks go away, the security systems depending on them will be rendered equally useless for much the same reason.
So today, IControl Networks announced the IControl One, a plug-in module and service package that will enable these smaller service providers to not only upgrade their existing control panels to work with 3G cellular networks, but also add Z-Wave and Wi-Fi capabilities so they can offer their customers connected-home and video-camera features in addition to straightforward home security.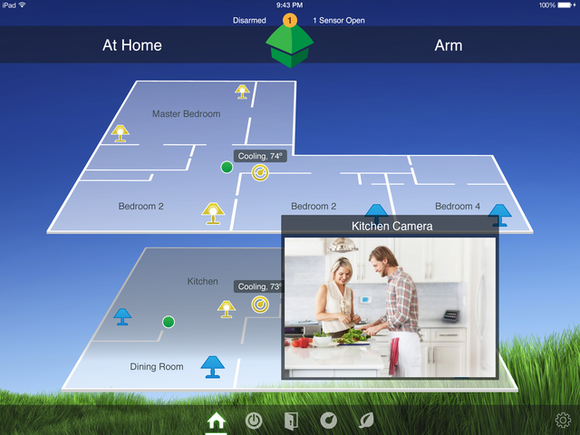 IControl won't manufacture the modules; rather, they'll bundle the hardware with the same type of SaaS (Software as a Service) offering that IControl already sells to such major service providers as ADT, Comcast, and Time Warner Cable. "We've been catering to tier-one companies," IControl marketing VP Greg Roberts told me in an interview last week. "Now we'll be able to provide the software platform that will enable independent dealers to expand their offerings to include home control as well as home security." IControl's services are also available to DIYers via the Peq system and IControl's own Piper and Piper NV hardware.
Why this matters: While consumers won't be able to buy an IControl One directly, it's good news for those with happy, long-term relationships with independent home-security service providers. Those customers will now have the option of expanding their alarm systems into full-blown connected home setups. Since the module is hardware compatible with most legacy control panels, according to Roberts, the upgrade should be plug-and-play easy. Relatively inexpensive, too. "That module in the control panel is less expensive than a traditional stand-alone 3G radio," Roberts said.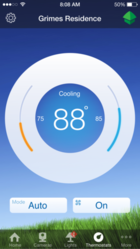 Now instead of having a simple alarm system, you'll gain the ability to arm and disarm your system using your cell phone, laptop, or tablet via the Internet. You'll be able to add security cameras and store video clips in the cloud. The system will be able to support a smart thermostat, smoke detector, and entry locks, too. Add Z-Wave lighting modules, and you'll be able to establish schedules by which your lights will turn on and off automatically, create events that turn your lights on when doors open or alarms are triggered, and much more.
All these features won't come free, of course. Individual dealers will set their own prices for the added parts and services, but most will likely eat the cost of the module since they won't be able to service their accounts without it (or something like it). The IControl One won't be the only option these dealers will have, either. Remember, IControl isn't building the module, so there's nothing to prevent IControl competitors such as Alarm.com and Honeywell from reaching out to these same dealers with similar SaaS offerings.
I have no experience with Honeywell's product, but I've used IControl's product in the past (by way of ADT's Pulse system), and I currently use Alarm.com's (by way of Vivint's home-automation system). They're both very good from an end user's point of view. The sunsetting of 2G networks will give a broad swath of the home-security market an opportunity to expand into home automation, and that's the most exciting fact of all.