At a Glance
Expert's Rating
Pros
Easy setup and many custom options
Great website for the family to use
Effective monitoring features
Cons
Requires a land line, Wi-Fi router, and broadband access
Doesn't scrape photos from social networks
No proactive support or personalized setup assistance
Our Verdict
A land-line telephone with a touchscreen that helps seniors stay connected to their families.
Call it a coincidence with benefits. A new land-line telephone called ClarityLife Ensemble matches almost note for note with another recently reviewed gadget for the elderly, the GrandPad senior tablet . Both devices are designed to be purchased by the children of "super" seniors (elderly folks over 75) who want to easy-to-use technology to help them stay connected to their friends and family.
Both products let you send photos, text messages, emails, and check in on seniors living at home or in assisted living. Both products are exceptional and solve the problem of leaving seniors in too much isolation. Yet, they offer slightly different features and use a radically different pricing strategy.
The Ensemble is first and foremost a land-line telephone, with a handset that's capable of amplifying the voice at the other end of the line by as much as 50 decibels. And if the phone still isn't loud enough, a free captioning service is available. The phone is augmented by a bright 8-inch touchscreen with a simple user interface consisting of large onscreen buttons that the senior taps to display photos, videos, and messages.
Anyone with the senior's ClarityLife Ensemble email address can call or send emails, and anyone who has the ClarityLife app installed on their Android or iOS smartphone can send text messages to the device.The app also lets you snap a photo or shoot a video and send it to the Ensemble (you can also send existing files).
Unlike the GrandPad, however, the Ensemble doesn't control the flow of information sent to it. Getting too much information too quickly can be overwhelming for a senior, so the GrandPad creates a sort of buffer and inserts blocks of time between the display of each new post. It's a great idea.
GrandPad also does a much better job of supporting seniors. They do an extensive on-boarding session, load custom music for the senior, and there's an option on that device to call in for support at any time. With ClarityLife, the support is more behind the scenes.
That said, the Ensemble has several features not found on the GrandPad—beyond the obvious fact that it's a phone and not a tablet. A touchscreen button labeled Call Me will send a text and email to the main family contact. It's not an emergency button, just one that lets the senior inform others that there's some issue that needs attention. I used the phone with my father and he pushed the button once when he had a question about his bank account. (I could see him using the button too often.)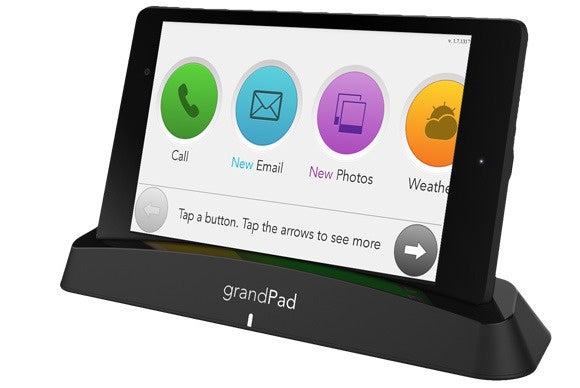 There's also a daily wellness survey that asks the senior if he or she is feeling the same, worse, or better than the day before. This pops this up on its screen each day, and my dad responded accordingly. Using the ClarityLife.net site, you can add additional daily surveys, asking the senior of he or she needs to go shopping or to run errands, for example. You can also set periodic reminders to take medication or perform treatments. These are really helpful features. But the Ensemble's best feature is check-in reminders: You can set these for any length of time. With my dad, I set the wellness reminder to let me know if he hasn't responded within an hour.
The ClarityLife.net website also offers many more features than anything available through GrandPad. There's a dashboard that displays a chart of how often the senior has answered survey questions, a wellness trend for the month, and more. You can configure exactly what appears on the Ensemble's screen, such as whether or not you want it to display text messages, surveys, photos, or videos. You can also control how the time and date are displayed; add contacts to senior's address book; and post messages, photos, and videos from the web portal.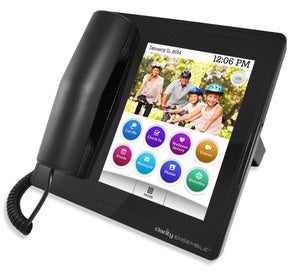 Finally, you can program the device to display websites. I added FoxNews.com and WSJ.com for my dad. The Fox site displayed large images and highly readable text, but my dad got frustrated with WSJ.com because it uses a paywall.
One important feature that's missing from ClarityLife is the ability to monitor and harvest family photos posted to social media networks such as Facebook and Instagram. GrandPad does this, and it's a great way to keep seniors connected to the rest of their family.
Dependence on a landline adds to the monthly cost of operating the Ensemble, but many seniors still rely on that technology anyway. And there are some benefits to what otherwise might seem like a technological limitation: Seniors don't need to remember to plug the device in to charge its battery, and they'll always know where in the house it is when they want to use it. The Ensemble also relies on a Wi-Fi broadband connection, however, which further adds to its cost to operate.
The Ensemble phone costs $399 with no monthly fees (apart from your phone and ISP bills). The GrandPad tablet costs $60 per month and includes 4G LTE service. They're both great products, and they're not mutually exclusive, which is why I've given them both the same score. They're helpful gadgets for an age when everyone is connected to everything—except their elderly family members.
Update, 3/12/2015: Clarity sent us the following information after this review was posted: . "There will likely be a monthly service fee, but that largely depends on how the customer secures the phone. Clarity is working with carriers to bundle the monthly service so it could ultimately be free or deeply discounted."