After turning heads and bagging multiple accolades at CES in January, the Fogo flashlight is now trying to charm the Kickstarter community into loosening its purse strings to the tune of $125,000. According to Fogo Digital, the company behind the device, this money will be used "to build molds and pay for the initial production run."
Truth be told, calling it a flashlight would be a bit unfair to both Fogo and flashlights. Because the Fogo aspires to be a digital Swiss army knife, cramming into its IPX8-rated waterproof frame a 1000-lumen flashlight, GPS receiver, backlit LCD display, Bluetooth LE, 128MB flash storage, accelerometer, magnetometer, "bicycle computer," and much more. Further, Fogo's lone USB port is intended to function as a hardware expansion slot that'll let users attach purpose-built accessories.
The first of these accessories, or "SmartCaps" as the company calls them, will be a digital walkie-talkie with voice and text-messaging capabilities. According to the company, other SmartCaps currently in the cards include a satellite modem,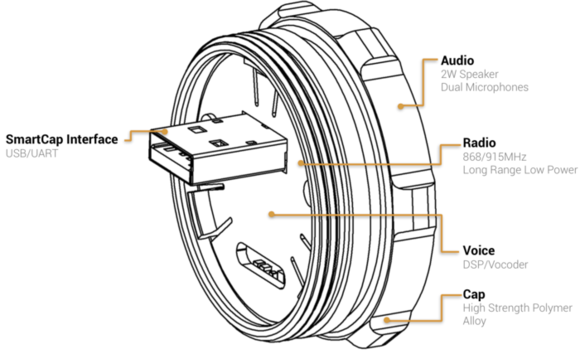 avalanche beacon, and laser range finder. [Editor's note: how about adding a solar panel to charge its battery?]
On the software front, there's an upgradeable "app-based OS" that Fogo Digital plans to open to third-party app developers with the release of an SDK (Software Development Kit). Pre-installed apps include: Flashlight for switching between low, med, high, and strobe modes, and controlling power output; Track for, well, keeping track of data from the built-in GPS, bluetooth sensors, and SmartCaps; Messenger for exchanging voice/text messages with nearby Fogo users; Fuelgauge for monitoring battery life and managing power consumption; and Maps for tracking your location and exploring points of interests; Fogo Hub for installing additional apps.
The flashlight is priced at $200 —the walkie-talkie Smartcap will cost $50—and is set to ship in September 2015. As of the writing of this article, the Fogo has raised nearly $43,000.
Why this matters : It's hard not to be impressed by the versatility and ambition of this device, as well as the amount of thought Fogo Digital has put behind it. Before Fogo emerged from nowhere last month, who would have thought that we'd soon be able to buy a smart, connected flashlight with its own operating system and SDK. The Fogo's upgradeable OS and modular design are a clear signal from Fogo's creators that they want more than their 15 minutes of crowdfunding glory.