Panasonic has lifted the curtain on several new 4K Ultra HD TVs, and most of them feature the company's updated My Home Screen 2.0 user interface, a radical step up from its ugly, ungainly predecessor in both form and function. What's so radical about the new smart TV interface? It's built on Mozilla's Firefox OS, the latest combatant in the ongoing smart TV platform wars.
The company first showed off the Firefox OS-based interface at last month's CES, but it was just a small, non-interactive video demo. That changed at Panasonic's 2015 Convention in Frankfurt earlier this week, when the company let attendees actually try out its implementation of what was until now a mobile-only operating system. Those who have had the opportunity to go hands-on with the interface seem to have come home impressed.
The interface features a home screen and three sections or "decks:" the Live TV deck lists live broadcasts; the Apps deck includes currently installed apps and lets you access the Firefox Apps Market so you can add to that list; and the Devices deck provides access to external devices connected to your TV, either through Wi-Fi or cables.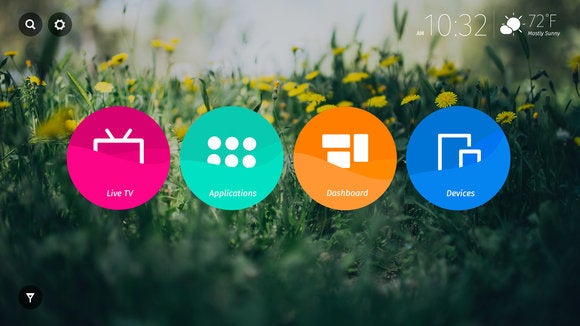 You can bookmark your favorite apps, devices and channels, and pin them to the home screen for quick access. To make life easier, the interface includes a new search tool that lets you quickly perform a TV-wide search for a particular item, or look up something on the internet. Finally, there is the Info Frame, which includes "everything from local weather reports to recommended TV shows, TV listings and your favorite website, all on a single screen."
Panasonic says you can send photos, videos or other content to your Firefox OS-powered TV using a smartphone, tablet, or PC with a Firefox browser or another compatible application.
Firefox OS will be available on both its curved-screen models (Viera CR850 and CR730 series) and its flat-screen models (Viera CX800, CX750, CX700, CX680, CX850, and CX650 series), each of which vary from 40 to 65 inches in size. With the said models featuring quad-core processors and supporting HEVC decoding, streaming 4K content over the Internet should be a cinch. The high-end 8-series models boast HDR (high dynamic range) support, wider color gamuts (98 percent of DCI color space), and 10-bit color.
According to FlatPanelsHD, only the CX850, CX650, and the CX800 have been confirmed for the U.S. market at this time. No word on pricing, though.
Why this matters: Based on what we've seen of it so far, Firefox OS appears capable of holding its own in the smart TV platform wars, essentially in a four-way contest between Google (Android TV), Samsung (Tizen OS), LG (webOS), and Mozilla (Firefox OS). Not only is it simple to use, but it's easy to code for as all developers need is a working knowledge of HTML5, JavaScript, and CSS to get started. (And Panasonic, it seems, has not sacrificed any of that inherent simplicity in adapting the OS for its smart TVs.)