Developed by a Los Angeles-based startup of the same name, Beam is essentially an Android-based LED pico projector that can also serve as a smart LED light bulb. Screw it into an existing E26/E27 light socket or connect it to a power cable, the choice is yours.
It packs a 1.3GHz dual-core processor, 8GB storage, Wi-Fi, Bluetooth 4.0, 12 LEDs, and a couple of 2-watt speakers. Support for IFTTT (If This, Then That) means you'll be able to automate many of its operations—be they standalone, or those performed in conjunction with other devices—using a series of simple if-then statements. For example: If it's 9:00 PM on Sunday, then open YouTube.
As of press time, the Airplay- and Miracast-enabled device had secured more than $300 thousand in Kickstarter pledges, with $399 being the minimum that new backers need to fork out for a unit. Apparently, even this so-called "regular" Kickstarter price is a "lot less" than the as-yet undisclosed final retail price.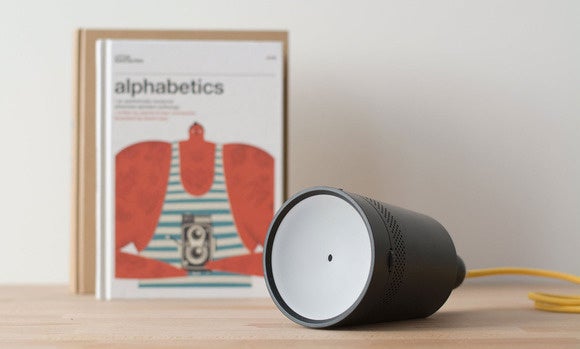 "With Beam you can watch TV on your bedroom ceiling, play games using your phone or a Bluetooth controller, project recipes on your kitchen counter, stream content from your network drive, listen to music through its speakers, play projected board-games on your dining table, show a presentation or even use it in a restaurant to show the menu and turn the walls into digital paintings," reads the projector's Kickstarter page.
According to the company, there is enough secret sauce in Beam to warrant a patent, and so it has filed for one. We are pretty sure they are not referring to the projector's rather pedestrian combo of 854-by-480-pixel resolution and 100-Lumen brightness. As for the size of the projected display, the device has a throw ratio of 1.6:1 (distance:width) and can project images up to 120-inches wide from a distance of 6.25 feet.
Why this matters : There's plenty to like about this whole idea of a networked projector that can interface with a wide gamut of devices, while also doubling as a stylish light bulb. And things might even get better, with the company now saying that it could "improve the resolution and any other specifications" before the beginning of the production phase. Let's hope that's exactly what it will do because the current resolution is so poor as to be a serious threat to Beam's marketability.