At a Glance
Expert's Rating
Pros
Svelte, attractive package
Very good audio, particularly with movies
Powerful subwoofer
Cons
Serious bugs with initial unit
Remote is a bit confusing
Slightly narrow sound field
Our Verdict
This unit makes for a compelling speaker, providing powerful, high-grade audio in an attractive and relatively compact package.
The Sony HT-CT770 is a sleek and relatively compact unit that fits in unobtrusively with any home theater setup. The 41-inch long bar lies flat on your entertainment center, or you can prop it up with the included foot stands.
Frankly it doesn't need them. Even with drivers facing largely upward, the HT-CT770 puts out a mammoth amount of richly detailed sound, easily filling a room despite being only a 2.1 channel-setup. Wall-mounting hardware is also included in the box, which positions the soundbar vertically when used.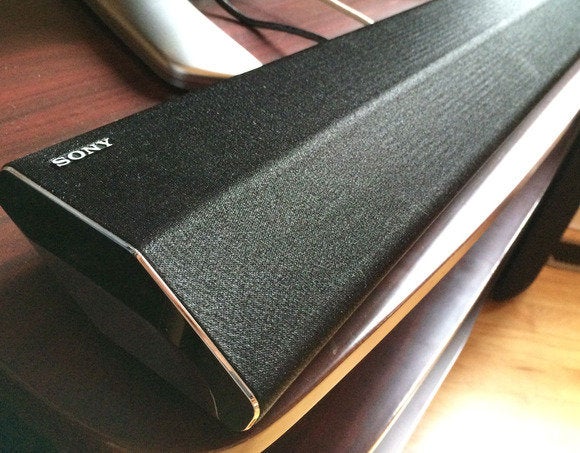 The included downward-firing, wireless subwoofer is the key to the monstrous volume. Consuming 120 watts of the 330 watts total power, the smallish unit really pours on the bass to nearly room-shaking levels. (Fortunately, the remote control allows you to adjust the subwoofer volume separately, helping to keep pictures attached to the walls.)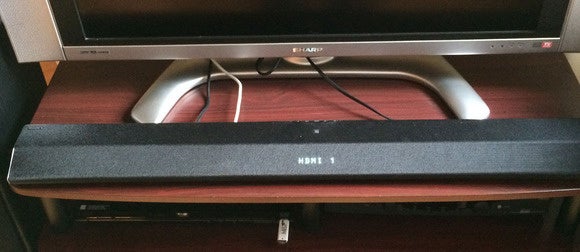 Audio sources connect via one of three HDMI ports, optical, or a standard 3.5mm analog jack. As a bonus feature, the HT-CT770 also works as a Bluetooth speaker as well as supporting NFC connections. Note that there are no RCA jacks, however. An additional HDMI output lets you push the video signal on to your television. Codec limited to Dolby Digital/DTS, DTS HD/Dolby Digital+, and LPCM; there is no support for the Dolby TrueHD or DTS-HD Master Audio soundtracks you'll find on Blu-ray discs.
Overall, audio quality from the unit is quite good. While movies are noticeably lacking due to the absence of surround speakers—or simulated surround—the fidelity of the audio, particularly dialog and special effects in movies and games, is top notch. When paired with that booming bass, explosions and other grandiose noises really make an impact. The unit wasn't quite as impressive with music sources, missing out on some of the depth you get with a larger speaker array, but it was still highly capable with most types of tunes.
The HT-CT770 includes some custom audio modes, including seven sound fields and three voice modes designed to pump up dialog and make it easier to understand. A night mode offers another, similar setting so you can understand dialog at very low volume settings. By and large I didn't find any of these necessary, as dialog was clear and solid no matter what mode I used, and the voice and night modes only made things unbalanced.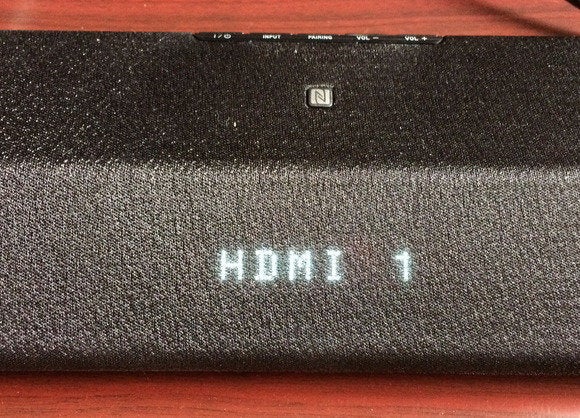 One nice feature is the LED visible through the cloth speaker grille in the center of the soundbar, which makes it easy to see what input you're on and the volume level. The HT-CT770 also includes its own mobile app, SongPal, but this isn't needed nor is it very useful in working with the device.
I did experience a nagging issue with the first HT-CT770 unit I received. While initial setup was easy, the unit would switch to Bluetooth pairing mode any time I turned off my audio source while cranking the volume up to near max. The soundbar was also unable to be turned off at all (short of unplugging it). Fortunately, a replacement unit solved the problem. Sony's guess was that the original unit was damaged during shipping, but it's worth noting the box had not been damaged when I received it.
Build-quality concerns (or bad luck) aside, the unit makes for a compelling speaker, providing powerful, high-grade audio in an attractive and relatively compact package.
Note: This review is part of a six-product roundup comparing sound bars built by TV manufacturers with the efforts of speaker builders. Click here to read the introduction and a complete buyers guide, where you'll also find links to the five other sound bar reviews.