Late last week, the United States Copyright Office released a report recommending sweeping reforms to the existing music licensing system, which is a labyrinthine mess of outdated regulations (because most of them were established before the Internet age).
Titled "Copyright and the Music Marketplace," the 245-page tome follows an exhaustive study of music licensing that took the best part of a year, during which the Office sent out two notices seeking public input, received hundreds of pages worth of comments in reply, and held three public roundtables. No sooner had it published the report than reactions started pouring in.
Among them was a short but blunt statement from the Digital Media Association (DiMA) lambasting the Office for squandering "a significant opportunity to truly advance copyright, music licensing, and the music marketplace with its just released report." Where other stakeholders have either responded favorably or not said much, the digital media trade organization, which counts several big-name music download and streaming services as members, has singled itself out with its pointed criticism.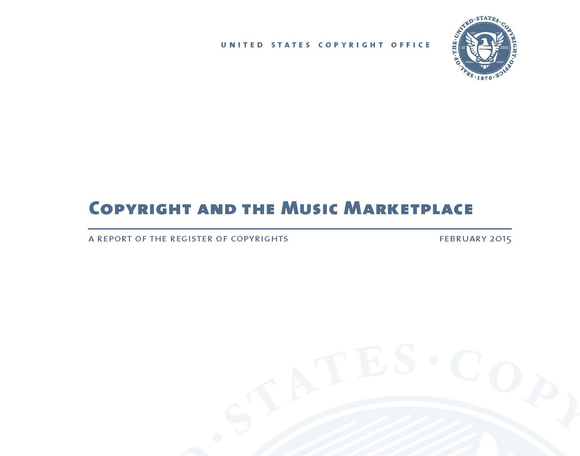 So what exactly is it with the report that has DiMA so worked up? And while we are at it, what implications could these recommendations—if they are implemented—have for other stakeholders including artists and paying listeners?
Before we can answer those questions, we need to get you a working knowledge of the current music licensing system, acquiring which is "no simple matter" according to the Office. Well, we are going to give it a shot nonetheless.
Music Copyright 101
Every song has two copyrightable parts: the sound recording and musical work, which includes the musical composition and, where present, lyrics. These two distinct rights are licensed by their respective owners through three different licenses: a mechanical license for the reproduction and distribution of a song (e.g., through CDs and digital downloads); a public performance license for, well, a public performance, which in case of sound recordings also includes digital audio transmission (e.g., internet radio); and finally a synchronization license for use in audiovisual content (e.g., movies and video games).
Just as the copyright in the sound recording (usually owned by songwriters or music publishing companies) and the copyright in musical work (usually owned by the recording artist or their record label) are separate—even where they pertain to the same song—so are the different licenses required to use the materials they protect. In other words, a mechanical or public performance license for a sound recording is no substitute for its musical work counterpart.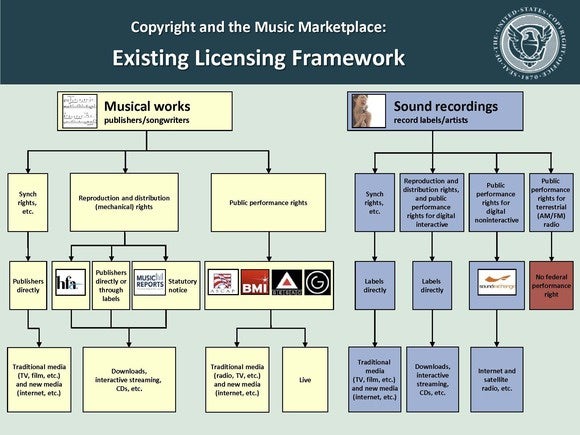 Let's say you are Spotify, an on-demand streaming service, and you want Taylor Swift's chartbusting hit "Fearless" for your music catalog. Besides some of the world's best negotiation experts, you would need to procure a mechanical license and a public performance license each from the rightful owners of both the musical work and sound recording. (Hint: Taylor Swift would be involved in each of those negotiations, once in her capacity as a songwriter and once as a recording artist/label owner.)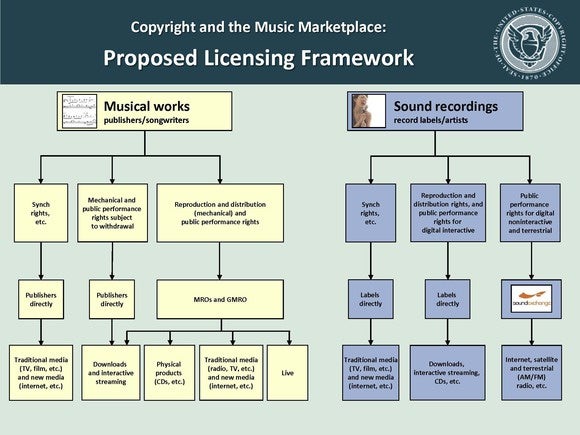 So far so good, right? But this is where it starts to get ugly. The current licensing framework is hugely fragmented and outmoded, especially when it comes to licensing and rate-setting of musical work rights.
While musical works are licensed for mechanical use on a song-by-song basis under Section 115 of the Copyright Act, more than 90 percent of public performance rights in the U.S. are distributed en masse by the Publisher Rights Organizations (PROs) ASCAP and BMI. This means a licensee has the right to use any of the musical works in the PRO's collection).
Likewise, two completely different rate-setting standards are currently in use for the two licenses: For mechanical licenses there is the Section 801(b)(1) standard, and for public performance rights a "reasonable fee" standard that is included in the longstanding antitrust consent decrees ASCAP and BMI are bound by.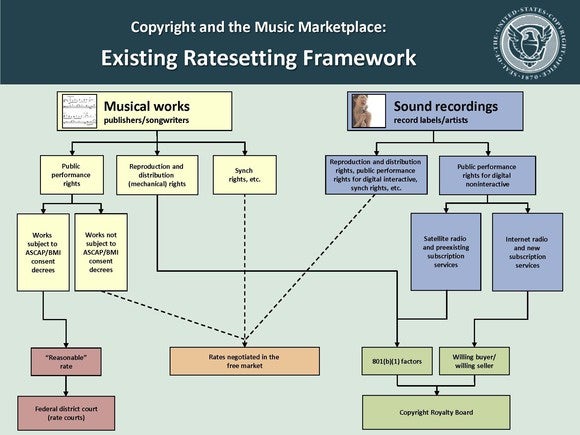 Perhaps the only thing common between them is the immense dissatisfaction they have caused across the ranks of songwriters and publishers, who want better rate-setting standards to ensure parity with more lucrative sound-recording license rates. To say the rates are unfair would be an understatement, what with a 9:1 rate disparity between sound recording mechanical licenses and musical work mechanical licenses. The good news for songwriters and publishers is that this favorite demand of theirs now has the Copyright Office's backing, much to the ire of online music services.
Online music services are happy with current musical work rates and rate-setting standards. The Office is not, it wants the "multifactor rate-setting standards" to be replaced by something simpler and more market oriented. It sees a likely replacement in the "willing buyer/willing seller" standard currently being used to set sound-recording rates (public performance rights) for non-interactive Internet streaming services like Pandora (Pandora is considered non interactive because you can't choose which songs to listen to, unlike paid accounts with Spotify, Google Play, and other interactive services). The online music services feel current sound-recording rates are hugely inflated and the willing buyer/willing seller standard is the reason why.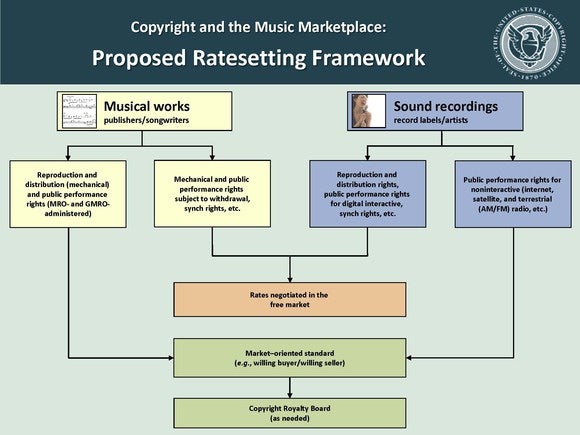 In what ought to please even online music services, the Office has recommended the creation of music rights organizations ("MROs") and the general music-rights organization ("GMRO") to administer both mechanical and public performance rights in a blanket fashion, and distribute royalties among copyright owners in a fair, transparent manner. But then again the proposed framework gives copyright owners the right to selectively withdraw their works from collective licensing, which is something DiMA vehemently opposed in its replies to the Office's Notice of Inquiries.
Some of the other key proposals include the federalization of pre-1972 sound recordings—these currently don't require a license under the federal Copyright Act—and making terrestrial analog radio stations liable for sound-recording royalties.
Implications for services, artists, and consumers
If implemented, the proposed framework could lead to an overall increase in songwriters' royalties. And considering how much streaming services are already paying the music industry, you can bet your bottom dollar that any substantial increase in royalties will not only leave them with lower profit margins, but will also add to your music-streaming/download bill. These paid and ad-backed services, however, have "free" alternatives (read: piracy) to contend with, so there is a ceiling to how much they can charge.
Artists of every ilk have the right to demand better payouts from streaming services; that's right, not just little-known songwriters merely trying to eke out a living, but even the Taylor Swifts of the world. That being said, online streaming services seem to be getting a disproportionate share of the blame.
If anyone should foot the bill (or bear the brunt) of any reforms, it is the record labels. What value have they added to the industry in recent years? We all know the answer, don't we? Despite their greatly diminished role in the digital music marketplace, labels are still raking in the lion's share of the industry's revenues , some of which could go to artists instead.
All in all, it seems the Office has tried to balance the many conflicting interests that pock the music licensing landscape. However, as was to be expected, its recommendations haven't gone down well with everyone.