You might think of YouTube as merely a place for snack-sized videos, but it doesn't have to be that way.
If you know where to look, and how to watch, YouTube can be a serious and substantial entertainment resource—that costs nothing. In this article you will learn how to find YouTube's quality longform content, from concerts and stand-up specials to full-length movies and documentaries. You'll also learn how, with the right tools, you can even string shorter YouTube videos—such as comedy skits, educational videos and late-night TV bits—into marathon viewing sessions. Plus, we offer tips on how to enjoy YouTube content in a manner befitting your living room.
First, get comfortable
Mentioned in this article
Roku Streaming Stick (2017)
Price When Reviewed:
$49.99
Before we dig in, you'll want to install YouTube's TV app on your living-room device of choice if it's not there already. Apple TV and Android TV have YouTube pre-installed, as do many smart TVs and Blu-ray players. You can download it from Roku's app store if you own that streamer. (Check YouTube's website for a full list of supported devices.) If you have a home-theater PC or a Chromebox—you can access the TV-friendly version of YouTube through your web browser at youtube.com/tv.
Channel subscriptions: The more, the merrier
It's easy to overlook YouTube Channels when you're just visiting the website or using its mobile apps, but they're a vital part of the viewing experience on televisions. To add some, head to the Channel list on YouTube's main site and click "subscribe" on the ones you like. The "More channels like…" box in the top-right corner will make further recommendations based on what you add. It's best to add lots of channels up front, and prune back any ones you don't like later.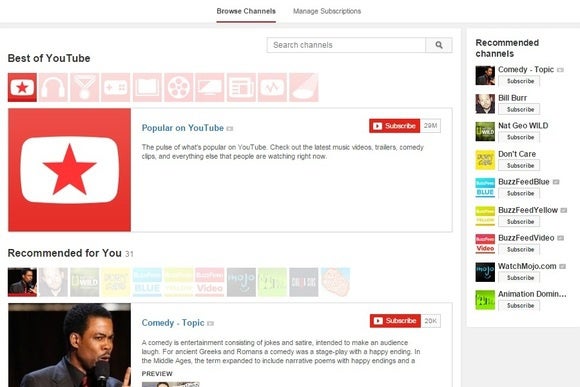 Once you have a solid list, head to the "My Subscriptions" section of the YouTube TV app, where all of your channels' latest videos are mashed together into a continuous stream. You can also view individual channels from the "Subscriptions" section of the main menu. (I personally avoid YouTube's main "What to Watch" section, which often includes too many irrelevant videos from other sources.)
Wrangle up some full-length films and specials
Stringing together short clips isn't the only way to watch YouTube. The site also plays host to plenty of longform videos that are perfect for an evening on the couch. Reddit users have done a fine job of curating full-length movies and stand-up comedy specials, and you'll find other curated lists from YouTube users and other sites. If you're feeling nostalgic, Reddit has a list of old TV shows on the site as well.
Browsing these lists on your computer won't make it easier to watch on your TV, Of course, which brings us to the next tip:
Get cozy with Watch Later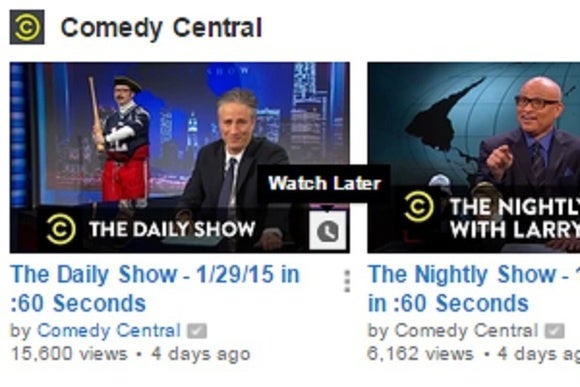 As you browse the YouTube site from your computer, hover your mouse over any video thumbnail. See the little clock icon in the bottom-right corner? Clicking it adds the video to your "Watch Later" queue, which you can reach through the sidebar menu of YouTube's TV app. The same button is also available from the bottom-right corner of any currently-playing video, and through the "+" button of any playing video on YouTube's mobile app. You can use Watch Later for anything, but it's best for keeping your own curated list of full-length movies, shows, and specials.
Use advanced search for TV-friendly videos
Those lists I linked earlier aren't the only ways to find longform videos on YouTube. With advanced search terms (via this list at Digital Inspiration), you can narrow your searches to HD videos that are at least 20 minutes in length.
Just add the words "long" and "HD" to your searches, separated by commas. For instance, you could search "pearl jam concert, long, hd" if you feel like rocking out, or search "wildlife, long, hd" for some nature documentaries. Keep in mind that this only works on the desktop browser version of YouTube, so you'll need to search from your computer first, then add the findings to your trusty Watch Later list.
Consider creating a TV-specific account
If you already make extensive use of YouTube's Channels, Playlists, and Watch Later section, you might want to create a fresh Google account just for your TV activities. That way, you can focus on pulling together only the videos you want to watch on television, while keeping your other activities and interests separate. You might even find that YouTube's "What to Watch" section works better this way, as it won't factor in all the random videos you come across in a given day.
Turn your phone or tablet into a remote
Sometimes, YouTube's TV interface can feel too confining when you're looking for things to watch. Fortunately, many devices let you use a paired phone or tablet as a remote control, so you can find videos on the small screen and queue them up for viewing on the television.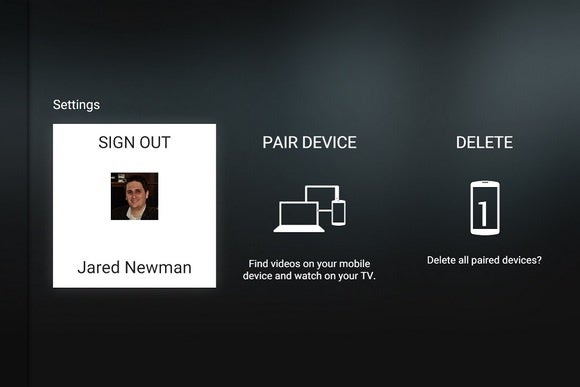 If you have a Chromecast, Roku, Amazon Fire TV or Vizio smart TV, you can pair your
Mentioned in this article
phone or tablet with hardly any setup. Just open the mobile YouTube app and tap on the Cast icon, which should appear as long your TV device is on the same Wi-Fi network. Other devices can also pair with your phone or tablet through a slightly more complicated process. On the YouTube TV app, scroll down to settings and select "Pair Device." You'll be prompted to visit youtube.com/pair on your remote device and enter the code on your TV screen.