At a Glance
Expert's Rating
Pros
Looks like it belongs in your entertainment center
Multimedia features galore including HDMI output to TVs
Fast and quiet
Cons
Pricy
Ships without drives
Our Verdict
This network-attached storage box is a less-expensive alternative to a full-blown home-theater PC, and it can do a whole lot more than just stream media to your TV. But its capabilities and complexity can be intimidating.
Network Attached Storage (NAS) is probably not the first thing you think about when you consider your home-entertainment system, but at least one company intends to change that: QNAP. QNAP has offered HDMI output and a 10-foot user interface (so you can operate it from the comfort of your couch) for a year or two on their mainstream NAS boxes. Now it's added the quiet operation and style to attract less-technical users. It has mostly succeeded in that effort.
Where the average NAS box is rather unhandsome and stands upright, making it stand out like a sore thumb next to your other gear, the HS-251 is sleek and horizontally oriented. It houses two 3.5-inch drive bays that lay flat and side by side, with metal drive trays that come in contact with the metal part of the case to act as heat sinks. They're accessed via a black magnetic panel pops offs the front. The whole effect of the 1.5-inch high by 12-inch wide by 8.75-inch deep unit is something akin to a modern set-top box. And there are no fans whirring to distract you from the latest Hollywood epic.
This isn't your IT department's NAS box
The HS-251's real value lies in its QTS 4.1 operating system and apps. It's a custom version of Linux with nearly every capability that has been developed for platform. The short list of multimedia-related features includes media streaming from DLNA and iTunes servers; the XBMC 10-foot interface for live TV as well as photo and video streaming; a built-in BitTorrent client; real-time or offline media transcoding of nearly any video format; support for 4K video resolution; and access to online video services such as YouTube.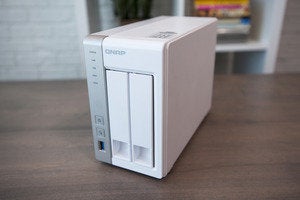 QNAP provides a framework called HD Station (the acronym stands for HybridDesk, not High-Def) that is accessed when you have a display attached directly to the HDMI port. That's where you'll find XBMC, the 10n-foot interface that provides video, music, and photo playback capabilities mimicking those found in consumer video equipment. But first you have to set everything up via the Web interface, and that's not for everyone. Enable HD Station, download the apps, etc. It's not dead simple.
The HS-251 ships without drives, so you'll need to decide what to put inside it. I've run the HS-210, the HS-251's nearly identical predecessor, with 3.5-inch hard drives, 2.5-inch hard drives, and 2.5-inch SSDs. SSDs are obviously the fastest solution, but read speed isn't all that important when you're streaming music and video. Hard drives are slower, but they deliver a lot more capacity for the money. If you go that route, I highly recommend using 2.5-inch drives. They run cooler, and in most instances, they're considerably quieter.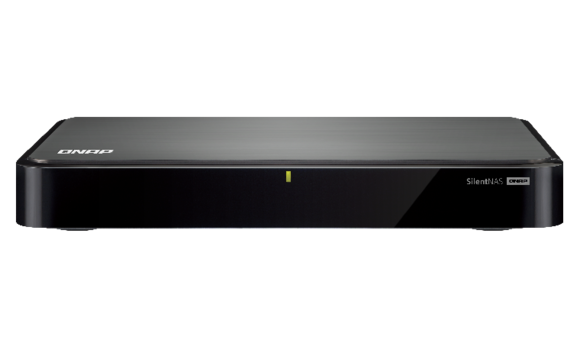 The HS-251 has much more in common with QNAP's high-end consumer boxes than the cheaper HS-210. First there's the array of ports: dual-Ethernet jacks supporting ganging and failover, two USB 2.0 ports for peripherals, two USB 3.0 ports for storage (or an 802.11ac Wi-Fi adapter), and an HDMI port.
There's a second port with the HDMI form factor, but there's a cap on it that says it's reserved. Here's hoping it eventually will allow HDMI input, so you can record from external video equipment. At the moment, the HS-251 lacks that capability. Note that you can attach a USB W-Fi adapter to render the HS-251 wireless, and you can plug in a USB TV tuner for live TV.
A very fast box
The HS-251 is quite fast thanks to its Intel Celeron J1800 processor and 1GB of onboard memory, which is great for transcoding video (most consumer NAS boxes use weaker ARM or Intel Atom CPUs). QNAP also offers a 2G model that comes with—you guessed it—2GB of system memory. To avoid a mechanical hard drive being a bottleneck I tested the box with a single 240GB SanDisk Extreme II SSD installed.
CrystalDiskMark rated the HS-251 as reading files at about 90MBps and writing them at about 107MBps. In my own tests with a 20GB set of files and folders I got around 60MBps both ways. With a single large 20GB file: 99MBps reading and 109MBps reading. Not bad at all. A superfast OCZ Revo PCIe SSD driven by an Intel Core i7-3770 was on the other end of the gigabit connection.
Beyond multimedia, or actually behind it in NAS's more traditional role as a business server, the HS-251 can act as a Web and mail server, provide content management services, act as a backup repository and file server, and it provides clients that keep the entire box backed up online to cloud-storage services such as Amazon S3, Elephant Drive, Google Drive, and others.
It can also serve up your own personal cloud, either directly from the box using its integrated (and spectacular) Web interface or via QNAP's myQNAPcloud Web portal service. It syncs with online storage services such as Azure, Google Drive and Dropbox to keep itself backed up. Then there's SSDP (Simple Device Discovery Protocol) and OpenRemote for hardcore connected-home aficionados.
You even get a surveillance app that supports licenses for two IP cameras, and you can access everything from any web browser or Android/iOS apps. And as I mentioned up top, this box will also output directly to your HDTV or monitor via HDMI. If you need all that, this is one handy product.
Hands-on time
Then there's a bit of what many might consider extraneous "computer" stuff such as IP addresses on the main screen, and the interface, while not ugly, isn't the slickest I've seen. Also, the apps are from different sources, and their interfaces vary quite a bit. Some require you to log on, i.e. enter your user name and password. None of this is difficult if you understand computers, but it's nowhere near as easy to use as a Smart TV. And I've seen users struggle with Smart TVs.
QNAP sells a remote that you can use to navigate the interface, but you can also use a mouse and keyboard, including wireless types via a USB or Bluetooth dongle (there are plenty of available ports). I actually prefer the mouse and keyboard for entering passwords, browsing the Web, searching YouTube, and whatnot. Remote-control cursoring and selecting letters one-by-one is not my bag.
The HS-251 costs $400 without storage, which puts it at the high-end of the two-bay consumer NAS market. But it's fast and quiet, great with multimedia, and looks good in the entertainment center. I can readily recommend it to anyone who wants to merge their home networking and online multimedia with their home theater. On the other hand, QNAP still has some work to do in making it multimedia ready out of the box, so it's currently for only the more adventurous user.