At a Glance
Expert's Rating
Pros
Customizable motion and sound detection
Environmental sensors
Can be used as a hub for smart-home accessories
Cons
Expensive
App struggles to say online
App sometimes fails to follow the Rules you set
Our Verdict
The Piper NV has some strong customizable security features, but the unreliability of its app suggests you proceed with caution.
Editor's note: This review, originally published on January 21, 2015, has been completely updated based on the latest app and firmware. Our original review is preserved here for the record. iControl's Piper NV ($280) was an early entrant in the smart-home security camera fold. This camera combines the security features of cameras like the Nest Cam with environmental sensors to track temperature and humidity fluctuations for a more comprehensive home monitoring solution. Unfortunately, the Piper NV falls a bit short on both fronts.
Shoppers will want to know that iControl has since been split between Comcast (which acquired the Converge platform its Xfiniti Home service is based on), and Alarm.com (which gained control of the Piper NV reviewed here, plus the Connect platform that ADT's Pulse system is based on).
The Piper NV is a near-exact clone of the original Piper Classic. It has the same immersive 180-degree field of view—plenty to take in even the biggest rooms—but you can also pan, tilt, and zoom the image to focus on specific areas. It also retains the 3.4MP camera with 1080p HD resolution and two-way audio. The only real difference is the addition of night vision—pretty much de rigueur in DIY home security cameras now—hence the "NV" appellation.
The Piper NV tracks a range of environmental measurements—including outdoor and indoor temperature, humidity, luminosity, sound, and motion—and operates as a Z-Wave hub, allowing you to connect it to smart switches, door and window sensors, and other smart home accessories that can work the the Piper NV to enhance your security
Unlike many DIY security cameras, the Piper NV doesn't require any ongoing cloud subscription fees. It will store up to 100 videos to iControl's secured cloud servers free of charge. As the Piper NV only records video when security events are detected, rather than around clock as some other cameras do, it will probably be some time before the average user amasses enough snippets to reach that threshold.
Setup and usage
The Piper NV requires little setup. Screws are provided to mount it to a wall, but its large size and unique shape seem best suited to placement on a flat surface using the detachable metal stand. It requires electrical power, so you'll need to put it near an outlet, but it also has a battery backup—courtesy of three provided AA batteries—so your surveillance won't be interrupted by a power outage.
Once you download the Piper companion app and follow the onscreen guide to connect the camera your wireless network, you'll see a camera view of the room your monitoring on the homescreen. But there's a fair bit of configuring to do before you can actually "arm" the camera.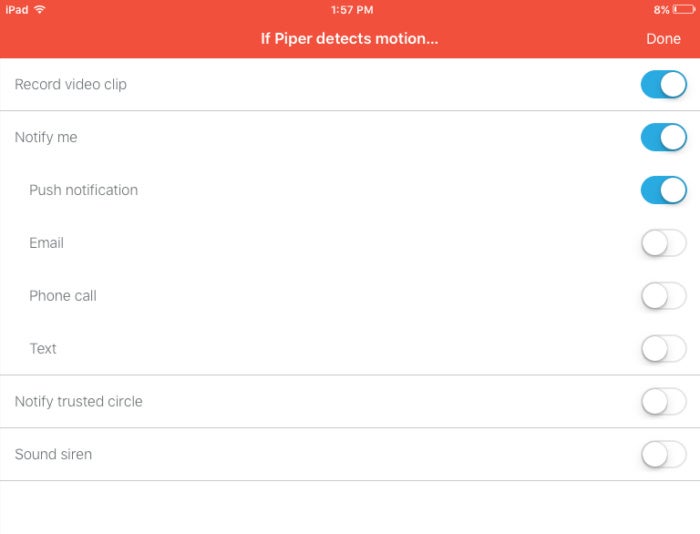 Piper NV requires you to set up operation rules that tell it how to act in various situations both when you're home and away. You do this by going to the Rules tab and responding to a few if/then prompts for each mode. For example, you can tell Piper NV to record a video clip, send you a push notification, and sound its 105dB siren when it detects motion when you're out of the house (the app uses your device's GPS to determine when you leave and return home) or send you a text when the indoor temperature drops below 65 degrees.
Once you've set all these parameters, you need to remember to arm the camera. On the app home screen you can select Armed Stay, Armed Away, or Disarm to essentially deactivate the camera.
Unfortunately, the Piper app doesn't always follow the rules. While the camera recorded video of most motion and sound detected events, as often as not I didn't get the push notification I asked for, nor the shriek of the siren I hoped to hear. In fact, the app had a hard time staying connected to my network. Several times I went to check on home activity and received notice that the camera was offline. Needless to say, that's not something you want to see when you're checking on your home security from afar.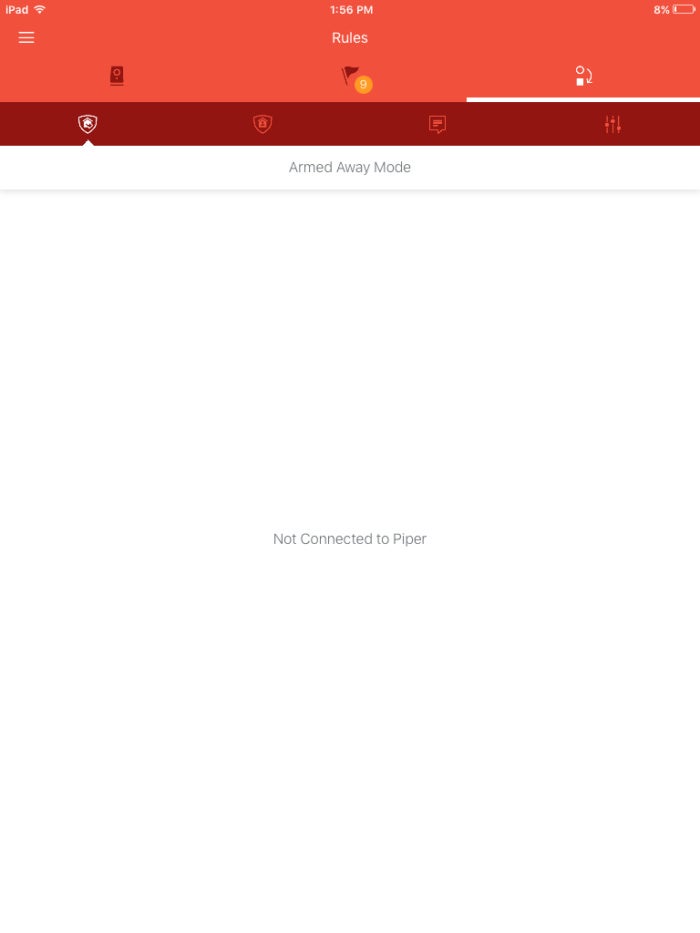 The camera's 180-degree viewing angle takes in a lot of real estate—I was able to view my entire living room and part of the adjacent kitchen. The image was sharp, but colors appeared muted and the image was easily washed out by ambient light coming through a side window during a large part of the day. Night vision was also sharp, but lacked the contrast necessary to make out details in parts of the image.
Piper advertises pan and tilt capabilities, but this might be a bit misleading. It doesn't offer true pan-and-tilt capabilities where the camera itself can mechanically rotate side-to-side and up-and-down. Rather, the Piper's lens is fixed but you can pan and tilt the live-feed image within the app to see more of it. You an also use this with a split-screen feature to focus on four different parts of the same view.
Sound- and motion-triggered videos can be viewed and downloaded from the Events tab. You can also view a chronology of all detected events, including temperature changes, from this tab.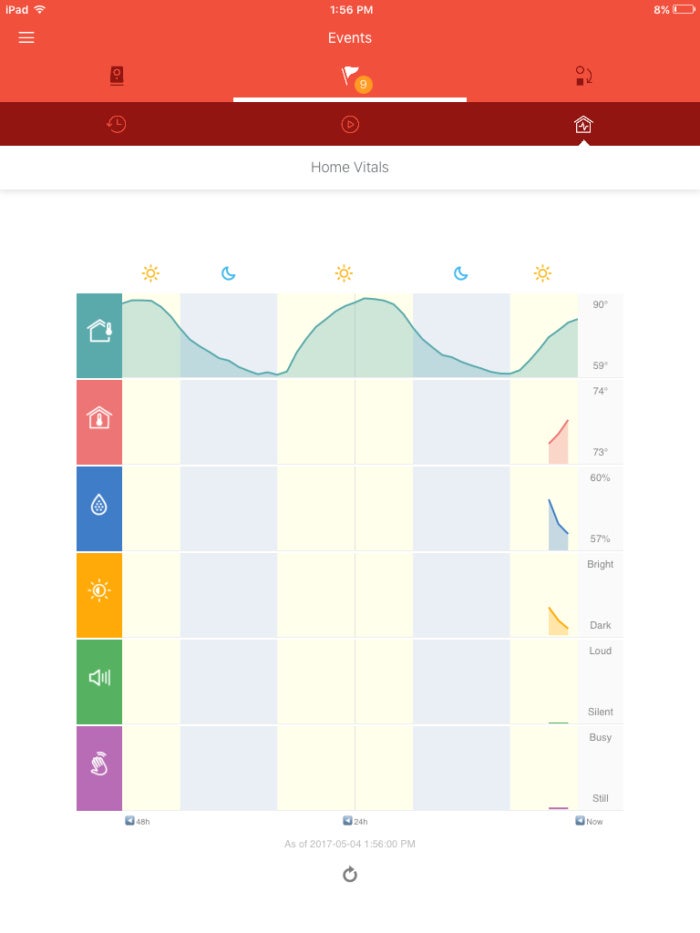 You can view all your home's "vitals" in a fixed chart in the app, but temperature changes are the only ones the app will notify you about. Even then, you're only told it moved outside the parameters you set in your Rules, not what the temperature actually is or even if it rose or fell. Also, the readings are limited to only the last 48 hours, which doesn't seem long enough to glean any profound insights about your indoor environment.
To get any real utility from this feature you need to pair the Piper NV with some Z-Wave enabled smart home devices. If you have an AC unit plugged into a compatible smart plug, for example, you could have camera-detected temp changes turn it on or off.
Bottom line
The Piper NV has some nice features but the execution fell short too often for it to feel like a reliable security device. The missing notifications and propensity to drop its network connection a couple of times a day were particularly troubling and the environmental sensors are mostly useless without an investment in some smart accessories on top of the camera's relatively hefty price tag.
The fact is a glut of home security camera's both with and without environmental sensors hitting hit shelves in the couple of years since Piper NV was released and you owe it to yourself to check some of those out before taking a chance on this one.