At a Glance
Expert's Rating
Pros
Stylish HD cameras with magnetic mounting
Easy remote access of video and cameras
Promises to integrate with AllSeen-compatible smart-home products
Cons
Currently only stores video on the Web
Cameras can't be used with other systems
Our Verdict
Netgear's Arlo security-camera system could be a great Wi-Fi security system if Netgear makes the right decisions with regard to positioning it.
Best Prices Today: Netgear Arlo Video Camera system
Editor's note: Netgear announced a new indoor Arlo Q on November 16. You can get the full scoop in this story.
My first impression of Netgear's white, pod-like Arlo security camera—reviewed here as part of a two-camera starter pack—was that it might be the progeny of Wall-E and Eva. I wanted to hide behind a rock when the infrared illumination surrounding the lens kicked in.
Fortunately, the product is clever in other, more useful ways. Completely wire-free and weatherproofed to an IP X5 rating (likely good for everything up to a tornado), each camera is powered by four CR123 Lithium batteries with an estimated lifespan of four to six months. Then there's the cup-and-ball magnetic mounting system that makes it super easy to attach and adjust the camera. You get a full 360 degrees of movement parallel to plane of the parent surface, with an approximately 120-degree arc in the perpendicular.
The $349 kit reviewed here comes with four mounting bases: Just install them using the provided screws (with dry-wall sleeves) where you might need a camera, then stick an Arlo to one of them. Additional cameras are $170 apiece, and there's a single camera starter system available for $199.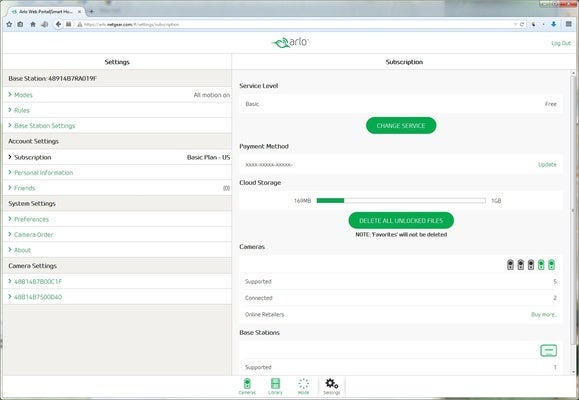 Note that while magnetic mounting makes mounting and moving cameras about a breeze, it also makes them easy to pilfer. Because of the cute factor, you'll want to mount them well out of the reach of cats and kids. You might want to hide the step ladders as well. If you really need to mount the camera more securely, there's that bolt hole you must deal with when you unbox the system. The bolts have wide heads and are pretty strong so you might be able to re-task them if you can access the back of the mounting surface.
Web-based
An Arlo camera isn't your standard wireless webcam—you can't use it with just any old Wi-Fi router. Instead, it links with the supplied, upright Wi-Fi base station that attaches to your existing router via an Ethernet cable. The base station will support up to 15 cameras—if you have the appropriate service plan. The upside is that you get a discrete,dedicated wireless network for cameras that are easy to set; one that offloads battery-draining tasks from the cameras. The downside is a centralized failure point—and a closed system.
Closed system? All of the video taken by the Arlo system is stored online. You view remotely it via free Android and iOS apps or via the Arlo web portal. The web portal is very nicely done with a clean, attractive, easy-to-navigate user interface. You can force cameras to record video or snap photos, and you can download anything you like to your local device or PC.
You get a free "lifetime" (more on that in a bit) account with your purchase that includes 1GB of storage with 7 days of retention and support for up to five Arlo cameras. But some important features, such as scheduling, and camera sharing with other users, end after your first 30 days.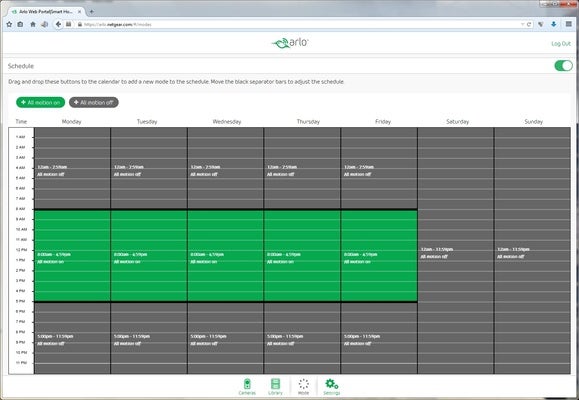 Netgear told me they were reconsidering the timed demise of the scheduling features. I certainly hope so. Having to manually switch motion detection on and off is not something anyone would care to do on a regular basis.
At the moment, if you want to continue using those features you can opt for the $10 monthly/$99 a year plan with 30 days of retention and 30GB of storage, or the $15 monthly/$149 yearly plan with 60 days of retention and 100GB of storage. Those pay plans also offer support for 10 cameras and 15 cameras respectively.
Arlo's product manager informed me that Netgear has decided that Netgear NAS boxes will be able to act as Arlo servers in lieu of the online service. That ameliorates a major worry: pricey hardware that might be orphaned at the whim of a bean-counter. I've been burned on that before, and by companies you'd expect better from.
Setup and Usage
Setting up the Arlo system is simple. Attach the base station to your router with the supplied Ethernet cable, press its sync button, and press the sync button on the Arlo cameras. That is, of course, after you install the CR123 batteries in the cameras. Note that two face up and two face down. This info is in the setup guide, but not on the slide/flip cover where it usually is, so you might miss it and wonder why your camera isn't powering up. You will find the polarity markings inside the battery bay. Start with the two batteries at the back of the camera—the magnet is so strong it will pull them there anyway.
You can use the apps or the Arlo web portal to step through the setup and account-creation process. It's a clean and simple. I found the Arlo's 1280×720-resolution video more than adequate for surveillance purposes. The motion detection was just about spot-on out of the box, though you can tweak it to your heart's delight online or using the apps. Note that the apps will push alerts at you for every event. Unless your camera is in a quiet location, turn those off.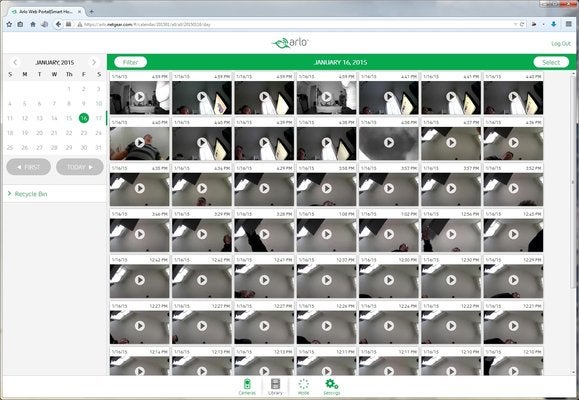 Both the day and night video I captured were more than usable, and when viewing the live images from a camera, there was only about a five-second delay. Of course, I'm in San Francisco where there's very good Internet infrastructure—your lag could be greater. Video is saved in in h.264 format which is pretty universal at this point. As a web-portal-based video-surveillance system, Arlo provides everything the average user needs right out of the box. At least for the first 30 days.
Netgear is participating in AllSeen, the video splinter of the smart-home AllJoyn movement. To that end, you should be able to eventually use the hub to open gates, feed the cat, walk the dog… Seriously, the company is already working with LiFX so the unit can turn on that company's lights. Of course there are dumb systems that do that already, but what the heck. You can see the alert and turn the lights off if it's a false alarm.
Are you gonna buy one?
The Arlo HD Camera Security System is a breeze to set up and it worked superbly during my hands-on. The promised smart home integration using AllSeen is a boon for the future. But until Netgear drop's the free plan's 30-day termination of scheduling and provides the ability to store video locally, I'd hesitate on pulling trigger on this one.
Best Prices Today: Netgear Arlo Video Camera system