LAS VEGAS—"How are your HomeKit appointments going? Have you seen anything cool?" I got this text (paraphrased) from two colleagues as I raced from meeting to meeting, between booths and meeting rooms and hotel suites, talking to a dozen companies about their HomeKit products and apps.
The truth is, I saw a lot of cool things, but not in the flashy, over-the-top, Rocketskates sense that so many other products shoot for at CES. HomeKit has a lot going for it, from ease of use to security to deep integration with iOS. But the products themselves are refreshingly simple—you would be forgiven if you saw one, after all these months of anticipation, and said, "That's it?"
Yeah, that's it. And quite by design. The live demos I got mostly went something like: "You plug a lamp in here, and you can turn it on and off. You stick this sensor on your door, and you'll know when it opens." To the end user, it's the furthest thing from rocket science or rocket skates—and that simplicity is the whole point.
Setup, security, Siri
Every company I talked to mentioned the same benefits of using HomeKit, and first was the easy setup. The products use Bluetooth and/or Wi-Fi (often both), since that's what's already in your iPhone and iPad, not to mention the Wi-Fi network in your house. Previously, connected home devices that worked with iPhone apps had to come up with their own methods of setting up the device with your iPhone—maybe the device would create its own Wi-Fi network, and you would connect to that in your iPhone's Settings app, then open the device's companion app, and type in the SSID and password for your home Wi-Fi network. It's a clunky dance even when it works, and when it doesn't work as planned, it's downright frustrating.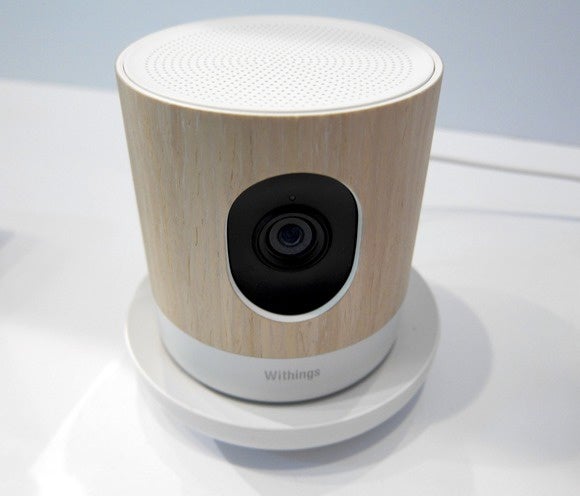 With HomeKit, your iPhone just recognizes the devices—you can even ask Siri, "What HomeKit devices are nearby?" and she can sniff them out for you. The phone shares your Wi-Fi details with the device, and thanks to iCloud Keychain, you can authorize other iPhones and iPads to control the device too without having to repeat the process.
Security is another huge selling point. One company, Zendo, which plans to roll out a huge array of HomeKit gear by the end of the year (from connected plugs to cameras, door/window sensors, lights, a thermostat, and more), said it would issue an open invitation to hackers to try to break in, both because the company is confident in the security Apple has baked in to the HomeKit framework, and of course to fix any vulnerabilities as soon as they're discovered. Reps from Schlage (which makes door locks) and Chamberlain (garage door openers) expressed the same confidence in HomeKit's security, and security is paramount for their products since they provide access to your house. Just keep in mind that since HomeKit uses iCloud Keychain, that keeping your iCloud password and recovery code absolutely secure will be more important than ever.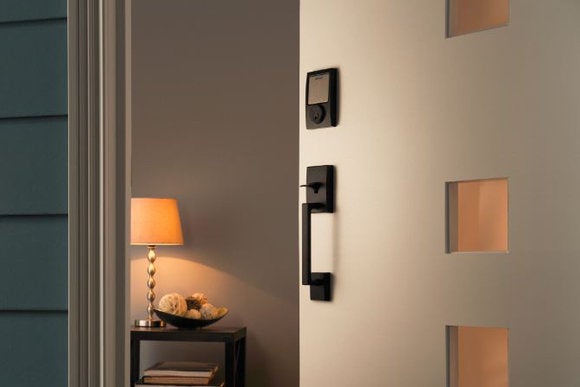 Siri integration is one of HomeKit's game-changing features. Almost every connected home device already works with one (or more!) iOS apps, but if you have to unlock your phone with a passcode and then find and open the app, that can take quite a few swipes and taps before you're able to control the device. Using Siri is a lot faster—and if your phone is plugged in, you can even say, "Hey Siri!" to give a command. HomeKit products with built-in microphones can even pass voice commands to Siri over the network, so you don't even have to be in the same room.
Letting companies play to their strengths
Those benefits of HomeKit—setup, security, and Siri—were emphasized over and over in my meetings, but they aren't the whole story. The HomeKit devices I saw look simple because they are simple. Each one can focus on solving a particular problem, letting consumers like you and me piece together a system that fits their unique situation, while letting the companies focus on what they do best.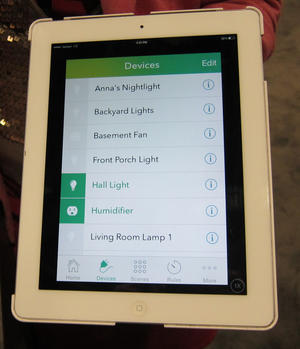 Since Apple provides the HomeKit framework to securely connect the gadgets to iOS devices, and to allow that deep iOS integration and Siri control, developers and manufacturers don't have to roll their own solutions for those functions. A company like Schlage, which has been making locks for 95 years, can focus on making its upcoming Schlage Sense a really great lock, not on finding a way to build in voice control.
Products are certified through Apple's Made for iPhone program, and more than one company mentioned how helpful that collaboration has been as well. Of course, no one wants to be named on the record talking about working with Apple, which I can respect, and I did also hear a few developers say they're looking forward to more functions being added to the spec, like proximity triggers—but they like what's here so far, and more features will roll out over time.
And it's not just manufacturers of gadgets who can use HomeKit. Since HomeKit apps can be written to communicate with any HomeKit-compatible accessory, so developers can design beautiful software if that's their strength, and never create any hardware themselves at all. Zendo is creating its own hardware, but told me the app is just as important to them, and it'll be free to consumers to control whatever HomeKit devices they want, even if they never buy a single gadget from Zendo. If the app can deliver a great experience, the idea is people will want to explore the rest of Zendo's offerings. Ideally, you'll be able to find your favorite HomeKit app and use that (or Siri) for everything—no more jumping from app to app to communicate with different devices around your house. Apple could surprise everyone with a Passbook-ish app to serve as a gathering place for everything HomeKit, but I don't think it needs to.
What's next
It's still early days. As devices start to hit the market, I think the focus on ease of use and Made-for-iPhone hardware quality will help mainstream connected home devices for people who might want to start smaller and more cheaply than a $250 Nest or a $200 Dropcam—which are both terrific, but will likely never work with Siri.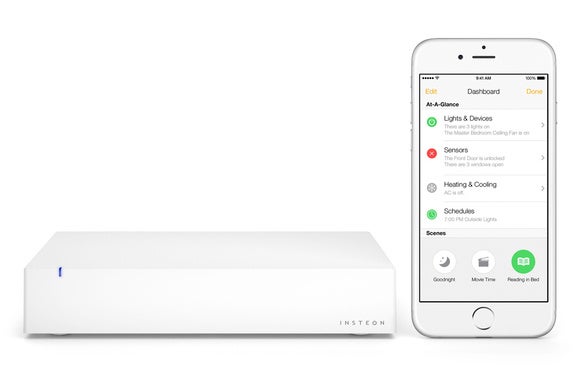 HomeKit at its best will allow device manufacturers to add extra features and value to their products to appeal to iOS users, without having to reinvent the wheel each time. And as people start to use these products, the companies will get invaluable feedback about how their customers are using them, which can inform future iterations.
Chamberlain, for example, makes garage door openers, which is something you might buy every 15 or 20 years at the least—but add Bluetooth and an app and suddenly the company has a chance to connect with you every day, instead of just once every 15 years. If Chamberlain can find out that HomeKit users are pairing their smart garage door openers with another company's camera because they want not just the ability to open the garage door, but also to see who's coming and going and when, that can influence future products and app development so eventually you don't need a camera to produce the same result. Of course, users should be able to opt-in for what kinds of data is shared, but what Chamberlain described seems like it follow's Apple's philosophy for collecting user data—to get only enough to let the products work and for the company to keep making those products better, but not to sell the data or build profiles of individual users to market to them later.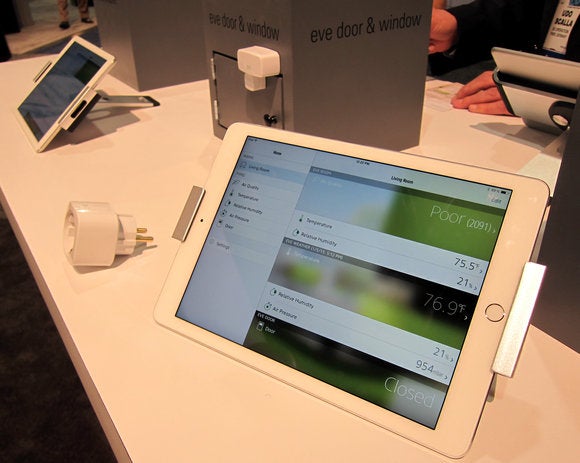 A full slideshow of every HomeKit device I saw at CES is here, with reviews coming soon, but for now I'm as excited about the possibilities as I am full of questions: Will the Apple TV get stronger Bluetooth and Siri soon, and maybe a HomeKit interface for the biggest screen in your house? Will macros be as easy to set up as they are to run? (Logitech, for example, still hasn't nailed macro setup for the Harmony series of smart remotes.) Keep your eyes on Macworld, because the HomeKit story is just beginning—and let us know all your thoughts and questions about it in the comments.