At a Glance
Expert's Rating
Pros
Supports 9 cameras (without additional per-camera licenses)
Easy to configure
Cons
Supports only D-Link cameras
No USB keyboard support (promised in future firmware update, timing unknown)
Limited non-surveillance NAS functionality
Our Verdict
The more cameras you add, the more affordable the DNR-312L becomes.But it limits you to D-Link cameras, and it doesn't support any NAS functions beyond video recording.
D-Link's MyDlink Network Video Recorder with HDMI outpuIt (the D-Link DNR-312L for short) is a misleading product. It looks for all the world like a NAS box, it has a NAS-like user interface, and it's priced like a NAS box: $350 without a hard drive.
But the DNR-312L differs from that breed in two important ways: It's dedicated solely to video surveillance, and there are no camera licenses to buy. Indeed, the DNR-312L supports a whopping nine cameras without any further purchase.
With more general-purpose NAS boxes, you often must pay additional license fees when you connect cameras. QNAP charges $60 per camera for licenses (after the first two). Yowser! On the other hand, a true NAS box offers all sort of other functionality, too.
The DNR-312L is a single-bay gigabit network box that can be used without a drive as a monstrously over-priced baby/pet monitor (not that you would want to). Factor in $50 for the 1TB drive that you'll need if you want to record anything, and you're talking $400. That's a very NAS-like price tag, because as with everything NAS or surveillance related, you pay a hefty premium—just not as much as with true NAS boxes when you start adding cameras).
One terabyte of storage plus:
Make and Model
Two camera licenses
Four camera licenses
Nine camera licenses
D-Link DNR-312L

$400

$400

$400

QNAP TS-251

$400

$520

$760
As you can see, D-Link's DNR-312L offers no advantage over the QNAP TS-251 when you're talking about two cameras, and the QNAP delivers a boatload of non-surveillance features. The instant you go beyond two cameras, however, QNAP's $60 licenses start to add up. There are other NAS boxes that offer video surveillance for less money, but the TS-251 is one of the few that offers HDMI output at a similar price to the DNR-312L. The soon to be reviewed QNAP HS-251 low-profile unit being another.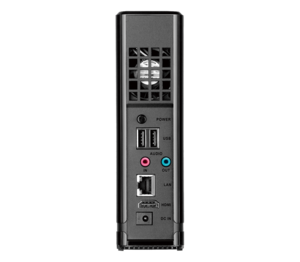 The HDMI output allows the DNR-312L to render its interface on a local display, so you can manage the unit without firing up a Web browser on another computer. The DNR-312L also lets attach a mouse via one of its two USB ports, so you can more easily navigate its user interface. Oddly enough, however, it does not support a USB keyboard. D-Link promises a firmware update will fix, but you'll need to rely on a virtual on-screen keyboard to enter your user name, password, and other information until that update arrives.
Supports D-Link cameras only
I did my hands-on using nothing but D-Link cameras for two reasons: That's all I had on hand, and at the moment that's all the DNR-312L supports. If you're sitting on a fleet of IP cameras from other vendors, you can quit reading now and explore other options. My blessings. Given my situation, however, it was all good: the DNR-312L located my three D-LInk cameras and automatically added them with the only user input required being the camera's user name and password.
On the other hand, as the DNR-312L ships without a hard drive, I first had to install one. It's only a few screws, but that will scare off customers who don't want to muck about with such things. You'll also need to provide your own caddy if you want to use a 2.5-inch drive or an SSD: This box has a 3.5-inch bay and no 2.5-inch mounting hardware is provided.
The surveillance app dominates the DNR-312L's on-screen interface. In fact, there's nothing else outside of dialogs and setup screens. The basic NAS administrative functions, such as email notifications, DHCP serving, users, and so on, are present; but there's no user storage, media streaming, BitTorrent support,or similar features. If you need a more versatile NAS box that supports other uses, look to QNAP, Seagate, Synology, WD, etc.
D-Link's interface is easy to use, and the standard surveillance features are all here: motion detection, camera search, pan-and-tilt controls, logs, review, and more. It also records a low-resolution stream and a high-resolution stream, with both available for playback. The latter is for when you spot something and need more detail. You can also check up on the DNR-312L via the company's MyDlink Web portal and the accompanying Android and iOS apps. With my three cameras, the DNR-312L displayed and recorded video just fine.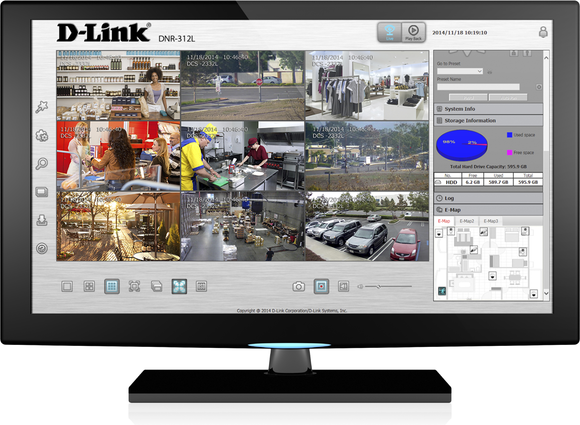 There were a couple of software bugs in my test unit. If I tried to exit without logging on, the Firefox dialog kept popping up in an endless loop. The only cure was a successful log-on or restarting the box. Also, when I attached the unit to a 30-inch Dell display and a Samsung LN46D 1080p TV, the interface spilled slightly over the edges of the display, making it difficult to perform advanced tasks. If your display allows it, you can change its resolution, but it could be an issue. I expect both issues to be fixed in short order with firmware updates.
As always, I must remind readers that there are cheap, camera-agnostic network surveillance solutions available: The free iSpy for Windows, the free older pre-SightHound version of Vitamin D for two cameras, and the venerable and free Linux/ZoneMinder combination. All you have to provide is the hardware. Re-tasking an old PC is the usual scenario, and quite possibly a quieter one—the DNR-312L's fan is rather loud.
A good solution?
If you're starting your network surveillance system from scratch, the DNR-312L is worth checking out. It's easy to set up and operate, and it's significantly cheaper than traditional NAS solutions when you exceed two cameras.
The DNR-312L, however, currently supports only D-Link webcams and it lacks the diverse non-surveillance functionality of the NAS competition. That renders it a surveillance appliance competing with canned low-end consumer surveillance systems. Viewed in that context, the DNR-312L is no particular bargain.
Update 1/13/2015: D-Link informed us that an upcoming firmware update will add support for Onvif to the DNR-312L so that it will then be able to use third-party cameras. That ameliorates one of our complaints entirely and will broaden its appeal considerably. This article was edited slightly to reflect that.