The executives at Dish Network must have sighed in relief when the Supreme Court shut down the Aereo Internet TV service. Dish has been working on a fully legal and licensed over-the-top service for years and will finally launch it as Sling TV later this quarter.
"[Dish Network] recognized pay-TV was going to go into decline," Roger Lynch told me in a briefing last month. Lynch led the development of Sling TV at Dish, and today was named CEO of Sling TV LLC. "We knew the rights would be complicated and it would take a long time. So we started with the streaming and video-on-demand pieces of it and built the capabilities we knew would be needed for our over-the-top service."
Those streaming and VOD components were first rolled out with Dish's Joey series of set-top boxes and Hopper DVRs, and now that technology is what enables the Sling TV OTT service. Unlike Aereo, which re-broadcast only over-the-air TV programming, Sling TV will offer both OTA and channels previously available only through a cable or satellite TV subscription.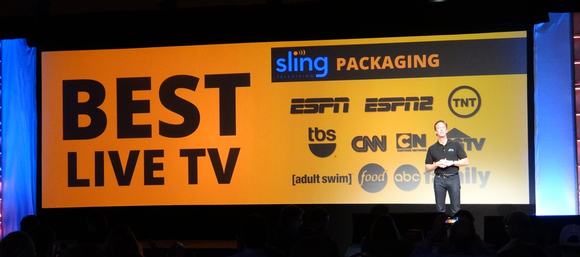 But Dish has so far negotiated only a fraction of the licensing deals for Sling TV that it has for its much-more-expensive satellite service. So don't expect an experience like you'd get with a rooftop antenna.
On the upside, those deals include Disney, which owns ESPN and ESPN2, which means Sling TV subscribers will be able to watch major sporting events via the Internet. Sling TV will also carry ABC Family, Adult Swim, Cartoon Network, Disney Channel, CNN, Food Network, HGTV, TNT, and TBS. The company is also looking to sign up multi-channel content providers that are becoming so popular via outlets such as YouTube.
Lynch said Dish Network's Blockbuster on-demand service would be part of the Sling TV offering, which will cost $20 per month with no long-term commitment, but today's press release makes no mention of Blockbuster.
Sling TV will also offer additional channels in $5-per-month packages. A "Kids Extra" add-on will include Disney Junior, Disney XD, Boomerang, Baby TV and Duck TV. A "News & Info Extra" add-on will consist of HLN, Cooking Channel, DIY, and Bloomberg TV. A "Sports Extra" package is coming soon, and Sling TV will eventually offer premium movie services. But with HBO looking to go over the top itself, don't expect to see HBO Go on Sling TV any time soon.
"We believe the market [for OTT TV] is millennials," said Lynch. "They're not choosing pay-TV at the same rate as the generations before them. We recognize they have alternatives. We wanted to come up with something that swat in the white space between pirating and traditional pay TV."
When I hear "millennials" in the context of TV, I think of channels like Comedy Central and The Daily Show," so I asked Lynch why that channel wasn't in Sling TV's lineup. "Viacom is over-distributed," said Lynch. "You can already get so much of their content on places like YouTube, but then they also have an exclusive deal with Sony. Our strategy is specifically not to put everyone in, in order to keep the cost low. If we licensed all the available content, we'd have to charge as much as we do for our satellite service."
How to get Sling TV
Sling TV subscribers will need broadband Internet access, obviously, and Sling TV will offer apps for Android and iOS devices, or you can access the upcoming Sling TV website from a Mac or PC. According to the company's press release, it also expects to offer an app for the most popular streaming boxes, including "Amazon Fire TV, Amazon Fire TV Stick, Google Nexus Player, select LG Smart TVs, Roku players, Roku TV models, select Samsung Smart TVs, and the Xbox One."
Am Amazon spokesperson provided the following statement:
"We are thrilled that Dish is bringing Sling TV to the Fire TV platform when they launch" said Peter Larsen, Vice President of Amazon Devices. "Sling TV is an innovative streaming service—and for the first time on Fire TV, customers can now watch their favorite live sporting events from channels like ESPN and ESPN2 while also enjoying popular TV shows from channels like TNT, TBS, HGTV and Food Network—all for a low cost of $20 per month."
Video streams will originate in either 720p or 1080p, depending on the source, but Sling TV will use adaptive bit-rate streaming technology that will optimize video quality "regardless of network quality fluctuations or location." Subscribers will be able to pause, rewind, and fast-forward live-TV channels as well as video-on-demand content that will be available.
You won't be able to download or otherwise capture video streams for offline viewing, but the service will include a three-day-replay feature that enables you to watch "some shows that have aired in the past three days." That qualification is no doubt due to restrictions in the licensing deals Sling TV has signed with its content providers. I imagine a lot of lawyers earned a fair amount coin on those deals.
What do you think of Sling TV? Does it offer enough content to warrant its $20-per-month subscription fee? Sound off in the comments section, below.