The urge to pre-announce products that will be unveiled at CES seems is apparently contagious. Last week, LG tipped us off to its new Music Flow series of speakers. Monday evening, Samsung put out a press release about its intent to expand its sound bar lineup and to offer two new wireless speakers that look remarkably like white artillery shells.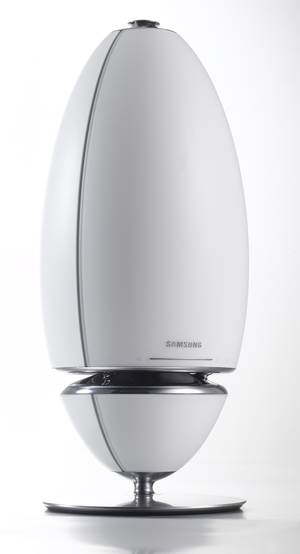 The Samsung WAM7500, right (and its battery-operated portable companion, the WAM6500, pictured above) utilize a proprietary "Ring Radiator" technology that Samsung says "allows sound to flow in a 360-degree radius, with the perfect balance between treble and bass." The speakers were developed at Samsung's new audio lab in Valencia, California.
According to the press release, both of these new speakers "seamlessly connect to TVs, soundbars and mobile devices." Yet when I asked whether this meant they'd be compatible with Samsung's existing Shape multi-room audio system, a Samsung spokesperson told me the new speakers "are still in development and it hasn't been confirmed if they will indeed be a part of the Shape Wireless ecosystem."
That is an exceedingly odd tack. The multi-room audio market is heating up, and I've been generally impressed with Samsung's effort in this area. It would be a major misstep on Samsung's part to walk away from that.
With the existing HW-H7500 sound bar series and the new 6000-, 6500, and 8500-series, Samsung will have curved sound bars to match its curved TVs, ranging from 45 to 78 inches in size. The 8500 series seems particularly interesting, as it's described as a 9.1-channel system with a central channel plus side speakers at each end.
I hope Samsung will be able to provide more concrete information about these products at CES next week. Stay tuned for my follow-up.
Update: The Samsung spokesperson confirmed late this evening that the speakers are, in fact, part of Samsung's Shape ecosystem.