Three days after I wrote TechHive's DTS Play-Fi roundup, Qualcomm wined and dined me to spin the tale of its own multi-room audio solution, dubbed AllPlay. Actually, it was cool water and a breakfast burrito, but it hit the spot. Food aside, I was intrigued with Qualcomm's claim that its new chipset can wirelessly stream lossless audio in 24-bit resolution at a sampling rate of 192kHz—no down sampling required. Yowser!
Streaming at high resolutions and sampling rates theoretically renders the timbre and personality of individual instruments—including voices—more accurately, and it eliminates that cold and thin character that some claim to hear in digital audio. Personally, I think digital audio got a bad rap from inferior analog-to-digital conversions back in the day.
Be that as it may, most users are perfectly happy with 44.1kHz/16-bit tracks (since they probably ripped them from CD anyway), and many others are satisfied with the lower-resolution tracks they buy from Amazon, Google, iTunes, or whatever online source they patronize. AllPlay will handle those codecs as well, of course, but if you buy high-resolution music from an online service such as Bowers & Wilkins' Society of Sound or HDTracks, Qualcomm claims devices based on its AllPlay chipset will be able to stream those tracks at their native resolution.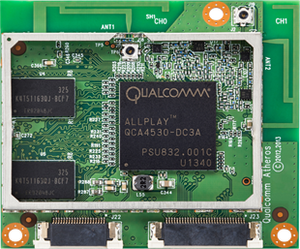 As with Play-Fi, an AllPlay device creates its own hot spot during its initial configuration, and then it joins your home Wi-Fi network. I figured AllPlay had to be a proprietary/private network solution given the fact that other solutions encounter problems at far lower resolutions when streaming on busy open Wi-Fi networks. That's not the case (although AllPlay is apparently limited to streaming to 10 zones. A Sonos system, for instance, can support up to 32 components.)
Qualcomm says its AllPlay-enabled 802.11 a/b/g/n Wi-Fi modules, which you'll find in third-party products such as the new Monster SoundStage series, can handle the load. What I heard and experienced at the demo was great. Not a hitch. Ever. But that was a controlled demo, so don't read this as a review.
I listened to AllPlay through Monster's new SoundStage Wi-Fi speakers: the small S1 ($250), the medium-sized S2 ($300), and the larger S3 ($400). I liked the tonal balance of the S1 myself, but tastes vary and they all sounded good. Each speaker uses psychoacoustics to enhance stereo separation, a technique I wish some other single-cabinet Wi-Fi speakers took advantage of.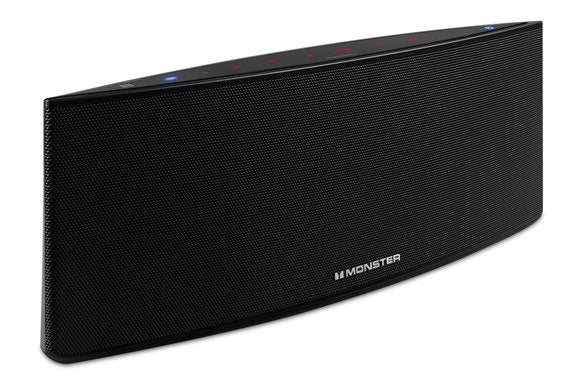 A Qualcomm spokesperson told me any vendor can add AllPlay devices as an output option for their player via a free software development kit (SDK). Aupeo!, DoubleTwist, iHeartRadio, Rhapsody, SomaFM, Napster, TuneIn, and Spotify have done just that. This puts AllPlay in a league with Apple's AirPlay in terms of convenience, but it lags Sonos (which counts all those services and many more in its fold). You use the AllPlay Jukebox app (for Android,iOS, Windows, and Linux.) to configure speakers, define zones, choose devices, and so on. The app plays from all sorts of local sources as well.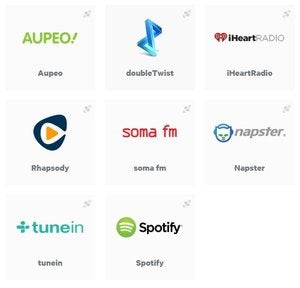 Stereo Fridge!
AllPlay is part of the AllJoyn system that Qualcomm developed to enable Internet-of-Things-class devices to communicate with each other. AllJoyn is now an open-source project managed by the AllSeen Alliance, a consortium that counts Qualcomm, Cisco, Microsoft, and a number of consumer-electronics and home-networking manufactures as members.
AllJoyn was developed with the goal of enabling anything with an IP device to work together other IP hardware, so you could conceivably wind up with a refrigerator that soothes you with Mozart when you discover your spouse ate the last enchilada. (Okay, that breakfast burrito is weighing on my mind).
CES is widely expected to have lots of news about the smart home, so I wouldn't surprised if we heard more about AllPlay early next month.