There were multi-room audio systems long before Sonos came along, but the market was tiny and very exclusive. If you couldn't afford to hire a custom installer to come in and wire your house, you couldn't have one. Sonos smashed that barrier more than 10 years ago and has worked to lower it further ever since.
But Sonos doesn't license its technology to other manufacturers, so DTS—a company best known for its multi-channel audio technology—decided to exploit that go-it-alone strategy. In 2012, DTS acquired a company called Phorus, which had developed its own wireless multi-room audio system. DTS slapped the catchier Play-Fi brand on that technology and began licensing it to speaker manufacturers, including Harman Kardon, Polk Audio, Martin Logan. DTS also sells its own Play-Fi products under the Phorus brand.
It seems everyone wants a piece of the market Sonos democratized.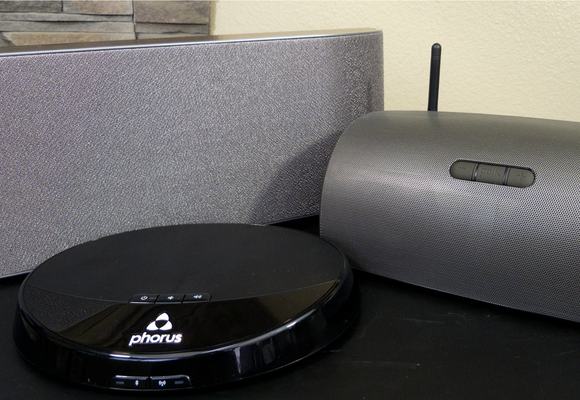 As with the Sonos ecosystem, every product stamped with the Play-Fi brand is guaranteed to be interoperable with every other Play-Fi product. To find out if Play-Fi is as good as what Sonos has to offer, we auditioned three mainstream Play-Fi devices: the Polk Audio Omni S2R, the Wren Sound Systems Wren V5PF Play-Fi Speaker, and the Phorus PR5 Receiver (bring your own amp and speakers).
The Technology
Play-Fi at its most basic is a hand-shake, control, and audio-streaming protocol implemented over an ethernet network (either hardwired or via 802.11b/g/n wireless). Like a Sonos system (and unlike Samsung's Shape multi-room audio system), there is no requirement for a hub or any Play-Fi device to be hardwired to your router.
Smart phones and tablets use a Play-Fi app to stream audio using their own Wi-Fi connection, and Play-Fi receivers grab and translate it. A single device can stream to multiple receivers simultaneously, but a receiver can only accept a stream from one device at a time.The range of a Play-Fi network is dependent on the Wi-Fi router or access point in use.
Unlike Sonos' technology, Play-Fi does not create its own private mesh network and there is no direct connection between Play-Fi nodes. Play-Fi doesn't have a concrete limit on the number of users or network nodes that can be supported, but DTS tells us that the practical limitation is 8 users and 16 nodes.
Play-Fi devices are standardized in their setup routines, but other features are left to the vendors. Requirements include a button to put the receiver into setup mode as well as an indicator light to tell the user whether the receiver is ready to be set up (slowly flashing), already connected (solid), and so on. Receivers must also automatically power-on when first connected to an AC outlet.
The Play-Fi mobile app
Currently, Play-Fi receiver vendors use a rebranded mobile app provided by DTS, the generic version of which is available for download from the www.play-fi.com website. There are versions available for Android, iOS, and Kindle Fire.
The rebranded apps are functionally equivalent despite minor differences in appearance. The mobile app lets you take control of receivers; change the volume; start, stop, and skip songs; and set up and rename receivers. It also lets you combine multiple receivers into "zones" so you access them in virtually any combination.
In addition to streaming music stored a smartphone or tablet, the Play-Fi mobile app will grab music from DLNA servers on your home network, but it doesn't work with iTunes servers. It can also stream music from online sources, such as Pandora, Deezer, SiriusXM, Songza, and others. Spotify is notably absent from this list, although you can stream it from a Windows PC app. Podcasts and Internet Radio are also available. That's a good selection, even if it pales in comparison to what Sonos has to offer (everything mentioned here, plus Rdio, Rhapsody, Spotify, Slacker, and many others).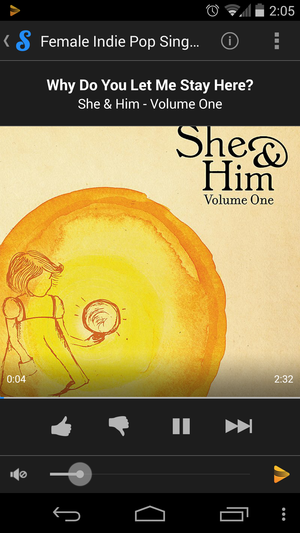 Play-Fi is friendlier with Android than iOS. The Android mobile app can stream lossless FLAC and WAV files at sampling rates up to 192kHz and up to 24-bit resolution (although they are down-sampled to sampling rates of either 44.1kHz or 48kHz and 16-bit resolution). ALAC, the Apple Lossless Audio Codec, is not supported.
Both apps can stream lossy MP3, AAC, and M4A files. When you stream from a Windows PC (the Mac is not currently supported), the app encodes the audio stream using a DTS codec customized for Play-Fi.
The Windows app doesn't function as a player, instead inserting itself into the final audio chain and redirecting sound to Play-Fi devices. That means you can use any player or file format you care to. However, the lag from the extensive caching Play-Fi uses makes it unsuitable for movie viewing unless you employ something such as VLC's track-synchronization feature.
Performance
[Note: Jon L. Jacobi evaluated the performance of the Play-Fi system.]
To test the technology, I set up a moderately complex, multi-room matrix consisting of one Android phone, two iPads, and three Play-Fi products: Phorus's PR5 Receiver, Polk Audio's Omni S2R Rechargeable, and Wren Sound Systems' Wren V5PF Play-Fi Speaker. I connected a pair of Boston Acoustics' CR100 speakers to the Phorus PR5; the other two products have speakers integrated with their Play-Fi receivers.
The Wren was on my wireless networks' 2.4GHz frequency band, while the other two were initially on its 5GHz band. With only the mobiles devices and receivers in the mix, my Play-Fi experience was relatively glitch-free after the set-up phase. I was readily able to use any of the three mobile devices to take control of any of the receivers, though at times I had to re-select the Phorus PR5 or adjust its volume before it would commence playback.
Streaming was flawless the vast majority of the time; and the audio quality, depending on the device, was as good or better than anything I've heard. With WAV and FLAC files I forgot I was using wireless audio. I used my crowded and occasionally saturated main Wi-Fi network for about two hours with only a pop or two. Once I dedicated a separate Wi-Fi network to Play-Fi, defect-free was the order of the day, or actually, the several days I used the system.
When I added the Windows application to the mix, however, things went intermittently wonky. Apps hung when trying to take control of a receiver, or receivers starting looping the previously cached material rather than audio from a newly controlling source. Power cycling the target receiver would shake things loose, but the behaviors didn't disappear completely until I killed the Windows app. Hopefully this will be fixed soon.
Universal? Done spending? Not Quite
DTS doesn't offer Play-Fi apps for OS X or Windows Phone, and I was told the company has no imminent plans to do so. While these are relatively small portions of the market, they still represent a whole lot of enthusiastic and evangelistic users. Sonos offers a Mac app, but doesn't support Windows Phone.
Another mindshare-gathering puzzler: DTS wants you to pony up $15 for a license key to enable the Windows app's ability to stream to multiple receivers simultaneously. If I'm a customer who just dropped a rather hefty sum for multiple Play-Fi receivers and found out DTS wanted to nickel and dime me to use my PC, I would be very unhappy.
Marketing gaffes aside, Play-Fi reliably delivers wireless audio of extremely high quality once it's set up. If your curiosity has been piqued, here are in-depth reviews of the Phorus PR5 Receiver, Polk Audio Omni S2R Rechargeable, and Wren Sound Systems Wren V5PF Play-Fi Speaker.