At a Glance
Expert's Rating
Pros
Powerful amplifier
Wireless subwoofer
Part of Samsung's Shape multi-room audio system
Cons
Dubious tube-amp claims
Weak audio performance, especially with music
Expensive
Our Verdict
Samsung's Wave M7 wireless speakers give it a strong multi-room audio system, but we can't same the same for this sound bar and wireless woofer combo.
Price When Reviewed
$799.99
Best Prices Today: HW-H750 Wireless Audio Soundbar
It's hip to be analog these days. Vinyl records are hot. Turntables are hot. Vacuum tubes are hot. So when I saw Samsung was offering a vacuum-tube sound bar, I was intrigued. But then my internal BS detector began to buzz. There's obviously a DAC (digital-to-analog converter) in there; there has to be, because TVs, set-top boxes, Blu-ray players, are all digital devices. But a tube amp? In a sound bar?
Samsung's response to my fact-check query did little to quiet my BS detector. The company declined to answer a bunch of questions about other aspects of the HW-H750 (and the multi-room ecosystem of which it is a part), but they gave this long-winded reply when I asked what the vacuum tubes did:
"The signal is passed through the vacuum tube, which uses a long-lasting heated cathode inside a glass bulb to amplify sound, offering a warmer more natural sound compared to conventional products using transistors."
Right. Warmer, more natural sound is exactly why people love tube amps. And if Samsung had stopped there, I might have swallowed their story and written something like "It's interesting that they're using a tube amp. It doesn't sound very good, but it's cool to look at." But then I read the next sentence in the email:
"The vacuum tube then combines with a digital amplifier, which delivers crystal clear sound and reduces unnecessary harsh sound distortions."
Huh? How does that work? I suppose the audio signal could pass through the digital amp and then into the tube amp, but I'm not sure.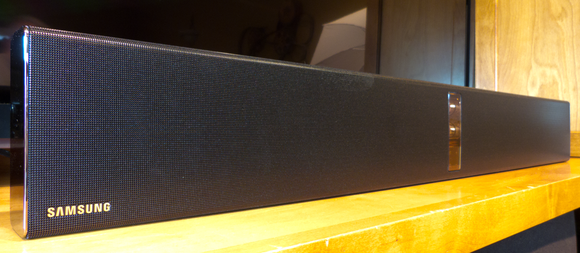 Here's Samsung's response to my second query asking for a more thorough explanation:
"[The signal path] passes through the Vacuum Tubes [sic] first which helps to deliver warmer more natural sound and then it passes through the digital amp to provide detail and clarity."
Okay, I'm not an audio engineer, but if you're passing an audio signal through vacuum tubes and then reprocessing that signal with a digital amplifier, you're going to strip out all the imperfections and micro distortion that gives tube-amplified sound its warm, unique character. You've altered the signal in a way that defeats the whole purpose of using vacuum tubes.
If that's the case, it renders the vacuum tubes in the HW-H750 little more than props for a marketing campaign.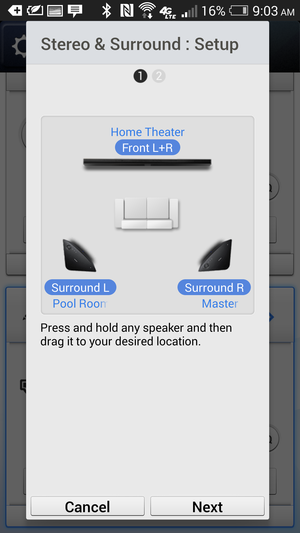 Home theater time
This sound bar can be integrated into Samsung's Shape multi-room audio system, and you can configure Samsung's Shape M3, M5, or M7 speakers as the surround channels in a home-theater setup.
I reviewed the Shape M7 speakers here and went into some depth on Samsung's Shape ecosystem. I am much more impressed with the Shape M7 and Samsung's multi-channel audio efforts than I am with its sound bar.
Samsung provides sturdy brackets for mounting the sound bar to the wall underneath your TV, or it can lay flat in an entertainment center in front of your TV without blocking the screen.
The HW-H750 can accommodate a variety of sources: Bluetooth, HDMI, TOSLink, and analog audio. And it can connect to your home network using its hard-wired Ethernet port or its internal Wi-Fi adapter.
A front-panel display shows which input is active as well as which effects (Cinema, Sports, Voice, Music, or Standard) are processing the incoming audio signal. The speaker can decode Dolby Digital and DTS soundtracks, but not the high-definition Dolby TrueHD and DTS-HD Master Audio codecs used on Blu-ray discs.
As I mentioned earlier, Samsung was reticent when it came to providing detailed specs beyond what's published on their website. The company describes the HW-H750 as a 4.1-channel system, but I can't report the number of drivers inside the cabinet, what size they are, or how much power is directed to each one. Samsung claims "total power" of 320 watts, but you should take that spec with a boulder of salt.
The package also includes a robust self-amplified wireless subwoofer that delivers a beefy low end, and it had enough wireless range that I could put it anywhere in my home theater. Low-frequency effects are generally non-directional, but the combination didn't sound right unless the sub was in the front of the room within a few feet of the sound bar.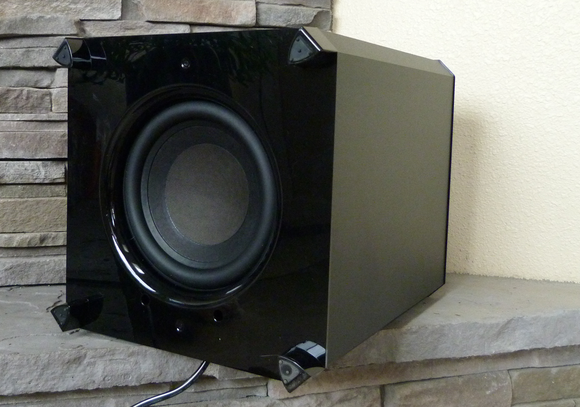 Sounds like…
It's good that Samsung includes the subwoofer in this package, because you won't want to listen to it without it. The HW-H750's audio performance is much better than some of the sound bars I've heard, and it does a very good job of presenting film and TV dialog front and center. You can also adjust its EQ (bass and treble, that is) using the wireless remote control. The amp had no problem filling my small (192 square feet) home theater with sound.
But the speaker was utterly incapable of fooling my brain into perceiving surround sound while playing Dolby Digital and DTS soundtracks, with or without Cinema mode enabled (Cinema mode widens the sound stage, but it doesn't project sound out into the room).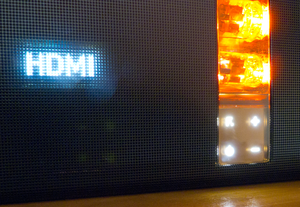 I had to return the Shape M7s to Samsung, so I couldn't evaluate how well they'd perform as wireless surround channels. But my advice to those who want a true home-theater experience? Buy a bona fide 5.1-channel audio system.
The HW-H750 is much less impressive playing music. The best way to describe it would be a sonic donut, with plenty going on at the top and bottom but nothing in the middle. I listened to a number stereo tracks ripped from CD and encoded in FLAC, but I also played Dweezil Zappa's Quadiophiliac, a collection of Dweezil's father Frank Zappa's quadraphonic recordings (remastered in high-resolution, 5.1-channel, DTS 96/24) direct from the disc. The crash cymbals and thumping bass on "Waka/Jawaka" came through strong, but the snap of the snare drum sounded muted and the trumpet almost disappeared while playing in the middle of its register.
Does it belong in your living room?
Samsung's suggests a retail price of $800 for the HW-H750, but you can find it selling most places for $100 less. I expect a lot more performance from a system that costs that much. This one's industrial design is very attractive, its display is informative, and its wireless performance as part of a multi-room audio system is top shelf.
But this speaker system falls flat when it comes to performance. And I'm convinced this vacuum-tube business is little more than marketing hokum. Sure, they look impressive glowing inside the front of the cabinet; but if you buy one, you'll forever wonder if they're really just glorified light bulbs.
Correction: I misnamed the Samsung Shape M7 spearkers. That error has been corrected.
Best Prices Today: HW-H750 Wireless Audio Soundbar