No New Year's Eve party is complete without great music, so guests can get their groove on while waiting for the year's final countdown. Pricey audio-streaming solutions abound (you might even own one!), but if you don't, or if you're headed to someone else's party and you know the host has terrible instincts when it comes to party music, I'll show you a super-cheap solution using Google's $35 Chromecast.
Sourcing your music
The Chromecast is compatible with a wide variety of music services, including Pandora and Rdio, but my favorite solution for party streaming is Google's own Play Music app. In addition to great music, you'll get album art, the name of the artist, the track, and the album on which the song was released displayed on the TV while the music plays.
Google Play Music is a free app for Android and iOS devices, but you'll need a paid All Access subscription ($10 per month) to get the full experience, which includes playing any album or track from the Play Music catalog on demand. Google's YouTube Music Key, currently in beta, is also part of the package. This service lets you watch music videos without ads. As with Spotify, Beats, and some other popular services, you can check out Google Play Music for 30 days at no charge.
Connecting the Chromecast
You'll need to install the Chromecast app for iOS or Android, depending on which device you'll be using. The streamer relies on an HDMI connection, which means it can't be connected to just any audio device. The best solution would be an AV receiver that has an HDMI input. Barring that, you could plug the Chromecast directly into your TV, but the last thing you'll want to do is rely on the TV's anemic speakers. Fortunately, most TVs have audio outputs (either TOSLink optical digital audio or an analog headphone out) that you can connect to self-powered speakers or speakers connected to a receiver or amplifier.
If don't mind losing the TV connection, the next-best work-around would be to pair the Chromecast with a female HDMI-to-VGA converter that has a stereo analog-audio output. Just connect the audio output to an amplifier or self-powered speaker. Those are easy to find for sale online, but more difficult to lay your hands on at brick-and-mortar retailers (you might try your local Radio Shack).
If you've plugged the Chromecast directly into your TV, select the corresponding HDMI input with your TV's remote. If you've connected the Chromecast to your AV receiver, select the proper input on that device. Use the app to connect the Chromecast to your Wi-Fi network and get the musical party started. Inside the app you can play a song from your library or check out one of the pre-selected playlists.
Tap the Google cast icon and music will start playing through your TV or A/V receiver within a few moments. How quickly this happens depends on the quality of your Internet connection, but it shouldn't take longer than 30 seconds.
If there's a TV in the signal path, it will display a floating version of the album cover, with a horizontal message listing the artist and track title. You can use your phone as a remote control to flip through the songs if the crowd isn't hip to what's playing.
Navigating Google Play Music
Google's music app follows the company's Material Design visual aesthetic, which places emphasis on large visuals, animation, and rendering the user interface elements easy to find and pleasant to look at.
After Google acquired Songza, it added one of that app's best features to its Play Music All Access service: curated playlists. Choose a relevant activity or situation, such as "taking an autumn stroll," "having friends over," or "brand new music" and Play Music will play songs that match that context or mood.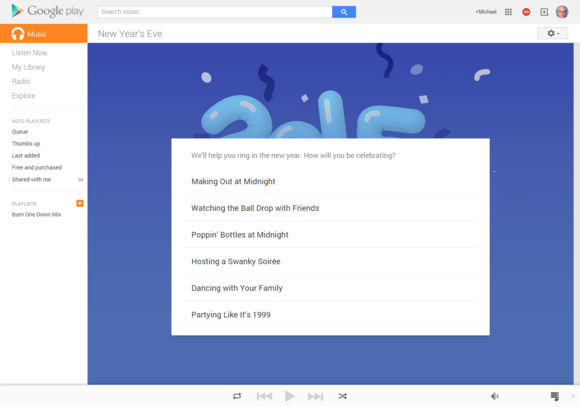 These change up based on the time of day or for specific events—there was a catalog of spooky themes during Halloween, for example. So it's no surprise that a whole collection of tunes is already available for celebrating New Year's Eve. It's a perfect way to pick something that will please the most people in your party. If you hit a dud, open the Play Music app on your phone and skip it with the press of a button.
Using the Chrome browser
If you'd rather DJ using a computer, you can control Play Music through the desktop web app. Set yourself up with a laptop (close to the drinks and snacks, if you like) and spin away. The desktop app displays all the controls on a much larger screen, but there's also another perk: You can turn your TV into a virtual fireplace to set a cozier mood. You'll find this feature in the Labs area of app's settings. Click the gear icon that's just below your profile photo and choose Labs from the drop-down menu.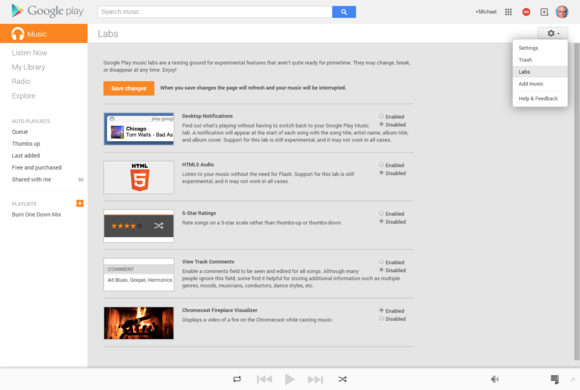 After you save the changes, the next time you connect Play Music to a TV via Chromecast, you'll see a cheerful fire crackling on its screen.
A few other suggestions
If you're sure your musical taste will mesh with that of your guests, you can just hit the "I'm feeling lucky button" and throw your phone back in your pocket. Or you could get fancy and use a voice command: Just say, "Okay, Google, play music" and Google Play will fire up songs based on your preferences.
If you're wearing an Android Wear watch, you can use that to control the music. Swipe down until you get to the Play Music card, and then swipe right to call up the arrow buttons. Use these to cycle through songs or pause the music when it's time to count down the final seconds of the year. Cheers!