Great stories, and movies, too, are born out of conflict. These can be small ones, such as a father and son trying to communicate during a road trip, or big ones, like a band of downtrodden citizens storming through a train. This week Netflix offers a selection of terrific movies that deal in conflict, especially forms of violence, in fascinating ways.
Nebraska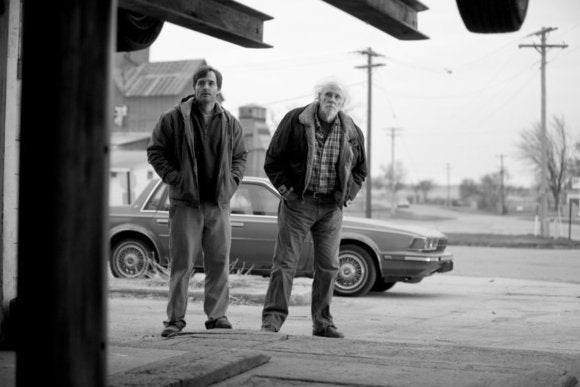 ★★★★★
One of last year's best films, Alexander Payne's Nebraska (2013) received six Oscar nominations, including Best Picture and Best Actor, but it was still rather overlooked during the awards season rush. That's probably because it's such a small, humble movie, shot in chilly, cozy black-and-white, focusing on a character that has trouble expressing himself.
Bruce Dern stars as Woody Grant, who keeps wandering away from his home, in hopes of collecting a sweepstakes prize. His son, David (Will Forte, from Saturday Night Live), agrees to drive him from Montana to Nebraska to the sweepstakes office. They attempt to bond during the trip, but not in any obvious, Hollywood way. The situations are sometimes ridiculous without falling into slapstick or parody; they're simply comical observations of life. And the dialogue rings true to characters that are stubborn and hurt, but still kind. June Squibb is excellent as Woody's long-suffering, but wisecracking wife. Must-see moment: Forte gets into a fight with Stacey Keach.
Snowpiercer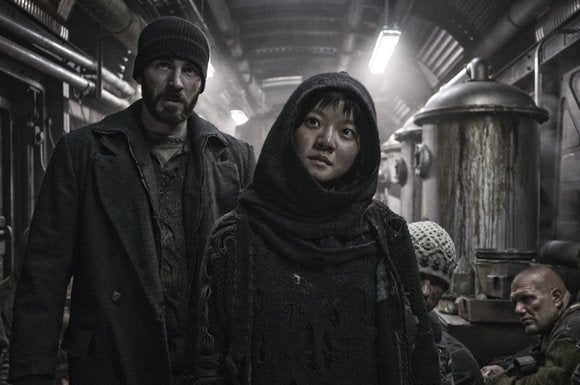 ★★★★★
Korean director Bong Joon-ho (The Host, Mother) offers his first English-language film, an international production featuring a cast from all over the world. Like most other recent sci-fi films, Snowpiercer (2014) is a post-apocalyptic, futuristic, cautionary tale, although it stands far above the rest.
An attempt to stop global warming leads to the freezing of the earth, and the only survivors continuously circle the globe in a special train. Unfortunately a cruel class system has been established, and the grungy, ill-treated passengers in the rear cars life a wretched life, eating weird, black protein bars at every meal. Curtis (Chris Evans) becomes the unwitting leader of a revolution, charging through all the cars, facing both uncertain dangers and bizarre, astonishing sights, and hopefully reaching the engine.
Bong uses the story's confined space and movement masterfully, with an incredible palette of occasional bright colors, offset by darkness and frozen waste. The awesome cast also brilliantly offsets one another, including John Hurt, Song Kang-ho, Ko Ah-sung, Jamie Bell, and Octavia Spencer as lower-class citizens, and Tilda Swinton, Allison Pill, and Ed Harris as weird, upper-class passengers.
Venus in Fur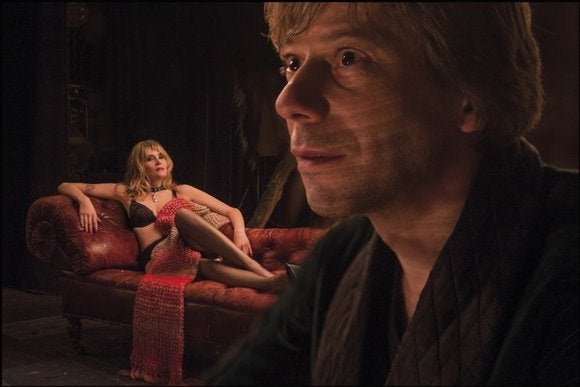 ★★★★★
It's strange that younger filmmakers are sometimes favorably compared to Roman Polanski, but when the actual Roman Polanski makes a new film, hardly anyone notices. Venus in Fur (2014) is the 81-year-old filmmaker's 20th feature film, and it shows that he's still at the top of his game, his usual techniques and obsessions still intact.
Based on a play by David Ives, the movie features only two actors and takes place in a theater, which may lead casual viewers to presume that it's "stagy." However, Polanski specializes in the twisted, psychological handling of a few characters (sometimes a solitary one), in limited spaces, and Venus in Fur is very much a work of cinema as opposed to a filmed play. Mathieu Amalric stars as a playwright and director who agrees to audition one more actress (Polanski's wife and muse Emmanuelle Seigner) at the end of a long day. She seems absolutely perfect for the role, but there quickly begins a series of manipulations and deceptions, with shattering results.
We Are the Best!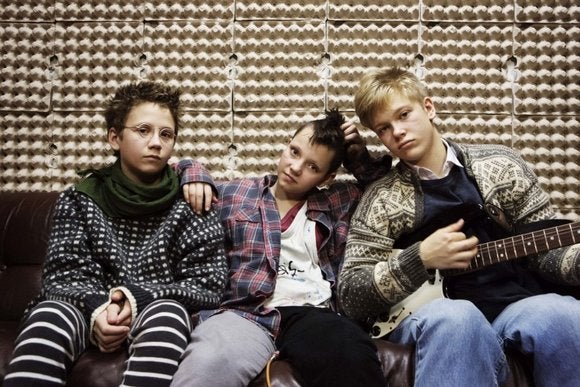 ★★★★☆
Swedish director Lukas Moodysson seems to understand the feelings of young women who are outcast, lost, or just misunderstood. His Show Me Love (1998) told the story of a teen girl who falls in love with another girl, and his Lilya 4-Ever (2003) was about a teen forced to survive after her parents abandon her. We Are the Best! (2014), about three teen girls in the 1980s who form a punk band, may be Moodysson's best film so far.
The girls have trouble with their parents, who are either inattentive or religious, and they fight over boys. Their bond carries them through to their first show, which is rather more pathetic than the usual showbiz movie victory, but which gives them exactly what they need for a little while. Moodysson's technique is gritty and lifelike, with a focus on chilly weather outside, loneliness at home, and a ratty practice room in-between. It's in Swedish, with English subtitles.
Fading Gigolo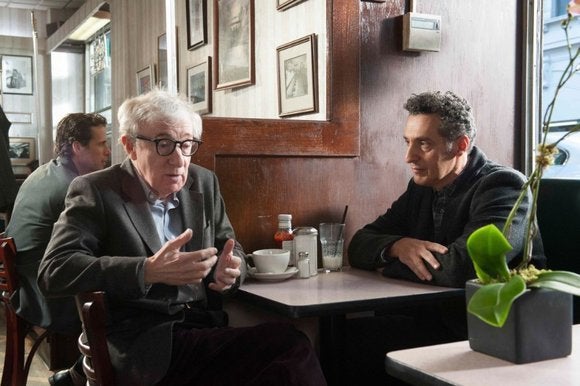 ★★★☆☆
John Turturro directed and stars in this offbeat comedy/drama, starting with an absurd premise, but eventually rooting it in real-life concerns. But perhaps best of all, Turturro gives a role to Woody Allen that results in his finest and most relaxed performance in many years.
In Fading Gigolo (2014), Murray (Allen) learns that a female friend (Sharon Stone) and her girlfriend (Sofia Vergara) would be willing to pay for the services of a good sex partner, and so he forms a pimp-gigolo relationship with his friend Fioravante (Turturro). Fioravante is soft-spoken, kind, educated, and in good shape. He's an instant success. Unfortunately, when he is hired to provide company for a rabbi's widow (Vanessa Paradis), he falls in love. Worse, a a shomrim—a Jewish police officer—from her neighborhood (Liev Schreiber), also loves her. Turturro doesn't shy away from sex, or from talking about sex and all the implications of his character's new job—which is probably what turned off many critics—but he also allows room for humor and tenderness.
Django Unchained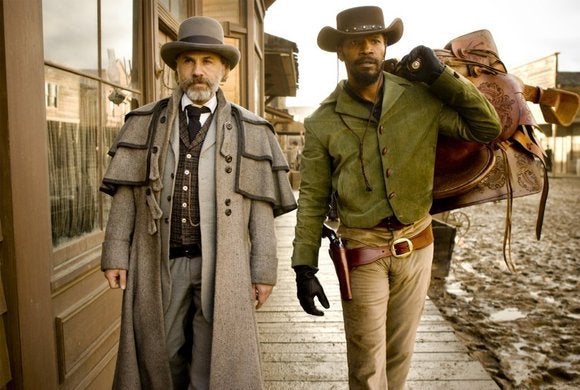 ★★★☆☆
Quentin Tarantino's Django Unchained (2012) is probably his least accomplished movie. It sprawls on far too long and it has several draggy spots, but it also has several wildly entertaining spots of prickly playfulness, as well as a truly disturbing look at slavery in American history.
Jamie Foxx stars as the title character, named after a favorite Spaghetti Western hero originally played by Franco Nero (who appears in a cameo). In this film he's a slave rescued by a bounty hunter, Dr. King Schultz (Christoph Waltz), so that Django can identify a potential quarry. They remain partners and eventually try to rescue Django's enslaved wife (Kerry Washington).
Foxx's stoic, nearly blank performance is easily overshadowed by the vivid support, the Oscar-winning Waltz in particular, but also Leonardo DiCaprio as a cruel plantation owner, and Samuel L. Jackson as a sinister, loyal servant. Tarantino won a Best Screenplay Oscar for his work. Look for Bruce Dern, Don Johnson, Jonah Hill, and other familiar faces in small roles.
Battle Royale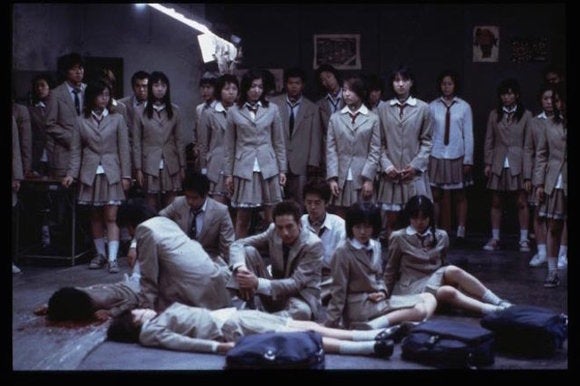 ★★★★★
In 2012, Quentin Tarantino offered a list of his 20 favorite movies made in the years since his own debut, Reservoir Dogs, in 1992. The list was in alphabetical order, with one exception: Kinji Fukasaku's masterpiece Battle Royale (2000) was singled out as No. 1. And rightly so, as it's an incredible film, remarkably similar to The Hunger Games, which came years after, but far more willing to dive into the exploitative nature of violence.
Japanese superstar Takeshi Kitano plays the ringmaster, who gasses a busload of kids and deposits them on an island, giving them each a random weapon. They have three days, and the last one alive wins. If they refuse to fight, they will all be killed, via explosive metal collars strapped to their necks. Fukasaku, who was nearly 70 when he made this, strikes exactly the right tone, part dark comedy, part horror, part exhilarating action, and all the while leaving the central question—what the heck are we doing here?—as a nasty little subtext. Actress Chiaki Kuriyama went on to a cool role in Tarantino's Kill Bill.
The Blind Swordsman: Zatoichi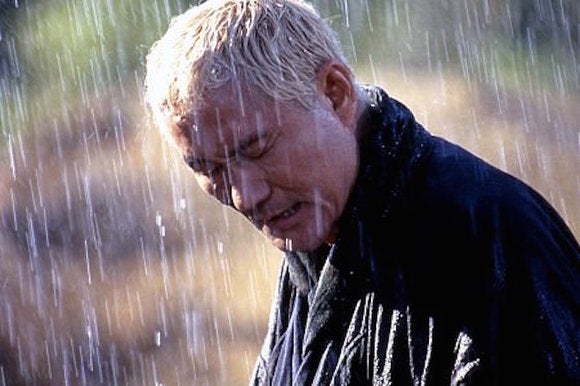 ★★★★☆
Aside from being an actor, comedian, and TV show host, Takeshi Kitano is also a filmmaker with a range of incredible films, many dealing with violence, under his belt. One of his most entertaining is this modern-day take on a legendary character.
The Blind Swordsman: Zatoichi (2003) is a bit of a departure, both for the Zatoichi character and for Kitano (who appears under his acting name, "Beat" Takeshi). Rather than a stoic hero who reluctantly enters into battle, this Zatoichi seems to fight when the mood strikes; the fights, then, are strangely artificial and colorful, and sometimes turn into musical numbers! Even if you're familiar with Japanese cinema, very little can prepare you for this experience. Kitano won the Silver Lion award for Best Director at the Venice Film Festival.
Infernal Affairs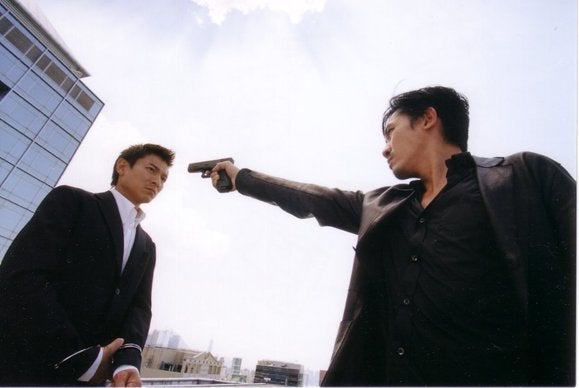 ★★★★★
Now known as the film that influenced Martin Scorsese's The Departed (2006), Alan Mak and Andrew Lau's Infernal Affairs (2002) is one of the greatest and most successful films ever produced in Hong Kong. Tony Leung Chiu-wai plays a cop who goes undercover, working for a triad boss, and Andy Lau (no connection to director Andrew Lau) plays a gangster who becomes a mole in the police department. Neither man knows the identity of the other, and they are assigned to find each other. Each has only one father figure-like connection that knows the truth, and the whole thing is hanging by a very slender thread.
The movie features the kind of incredible, inventive action scenes that Hong Kong cinema is known for, but this film combines those with powerful drama, tight suspense, and sympathetic characters. This outstanding film quickly spawned two sequels before Hollywood even found out about it.
Seven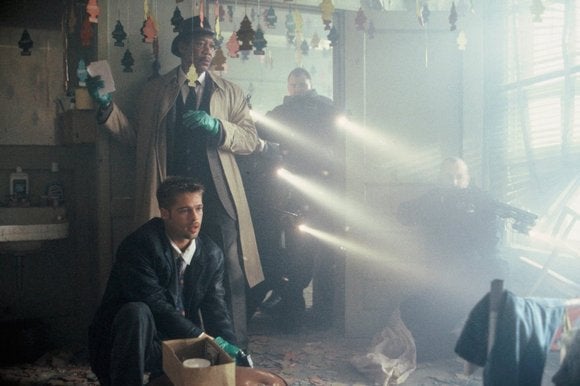 ★★★★☆
David Fincher's newest film Gone Girl has plenty to say about the way we view violence, and now fans can go back and see his powerful, moody second film, Seven (1995), sometimes spelled "Se7en." It tells a fairly traditional Agatha Christie-type story, as a psychotic killer dispatches his victims according to the Seven Deadly Sins, and a veteran cop (Morgan Freeman) and his rookie parter (Brad Pitt) try to catch him. Fincher sets it all in a dank, dark, miserable urban nightmare, where gore and nastiness don't really seem to stick out much, but where something even more horrible can always happen. Gwyneth Paltrow and Kevin Spacey costar. The movie received a single Oscar nomination, for Best Editing.
Notable Additions to Netflix
Addams Family Values
Airplane!
Arachnophobia
Baby Boy
Batman
Batman Returns
Bram Stoker's Dracula
Braveheart
Breakheart Pass
The 'burbs
Cleopatra
The Core
Dirty Rotten Scoundrels
Dumb and Dumber
Fatal Attraction
Good Will Hunting
Hart's War
Hell Is for Heroes (1962)
How to Steal a Million
Jay and Silent Bob Strike Back
Kingpin
Love Actually
Pirates of the Caribbean: The Curse of the Black Pearl
The Princess Diaries 2: Royal Engagement
The Quick and the Dead
Rain Man
Robocop 2
The Rocketeer
Scream 4
Stand by Me
Star Trek: The Motion Picture
Star Trek VI: The Undiscovered Country
Total Recall (1990)
Virunga